BANGKOK — Kanattsanan "Mukk" Dokput was 27 when he sank the first needle full of black market testosterone into his thigh.
He chose a dose recommended by veterans of DIY hormone therapy. The needle was too short to reach muscle; his entire thigh swelled painfully.
That first injection came after a nine-year obsession sparked by a documentary on sex reassignment surgery. "This is what I'm gonna do," he told himself when the program ended.
Mukk's mom was the first to learn of his plan. "Couldn't you just be a tomboy?" she asked, using the Thai label for women who adopt a masculine appearance.
Khaosod English contributed this piece as part of Impact Journalism Day
Yes, Mukk replied,"But I won't be happy for the rest of my life." Mukk, now 32, was born female but showed masculine tendencies from an early age. His mother had to chase him around their home to slip on the skirt worn by girls in kindergarten. He cried all day until he could take it off.
Many more injections would follow. For the first year, Mukk struggled with the mechanics of getting male hormones into his body. By the second, third and fourth, he'd become an expert. But at times his self-administered treatment left him light-headed, among other side effects. Late last year, he began suffering chronic fatigue.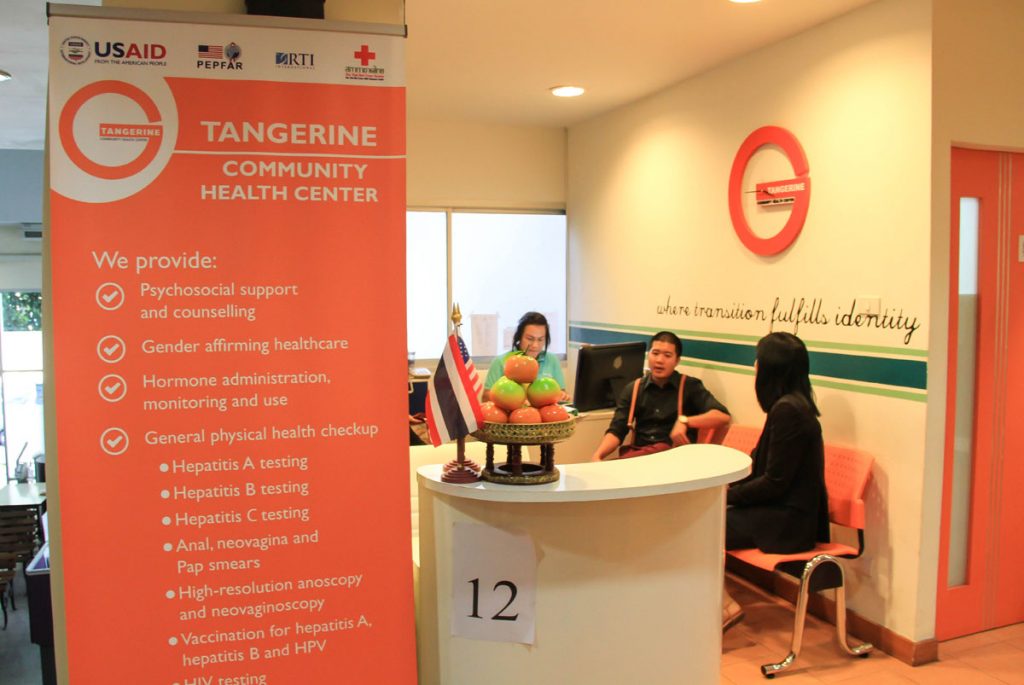 While the world is just catching up to Thailand's awareness of the full spectrum of gender and sexual identity, the attention here and elsewhere remains fixed on transgender women.
There's a broad base of knowledge and community supporting transwomen, who in Thailand often begin hormone treatment at the onset of puberty. There's little available for transmen, who retain all the medical needs of women and put their health in jeopardy by going it alone to realize their full identity.
That changed late last year with the opening of the first transgender health clinic in Thailand and all of Asia. At the Tangerine Health Community Center, Mukk learned from a doctor his liver was ravaged from years of overdosing on testosterone, with levels twice that occurring naturally in men.
Tangerine offers full services for transgender clients including psycho-social counseling, vaccines, hormone treatment, pap smears and STD tests.
As Mukk learned, hormone overdoses are common among transmen, who sometimes overdo it out of a desire for "manliness."
"Testosterone administration has been spread word of mouth from one transman to another. There have been a lot of hormone overdoses, which can cause liver function problems, high levels of blood fat and diabetes in the long term," Nittaya said.

The clinic's head doctor said they were unaware of the demand for services from transgender men until they opened to find female-to-male transsexuals at the front of the line.
"We didn't expect we'd have this many transmen coming to us," said Nittaya Phanuphak Pungpapong, who also heads AIDS prevention efforts for the Thai Red Cross Society.  "This shows they couldn't find any service like this before, as if they had been waiting for this to happen for a long time."
Escalating Needs
The first patient diagnosed with HIV/AIDS in Thailand was reported in 1985. By 1999, HIV/AIDS had become the leading cause of death in men 24-44, according to USAID.
Though HIV prevalence and AIDS-related deaths fell sharply over the past decade, HIV infections are still mostly found among men who have sex with men, male sex workers and transgender women.
Tangerine Clinic is located in the Thai Red Cross' Anonymous Clinic, the first such in Asia. It resulted from the natural progression of services and resulted from discussion between Thai Red Cross and its partners, who came up with an idea of promoting safe hormonal therapy instead of just shouting out for everyone to take HIV tests.
While hospitals offering sex reassignment surgery are easy to find, Nittaya said most don't provide the follow-up care available at Tangerine, such as hormone therapy, hormone-balance tests, blood tests and pap smears.
Although Thailand is somewhat tolerant of its identity diversity, that's not to say attitudes are progressive. As anywhere, the transgender population suffers discrimination, bullying and abuse.
This carries over into essential, professional services.
"In Thailand, transgender people have limited access to healthcare services because they have had unpleasant experiences with stigma and discrimination," Nittaya said. "Therefore, we want to be a transgender-friendly clinic to eliminate stigmatization and discrimination towards trans people."
Before Tangerine opened, the staff and medical personnels were trained to be gender sensitive: They learned what expressions, apart from not being medically useful, could be considered offensive.
"A sensitive question like  'You're so beautiful. Where did you go for your surgery?' which we assume a transwoman would be flattered to hear," Nittaya said. "But many of them don't think so."
Under the anonymous system, patients are assigned codes instead of being publicly announced by title and names.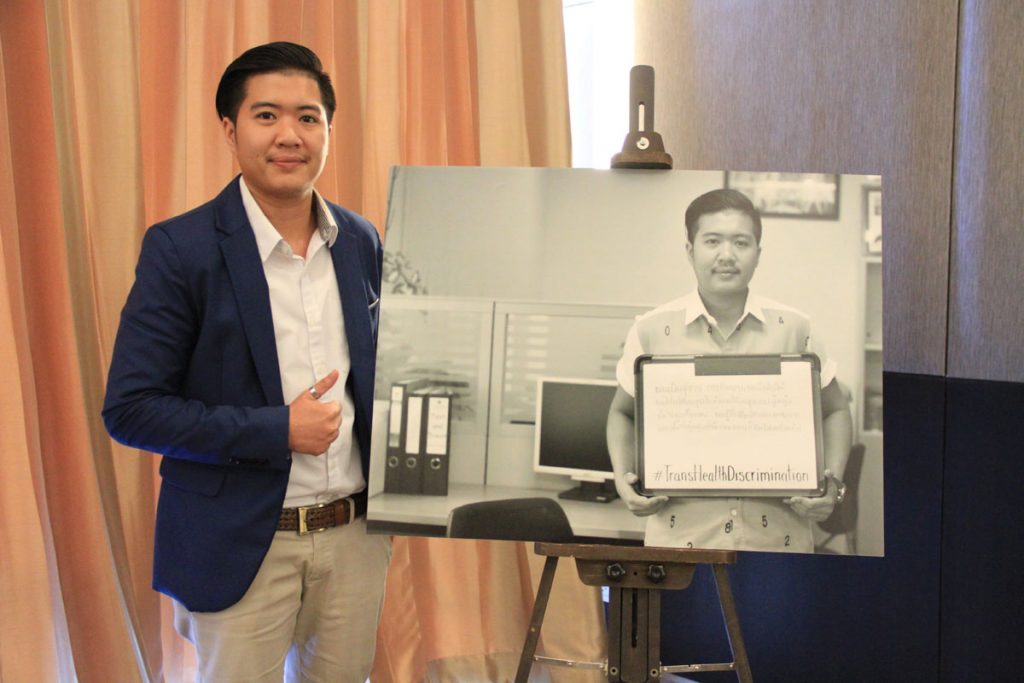 Identity: Male – Biology: Complicated
With close-cropped hair, a bearded chin, flat chest and deep voice, Mukk looks like any other man in his early 30s. Speak to him awhile, and he might confide that he once attended an all-girls school.
Mukk had his breasts removed around the time he started taking hormones. But because he is likely to always have ovaries, a vagina, and the medical needs that come with them, things get awkward when he has to sit among dozens of women in the hospital gynecologist's waiting room. He doesn't like presenting his ID, which identifies him as female.
"I don't feel it's right at all," he said. "I felt very uncomfortable and embarrassed, and I believe that the women staring at me would feel the same."
That's why he's keen on Tangerine's sensitivity, where he's called by a code rather than having his name shouted along with "Miss" over a loudspeaker as would happen at a regular hospital.
He admits cost has been another barrier for people accessing services.
"That's the main problem why many transmen choose to inject themselves and buy hormones from the black market," Mukk said. "Buying hormones without a prescription is common in Bangkok."
Testosterone can be bought online through web forums and at local pharmacies, but can be dangerous as some is made under poor standards and not approved by the Thai FDA. Those self-administering injections learn how to do so through word of mouth or even read about it online.
That leads to overdose, Mukk said, partly due to the misconception that the more testosterone they shoot up, the more fully masculine they will become.
"Testosterone administration has been passed along from one transman to another," Nittaya said. "There have been a lot of hormone overdose cases, which can cause liver function problems, high fat levels in the blood and diabetes in the long term."
At Tangerine, a session costs about 300 baht (USD$8), about a third the cost of private hospitals.
Trans-Cultural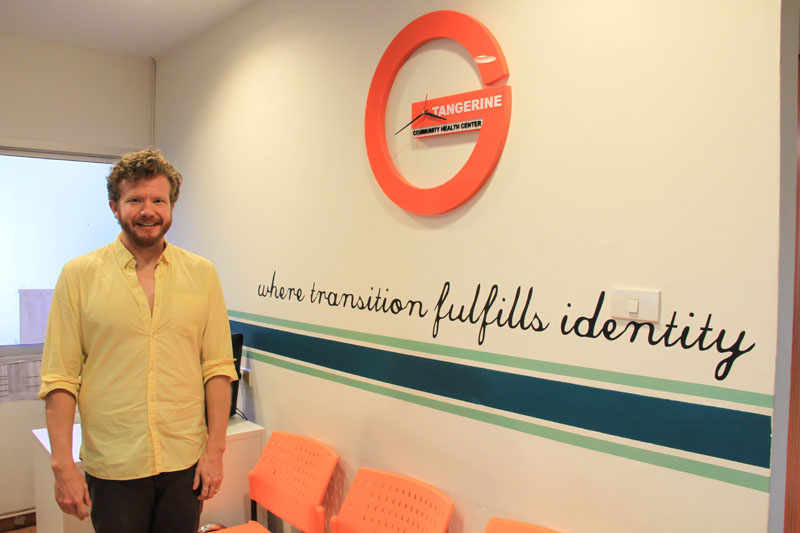 Thais aren't the only residents of the Thai capital, an international city that became a destination for sex reassignment long before the term "medical tourism" became vogue.
Three years ago, Cianan Russell arrived to find a country different than what he expected. An activist who transitioned to male in 2001, he struggled to find medical services in Bangkok for three years.
"I didn't find anywhere I felt comfortable to go for a regular blood test," he said.
The 33-year-old American expat, who now goes to Tangerine for hormone treatment, said it didn't take long to realize "transgender" almost always refers to women.
And going to a regular doctor unfamiliar with transgender issues can be traumatic, he said.
"It makes people just not go. They just don't do it. Or don't do it often enough.  And then all of a sudden you have Stage 4 cervical cancer, and you didn't know … until it's too late."
That makes clinics such as Tangerine indispensable.
"They're not doing anything else, it's just about making sure trans people get effective and respectful care," he said.
Funded by USAID and operated by the Thai Red Cross Society, Tangerine Clinic has partners in various local and regional LGBT organizations such as Sisters, Asia Pacific Transgender Network and Thai Transgender Alliance.
Tangerine Community Health Center is located at the Thai Red Cross AIDS Research Centre. The clinic opens at 7:30am until 4:30pm from Monday through Friday.
Top: Kanattsanan 'Mukk' Dokput receives a tattoo in February representing the testosterone molecule to signify his transition to a male identity. Photo: Watsamon Tri-yasakda