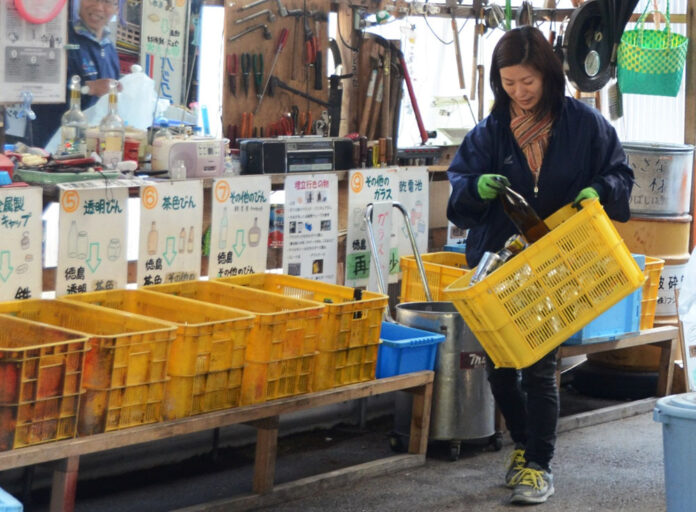 By YU FUJINAMI
Staff Writer
Asahi Shimbun
KAMIKATSU, Japan — This small mountainous town on the island of Shikoku has proved so effective at recycling that the annual number of visitors seeking waste-reduction advice exceeds its population.
Residents and businesses in Kamikatsu have all joined the effort to achieve the town's goal of "zero waste" by 2020. That goal was announced in 2003, following concerns of dioxin poisoning.
So far, the town of 1,700 has progressed steadily toward the target. In fiscal 2014, Kamikatsu achieved a recycling rate of 77.2 percent, nearly quadruple the national average of 20.6 percent.
Khaosod English is presenting this story as part of Impact Journalism Day
Around 2,500 annual visitors from within and outside Japan come to the town seeking tips on how to reduce garbage.
Kamikatsu's recycling project centers on its only garbage collection site, known as "Gomi Station" (garbage station), operated by a town-commissioned nonprofit organization called Zero Waste Academy.
Residents take their household waste to the station, which is open from 7:30am to 2pm daily except for year-end holidays.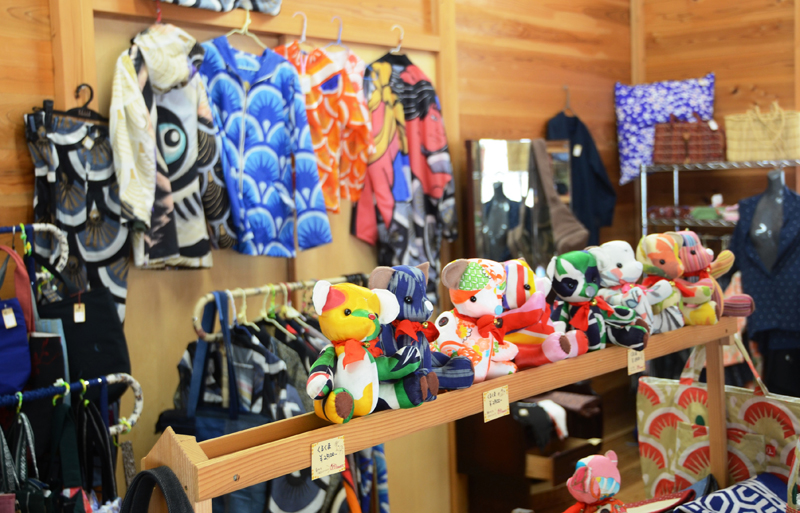 Plastic boxes at the facility come with signs showing the separation categories, such as aluminum cans, steel cans, plastic bottle caps and metal caps. The signs also indicate what the trash will be recycled into, as well as the selling price to dealers.
For example, disposable chopsticks will be recycled into materials for paper, and aluminum cans will be sold for JYP155 yen (USD$1.46) a kilogram.
The Kamikatsu government's guidelines instruct households to separate litter into 34 categories. At the garbage station, there are about 60 categories.
With help from staff at the site, Toshihide Toge, 37, finished separating two months of waste he brought by truck in about 20 minutes.
"I am grateful because they help me when I am at a loss," he said.
Burnable waste that cannot be recycled is handed over to dealers in Tokushima, the prefectural capital, for incineration.
Each household in Kamikatsu disposes of food scraps with a device bought with town government subsidies.
The catalyst for the Kamikatsu's commitment to recycling came after it bought a small incinerator in 1998. The incinerator was shut down only two years later because the exhaust fumes did not clear the standards under the law controlling dioxin emissions.
Town officials urged residents to sort their rubbish for recycling to reduce the amount of waste for incineration or disposal.
In 1997, the town had nine waste-separation categories. The number jumped to 34 in 2002.
The following year, Mayor Kazuichi Kasamatsu proposed the zero-waste target, giving residents a numerical goal. The town assembly approved his proposal.
In fiscal 1998, the town produced 137 tons of waste for incineration. The year the zero-waste goal was announced, the amount was 62 tons. It has since remained around 60 tons annually.
It has been a widespread effort.
Rather than throw away unneeded daily items, residents look for new owners.
Kurukuru Shop, which stands adjacent to the garbage station, offers free second-hand furniture, clothes, tableware and other items that are brought in by locals.
People from out of town can also take home these goods.
About 10 tons of used articles were taken to the shop in fiscal 2014, and about 9.7 tons found new owners.
The town also tries to avoid using things that require later disposal.
Cafe Polestar, for example, does not provide paper napkins on its tables. Receipts are only provided to customers who request them. And restaurant employees use their own shopping bags when they buy ingredient for dishes served at Cafe Polestar.
"We were initially reluctant to deviate from services that are taken for granted at other establishments," said Takuya Matsumoto, 31, manager of the restaurant. "But we would like our customers to know that is also part of our appeal."
Akira Sakano, director of the Zero Waste Academy, is ready to move to the next stage because she believes residents' endeavors so far have reached a limit.
"We don't want to just separate garbage in a large number of categories, but we also want to reduce the amount produced in the first place," said Sakano, 27.
One way to achieve this, she said, is working with businesses to change conventional methods of packaging on products.
She said waste from agricultural supplies can be curbed if recyclable substances replace the commonly used materials of vinyl chloride and rubber.
Sakano noted that some outside officials attribute Kamikatsu's success to its small population, enabling the easy spread of efforts to save the environment.
She recommends that residents swap unwanted goods among themselves and set up waste stations at several sites to match the size of their communities.
"All communities can devise their own zero-waste projects by taking into account their circumstances," Sakano said. "We are ready to share our knowledge as well as the ways and means."