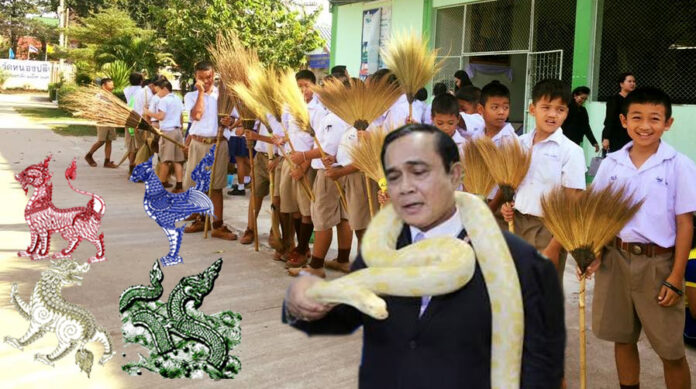 BANGKOK — A Thai-style spirit tree is a Whomping Willow. Naga represent House Slytherin. Gen. Prayuth Chan-ocha with a yellow python is Voldemort and his horcrux Nagini.
As 'Fantastic Beasts And Where To Find Them' apparates onto theater screens nationwide, Potterheads have responded by imagining what a wizarding school would be like in Thailand.
As of Thursday afternoon, the top trending hashtag on Twitter in Thailand was #IfThailandHadAWizardingSchool, with a barrage of ridiculous yet awesome comparisons.
Thailand, rich in superstition as it is, does not have its own wizarding school in J.K. Rowling's canon – at least not yet – but these netizens have found the magical in everyday Thai life.
เหล่าบรรดาผู้เสพความตายจากประเทศไทยค่ะ #ถ้าโรงเรียนเวทมนตร์อยู่ไทย pic.twitter.com/kXsjUvSEpr

— RATTWIST 🍀 (@iPreee) November 24, 2016
'Various Thai Death Eaters,' tweeted @iPreee
'Gringotts Bank Guardian,' posted @Archive_02 with a photo of a treasure vault guardian from Thai soap Phitsawat which aired in September.
เจ้าหน้าที่เฝ้าเงินและสมบัติในธนาคารกริงกอตส์ #ถ้าโรงเรียนเวทมนตร์อยู่ไทย pic.twitter.com/w4vDQwAnQK

— ใครอ่านเป็นหมา (@archive_02) November 24, 2016
'Introducing the Divination Professor'
ขอแนะนำ อาจารย์สอนวิชาพยากรณ์ศาสตร์ #ถ้าโรงเรียนเวทมนตร์อยู่ไทย pic.twitter.com/EDWUpyK8t7

— น้ำเงิน นามสมมุติ #KISSKICKS (@SUNFC_TT) November 24, 2016
'It's You-Know-Who and his snake Nagini!'
คนที่คุณก็รู้ว่าใคร กับ งูยักษ์นากินีของเค้า#ถ้าโรงเรียนเวทมนตร์อยู่ไทย pic.twitter.com/7gDYDmH9XB

— ชานชาลาที่ 9③/④ (@kaojungrai) November 24, 2016
The four house animals of Hogwarts School of Witchcraft and Wizardry are represented by Thai mythical counterparts in the Himmapan forest around Mount Meru in Hindu cosmology. (Buntu Rajasri – Gryffindor, Eagle – Ravenclaw, Khi Mee – Hufflepuff, Naga – Slytherin)
สัตว์ประจำบ้าน
บัณฑุราชสีห์ – กริฟินดอร์
นกอินทรี – เรเวนคลอ
คิมี – ฮัฟเฟิลพัพ
นาค – สลิธีรีน#ถ้าโรงเรียนเวทมนตร์อยู่ไทย pic.twitter.com/CNVEeTS7Ho

— แอคไข่ for คะยัค (@mrdanielisz) November 24, 2016
'The Quidditch team competes in the arts and crafts division!'
ทีมควิดดิช ส่งแข่งศิลปะหัตถกรรม #ถ้าโรงเรียนเวทมนตร์อยู่ไทย pic.twitter.com/cyXv0WHONM

— คนเหนื่อยฟอเอ้เว่อ♥ (@septem1409) November 23, 2016
Vats of Thai herbal liquor is captioned 'Polyjuice,' a potion used to change appearance.
น้ำยาสรรพรส #ถ้าโรงเรียนเวทมนตร์อยู่ไทย pic.twitter.com/CwQESQcs3V

— คอบอ.แมะสิงห์เหนือเมียเสือใต้🧞‍♀️ (@korborjood) November 24, 2016
'The Thai Post sends Howlers. When it reaches the hand of the receiver, it immediately dissolves,' @Oat_kimhunt wrote, conflating the postal service's infamous rough handling with the magical messages which explode if left unopened.
#ถ้าโรงเรียนเวทมนตร์อยู่ไทย การส่งจดหมาย เรามีไปรษณีย์ไทยที่รับส่งจดหมายกัมปนาท ถึงมือผู้รับปุ๊บแล้วสลายตัวทันที pic.twitter.com/JGr6thJkcj

— Kimhun (@Oat_kimhunt) November 24, 2016
'Colored sorting hats!'
หมวกคัดสรรบ้านละสีไปเลย #ถ้าโรงเรียนเวทมนตร์อยู่ไทย pic.twitter.com/2qLuEWC8ho

— ชมพู (@THEPOPzz) November 24, 2016
'So is the Knight Bus in our country Bus No. 8? Damn, that hurts!' wrote @Bestnatthanun, linking it to a previous meme.
คืออะไรอะ แล้วรถเมล์อัศวินราตรีคือสาย8หรอ สะเทือนใจมั้ยอะ หื้ม??? อิบ้าาาาา #หล่องงงห้ายยยย #ถ้าโรงเรียนเวทมนตร์อยู่ไทย pic.twitter.com/rMhXyLRvot

— Dickจิงลี่ (@jelly_jingly) November 23, 2016
'The Harry books would be renamed to: HP and the Cursed Termite's Hole, HP and the School Discipline Office, HP and the Prisoner of Bang Khwang, HP and the Kuman Thong Magical Charm.'
ชื่อตอนแฮร์รี่อาจจะเป็น
HP กับจอมปลวกอาถรรพ์
HP กับห้องปกครอง
HP กับนักโทษแห่งบางขวาง
HP กับเครื่องรางกุมารทอง
#ถ้าโรงเรียนเวทมนตร์อยู่ไทย

— ติ่งซีบึล~♪STAY622♫♬ (@stickyjyh) November 24, 2016
'The Whomping Willow would be like this!'
ต้นวิลโลว์จอมหวดจะกลายเป็นแบบเนร้ #ถ้าโรงเรียนเวทมนตร์อยู่ไทย pic.twitter.com/UWNSJ0Df1H

— NANAjam. (@bt_supitcha) November 24, 2016
@Mygod_s said that while the magical UK world has 'dementors' and the United States has 'obscurials,' Thailand's dark magical beings are jao gum nai wen, or 'enemies from a previous life,' referring to the belief those wronged in a previous life return seeking vengeance.
https://twitter.com/mygod_s/status/801663652000468992
'Presenting! The Coconut Leaf 2000 and the Dandelion 2001! Great for Quidditch'
นี่ค่ะ!! ไม้กวาดรุ่นทางมะพร้าว2000 และ รุ่นดอกหญ้า2001 ใช้แข่งควิชดิชเริ่ดสุด!! #ถ้าโรงเรียนเวทมนตร์อยู่ไทย pic.twitter.com/8mejRl7jkr

— เจ้าหญิงคาราเมลมัคคิอาโต้ (@banksxcaramel) November 24, 2016
Related stories: