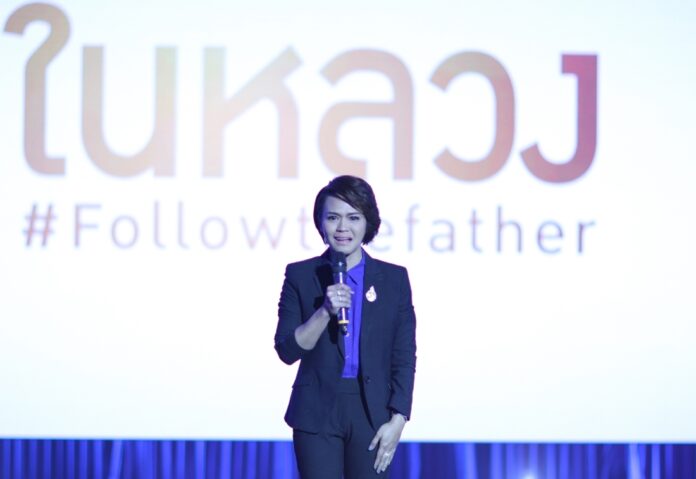 BANGKOK — Standing before hundreds of university students in the northeastern province of Maha Sarakham, motivational speaker Orapim Raksapol choked on tears as she implored them to remember the works His Majesty the King Bhumibol had done for their region.
"Isaan people, the King visits you so often, he helps you so much. The king loves you," Orapim said of the monarch, who would later die Oct. 13 at 88. "But isn't it strange, that you forget the King? It is strange."
Orapim, better known by her nickname Best, spoke those words 10 months ago, but earlier this month the speech came back to haunt her. By Thursday a social media firestorm had erupted along familiar lines and four people had filed libel charges against the 30 year old.
What might have been a passing controversy is fueled by the renewal of internecine strife between Redshirts and Yellowshirts on a scale unseen since the military junta seized power and supposedly "froze" politics in May 2014.
The Redshirts, who are often accused by their opponents of harboring anti-monarchy sentiments, condemned the speech as condescending and feeding allegations of disloyalty. The Yellowshirts defended Orapim, saying she was victimized for expressing an opinion that might even be true.
"We do not welcome Best Orapim. She stomps on the hearts of Isaan people!" read a banner hung over a highway in Korat by some anonymous individuals.
"Best Orapim – Stop creating conflict with your words," another one read.
But she's not without support. "This is an intention to destroy the Good People who love the monarchy," user Sittisak Sukkham wrote on news post of Yellowshirt mouthpiece, Manager Online. "They distort only some facts, with an intention to do evil to her … the anti-monarchists are the ones who are creating conflict."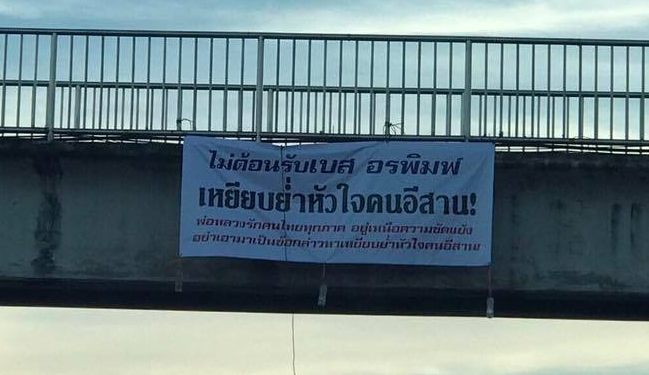 There's also more at work than the usual cross-color mudslinging, according to an academic who's studied the polarized conflict for years. The outrage is notably more intense than the usual internet drama because of the tension hanging over Thailand since the death of His Majesty the Late King Bhumibol on Oct. 13.
"After Oct. 13, the atmosphere was, how do I call it, it was like so much pressure,"  Chulalongkorn University professor Pitch Pongsawat said. "There was surveillance on how you dress, how you express your opinion. It's like, it's creating a ripe situation for easy outbursts. For example, the Nott incident. Things erupt so easily now. The internet has turned into an anger management tool."
Igniting the controversy over Orapim's speech was a wholly unrelated issue: a rejected visa application to the United States.
Thairath, the largest daily newspaper, reported Nov. 16 that the Chumphon-born speaker would not be able to travel to speak at events in the United States organized by Thais to commemorate His Majesty the Late King because her visa application was rejected. The piece quoted Orapim expressing her disappointment.
The story was seized upon by conservatives and royalists who framed the rejection American authorities snubbing the woman who makes a living giving speeches honoring the late king at various events, many sponsored by the state.
Despite Orapim's later clarification that she was rejected because of a document error, some Redshirts and progressives in turn seized upon it to criticized her for profiting from the king's death at a time of such strong ultra-royalist sentiments.
The simmering discontent quickly escalated after a Redshirt activist posted on Nov. 17 a video of the Jan. 6 speech in which she chastised Isaan people for "forgetting" the king and his works at what was an army-hosted event.
"There was no water – he gave it. There was no forest – he grew it. Millions of trees," Orapim said. "Pardon me. Isaan people had no jobs, the land was arid. It was all due to the King. He gave you water. He gave you forests. He gave you jobs."
In another part, she says tearfully, "My beloved brothers and sisters of Isaan. Please open up your hearts and listen to me. Cleanse your thoughts, and believe me: no matter how many times you reincarnate, you won't see a great king like him again."
The activist who posted it, Irawat Areekit, urged his supporters to spread the clip and denounce her.
"The speaker is prejudiced toward her audience. She's narrow-minded. She has disgraceful perspectives. She drags politics into the monarchy by judging other people on behalf of the High Institution," he said.
Orapim has subsequently apologized and insisted that she did not mean to insult Isaan people. But that didn't stop Redshirts, who overwhelmingly hail from the northeast, from venting their outrage.
"What did you use to measure one's loyalty!?" wrote admin of Baygon Thailand Returns, a pro-Redshirt Facebook page. "Isaan people may not be good at speaking like you, they may express themselves as well as you, but remember! They don't love the king any less than you!"
While others confined their anger to social media, four Redshirt supporters have filed libel charges against her since Saturday, accusing her of "defaming" an entire region's people. A shopping mall in Hua Hin also canceled one of her speaking engagements citing the need to "avoid conflict."
Part of the fury against Orapim, Chulalongkorn's Pitch said, stemmed from the perception that she and the populist media who twisted the visa story exploited the king to push their agendas.
"It was like implying, hey, I'm going there to speak for king, why couldn't I go?" Pitch said. "It's like the Somtow incident. It's about using the monarchy to take advantage of others. And the actions of these ultra-royalists backfire."
Under assault, Orapim has found support from the Yellowshirts. One of them is Therdsak Jiamkijwattana, a firebrand Yellowshirt with a large online following, who doubled-down by claiming that many Redshirts are anti-monarchist anyway, so Orapim was simply speaking the truth.
"These people are connected to a movement to overthrow the monarchy," Therdsak said on his YouTube channel. "The people who violate lese majeste law, they are all Redshirts!"
Nida "Tangmo" Patcharaveerapong, a celebrity actress and familiar face at Yellowshirt protests, posted a message of support on Instagram for Orapim she said was passed along to her.
"Please send this to Khun Best," the message read. "I'm an Isaan person. I admit that when I saw the clip, at first, I was really angry, and I posted many mean things about her. I have to apologize sincerely from my heart … I sympathize with Khun Best for becoming a victim of politics."
By Thursday the drama was winding down. But Pitch warned the controversy might reflect a demographic and socio-economic shift that should not be ignored: the middle class which mostly comprise the Yellowshirt movement are not the only ones to find their voice online.
"To put it simply, Redshirts and Isaan people, they now outnumber their rival color on the internet," Pitch said, referencing a research paper about online domestic politics. "The internet world has changed. Ten years ago, you might feel that one color outnumbered the other. Now it's not that way."