BANGKOK — A famed conductor was semi-apologetic for leading a sing-along of the royal anthem Tuesday on a Nok Air flight to the annoyance of some passengers and crew but said his intentions were good – and he'd gladly do it again.
Composer Somtow Sucharitkul, who last month led a crowd said to be in the hundreds of thousands in singing the anthem at the Sanam Luang, decided to lead a special edition aboard a Nok Air flight from Bangkok to Hat Yai.
"What happened was spontaneous," Somtow said, adding that it began when some passengers told him how they missed participating in the mass singing on Oct. 22.
Read: Sea of Voices Rise in Tribute for Late King
But after a 92-second video clip posted by his mother spread across Facebook earlier Tuesday and sparked fierce debate, Somtow said they decided to remove it due to the controversy it caused.
"I didn't think it would turn into something negative," said the Cambridge-educated Somtow, reached Tuesday night for comment. Somtow said he hid the post because he received a barrage of criticism from people saying it was inappropriate, while others simply resorted to using foul language against him.
In the slightly shaky video, Somtow, in mourning black, stands and conducts while some but not all passengers sing along. With members of the cabin crew stuck behind him, an announcement is made about halfway through the song: The plane is facing turbulence and passengers should return to their seats. A flight attendant can be seen in vain trying to escort Somtow back to his seat.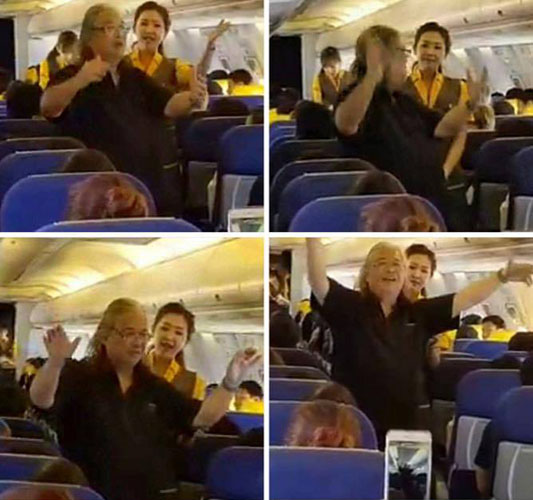 Somtow insisted all passengers were singing and said he would have stopped were any upset.
When told that the video clearly showed some passengers not singing and at least one man wearing earphones looking visibly annoyed, Somtow said that no one was forced to participate.
The maestro, a staunch royalist, disputed there was any turbulence as announced. He singled out a single flight attendant for blame, saying she overreacted. He acknowledged that the air hostess informed him some passengers were annoyed by the mid-flight performance.
"You can ask anyone who was there. I regret because I did this with my heart. I didn't know the matter will blow up this far," he said.
In the original post on Facebook, now hidden, Facebook user Techa Tabthong wrote that even as a royalist who reveres the royal institution above his own life, he found it inappropriate and only suited to a private chartered flight.
"It also disturbs other passengers … and it was clear that the crew made an announcement for passengers to return to their seats and to fasten their seat belts," Techa wrote.
Somtow's mother Thaitow Sucharitkul responded by saying there were people who love the king who wanted to participate.
"It wasn't a show or an act," she wrote. "Please do not misunderstand."
Nok Air CEO Patee Sarasin even jumped into the fray, writing in reply that Somtow should have arranged something with the budget carrier in advance. Patee could not be reached for comment Tuesday night.
Somtow insisted it was the single flight attendant who overreacted due to her lack of experience.
"It's such a small thing. Just 90 seconds," said the maestro. "If anyone had complained, I would have stopped. But royal anthem is hard to stop. But if I disturbed anyone, then I am really sorry, and I would like to apologize."
In the post made earlier Tuesday, Somtow was considerably less contrite.
"What could have been a profound and moving moment was screwed up by a couple of ignorant people," he wrote.
In the end, he said he'd gladly conduct another round of in-flight singing of the anthem – but only if requested by an airline.
As for the video which has since gone viral, the long-haired Somtow said Nok Air is free to use it, as he is happy to surrender copyright to the airline for possible promotional use.
Earlier Tuesday, junta leader Prayuth Chan-ocha approved use of the footage from the mass performance Somtow led for a 10-minute version of the anthem played before movies and other performances.
Related stories: