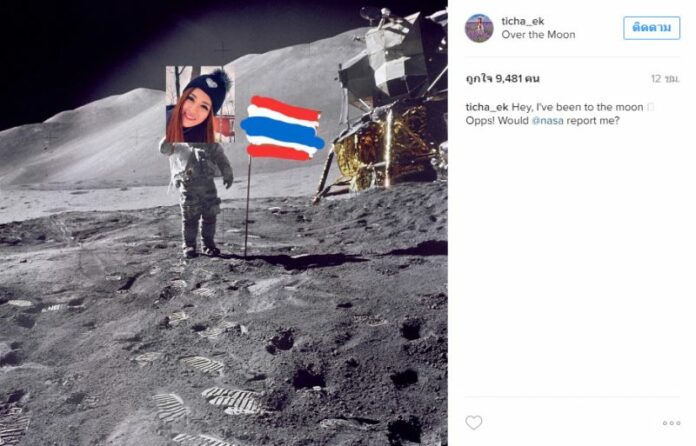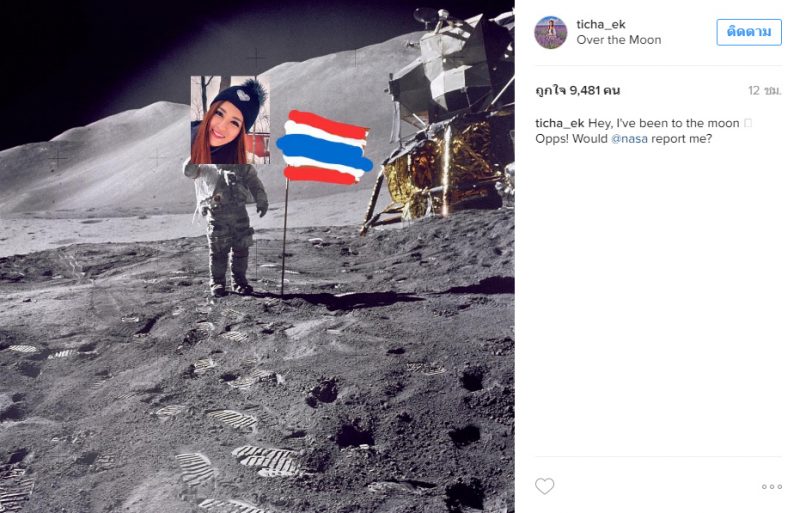 BANGKOK — Instead of ghosting, raging or lawyering up, a former flight attendant ridiculed online for her bogus travel photos thumbed her nose at the scorn and one-upped those mocking her.
In her Instagram reply to all the memes mocking her photoshopped travel pics, @Ticha_ek on Thursday night posted her face atop an image from the Apollo moon landing, scribbled some home colors over the flag and captioned it, "I've been to the moon … Opps! Would @nasa report me?"
"It's my way of telling the bullies that they can't knock me down," she said Friday from Calgary, Canada.
Read: Memes Take Flight Attendant's Online Deception to New Heights
So why did the former flight attendant, who appears in other videos and images to genuinely be widely traveled, photoshop herself into random images found online?
Identifying herself only as "Louktarn" for fear of further harassment, she said that she thought everyone was in on the joke.
"For example, that picture with the Northern Lights was done by my boyfriend as a joke," she said.
She had been persistently nagging him to go see them, she said.
"So he photoshopped me with the Northern Lights and sent it to me as a joke, saying 'Here, you get to go there already!'" Louktarn said.
Thinking it was funny, she uploaded it with a caption about believing in magic.
"I thought it was obvious to anyone seeing it that it was photoshopped. It was done just for fun. I'm not a net idol or a celebrity, this is just my personal account where I like to edit photos and post them. My style of editing pics is to make them bright and dramatic."
She said she was unaware of the copyright on images she used, but didn't think too much about it as it was done for fun. Unlike most social media personalities, she doesn't appear to sell anything to profit from her popularity.
In various videos, Louktarn is seen strolling through the American southwest, touring Easter Island and dog sledding in Lapland.
งงในงง คือพี่เขาเป็นแอร์ละก็ได้ไปเที่ยวจริงแบบจริงๆ แถมมีเป็นคลิปด้วยนะ ดูชีวิตดี แต่เหตุผลอะไรถึงยังต้องมานั่งตัดต่อนี่ดิ งงไปหมด #ticha_ek pic.twitter.com/AgLYQmsBHz

— 지님LAND #final (@syzygynim) December 8, 2016
"I really did go to all these places, because when I was a flight attendant, I got really cheap tickets to go and traveled alone. Sometimes, when the pictures didn't turn out the way I wanted them to, I just added stuff into them, like extra fish in the photo of me diving."
She said she never expected anyone to take them seriously.
Like the photo with Lionel Messi.
"When I was at the stadium in Barcelona, they had this photo spot where you can take a photo with a cutout of Messi and they print it out for you. My IG post was a photo of that printout. I thought everybody would get it. It's so obvious that it's not really Messi!"
Yet many did not, and her username, @Ticha_ek, became the top trending hashtag Thursday on Twitter, in countless tweets faulting her for deception.
The internet drama took her by surprise.
"I'm in Calgary right now, so I was asleep when the whole thing happened," she said. "I woke to tons of flames and spiteful messages. My mother was calling me from Thailand, she was so upset and worried about me."
Louktarn said the cyberbullying was intense, and she had no chance to reply.
"I have to admit, I'm not so 'Thai' when it comes to replying to people who send me berating messages that are perverted or involve my parents. One message even said they would throw acid in my face and slap me if I showed my face again."
She said it went too far.
"The bullies were really harsh. If I was someone weaker, it could've been very dangerous. There have been suicides due to cyberbullying before, so I'd like to ask Thai social media to give me some justice."
The memes, however, are fair game.
"They're funny, and if they make people happy, go ahead," she said, giggling.
Louktarn said she was an air hostess for eight years until about three months ago when she quit. She hasn't spent much time in Thailand since, where her gender seemed to be a factor in the criticism.
"A lot of the comments were in disbelief that a woman who looked like me could go traveling alone to places," she said. "I seem cutesy, but I'm actually an adventurous person who loves to travel alone."
She decided not to let them win.
"I don't want to be a nang ek about this," she said referring to the archetypal leading ladies-cum-victims of Thai soap operas. "But I remembered a story about the Buddha that inspired me to think, 'You can't hurt me if I don't let you.'"