As a child in the '80s, I would vent my anger and frustration with the family warfare going on at home skateboarding with my friends. Like most kids from that era, we got into it watching cats like Tony Hawk hot dog around Southern California in Powell Peralta's "Public Domain" (1988) and other videos. The skating skills were impressive but what really took a hold of our lives was skateboard culture.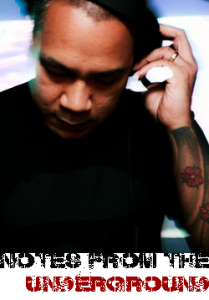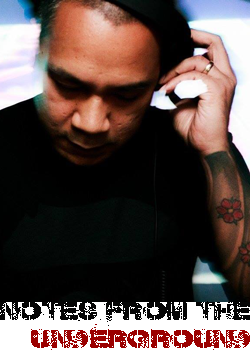 The music and fashion has been mainstreamed since then, at the time this was our Punk Rock, and in conservative 1980s Thailand, being a part of it was the biggest "fuck you" out there.

As with many imports, the scene in Bangkok started with a handful of early adopters, but in the decades since has flourished into a thriving scene supported by its own domestic industry.
Preduce is a Thai skateboard company that's putting the kingdom on the world map. The company had modest beginnings in 2003 when it was started by Rthit Phannikul, Simon Pellaux and Guillaume Wyss. Now it's a powerhouse with its own pro team, clothing line, skateboard decks and five full-length skate videos.
Their latest, "Selamat," video features footage from both their original and new team members but is focused on new addition Absar Lebeh from Indonesia. It premiers tonight at Whiteline.

I met up with Pellaux at Preduce's flagship store in Siam Square on Father's Day morning. Not exactly the time one would expect a meeting with a skater but, skaters gotta hustle too.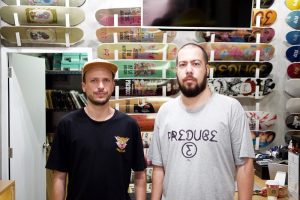 Born and raised in the Swiss town of Vevey, Simon's interest in Thailand came when he watched Thai-American skater Eric Koston's segment in 2000's "Menikmati," which was partially filmed in Bangkok.
"In 2001 I came for three weeks, went to Koh Chang. I really liked it here and had a hard time going back to Switzerland," he said. "So I came back again the next summer, so after two months I called my university and said that I'm taking a year off."
Mongkorn Timkul: Switzerland is most famous for its mountains and I guess it isn't exactly the best place for skateboarding.

Simon Pellaux: We skated in winter, it was super harsh (laughs). If it snowed, we couldn't skate outside, but we would go skate in underground parking lots. We would always find a way.
MT: You got into skateboarding in the '90s. Who were some of the riders that got you into the sport?
SP: I looked up to the guys from World Industries, Girl Skateboard and Chocolate Skateboards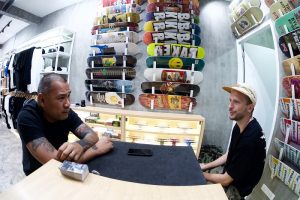 MT: What was it about them that inspired you?
SP: It's hard to say because it was the skater, but it's also the brand image, and it was the start of hip-hop being really influential in skating. We didn't know much about their personalities but what came through the videos and interviews is what I really liked.
MT: From skating with friends and filming skate videos for fun, how did you get the idea of opening your store in Siam Square?
SP: In 2005 we premiered the first video "Smooth," after that we got approached by Nike. They wanted to find an account where they could sell their skateboard shoes. So I told them to give us a year and that we'd open a shop. I didn't know how yet, but I didn't want to let that opportunity pass. So I went back to Switzerland with Guillaume and came up with a business plan and found some investors there. In 2006 we opened the shop and had our first pro board series.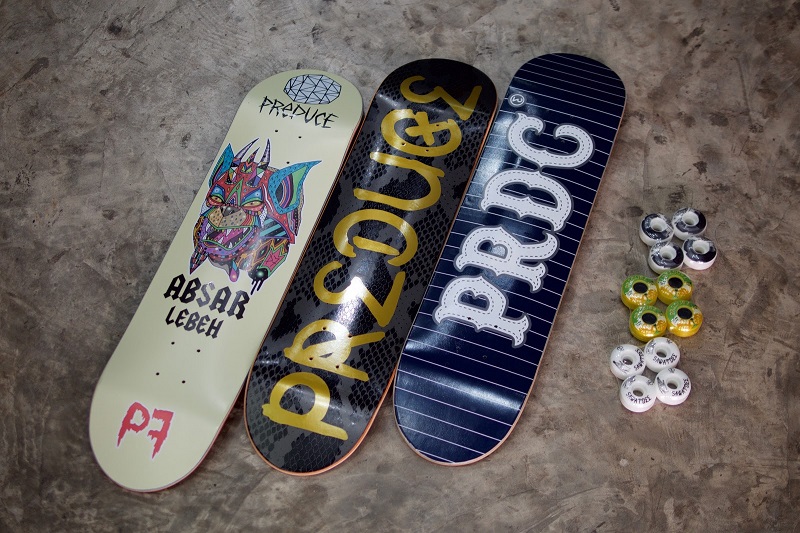 MT: So "Selemat" is your fifth full-length release and you will showcase some of your new riders, Absar Lebeh being one of them. How'd you link up with him?
SP: Absar has been with Preduce for two years and his section in our new video "Selamat" is him turning pro. We met Absar while we were in Malaysia. A friend of ours there said he wanted to come skate with us. So Absar flew himself to Kuala Lumpur, we skated with him that week and got along with him really well. He's an amazing skater, but he's also a famous musician in Indonesia.
MT: You grew up in Europe and have traveled with the team to many countries in Asia. What do you think our scene lacks?
SP: The one thing that lacks in the scene in comparison to America or Europe is that there's not much public support for skateboarding. Not that you need skateparks – because we can skate on the street – but if you want skateboarding to really progress, and for kids to get good, we need skateparks.
MT: And with skateboarding being part of the Olympics in 2020…
SP: Maybe it's gonna be good for skateboarding, who knows? But for me I feel the Olympics needs skateboarding more than skateboarding needs the Olympics. They need young viewers, young viewers don't give a fuck about track and field or horse racing, so skateboarding will appeal to a younger demographic.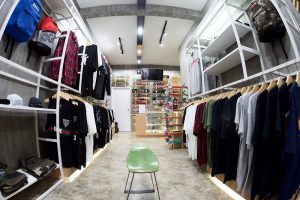 One positive thing about the Olympics is that they will showcase women's skateboarding at the same level as men's skateboarding.
What I fear the most is that now skaters, to some extent, control most of the skate industry and culture, but by putting it in the Olympics I feel there's a big chance we might lose that control to big corporations.
The "Selamat" premiere is tonight, Friday, at Whiteline. There will be a screening for juniors followed by another for adults. Get a Preduce logo tattoo and stick around later for DJs Mt. Markus, Octo and Hibiya Line (The Observatory) to control of the booth and get the funk flowin'. Whiteline is located at Silom Soi 8.
Until next time, Dub be good to you.