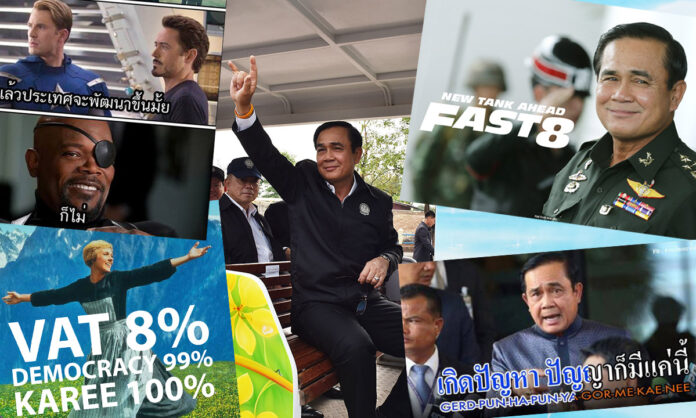 BANGKOK — Public outrage over a proposed increase to the value-added tax, or VAT, led to the military government shelving the idea and blaming the media Friday for spreading fake news.
The series of events began Thursday when Gen. Prayuth Chan-ocha suggested raising the VAT by 1 percent to 8 percent, unleashing a torrent of public criticism.
"Thailand survives on capitalism," Prayuth said Thursday morning at a meeting in Prachinburi. "The VAT has been at 7 percent for many years. If we increased it by just 1 percent, then the country would have an increased income of 100 billion baht. So I need to ask: Can you sacrifice it or not?"
The junta chairman also asserted that his regime is not facing any fiscal problems.
A rash of public outrage soon erupted, largely among Thai netizens, and by Thursday evening government spokesman Sansern Keawkamnerd said Prayuth was just thinking out loud.
"There has been a misunderstanding with the media, which has deviated from the prime minister's intentions and presented fake news. The PM just wanted to illustrate that the citizens are calling for so many things from the government, but the government has only one source of income, which is tax," Sansern said.
He added that citizens who want things from the government "need to learn about sacrifice."
Speaking Friday morning, Prayuth called the media reports "disgusting."
"Yesterday I was explaining about the tax system … and you went back and said I wanted to increase taxes. Don't you understand anything, you guys sitting in the back?" he said. "Anything about conflict and problems, you just make that the front page headline … You just write so that people will buy newspapers. That's disgusting. To you, I have done nothing good."
Read: Thai Treasury Reserves Down 85% Since Coup
Sansern said Prayuth had no plans to increase the VAT because "no government wants to kick citizens when they're down during a bad economy."
He also warned the media not to report on the depletion of funds from government coffers, because it "decreases credibility and is not helpful to any party."
In February, concerns were raised after it came out that government coffers were 85 percent lower than they were before the 2014 coup d'etat.
Finance minister Apisak Tantivorawong also weighed in Thursday to say the current 7 percent VAT rate would be extended another year at the end of September.
Online, there was little evidence of people taking the comments hypothetically. #VAT1% was a top trending hashtag in more than 20,500 tweets by 1pm.

'Swiss-level taxes, North Korean-level quality of life.'

A Pantip post asks 'When you were a kid, what lie from grown-ups did you believe for the longest time?" gets the reply, 'That taxes would be used to develop the country.'

"There's a problem, but this is all the intellect I have," says this meme by the page Basement Karaoke.
Nang Fang Mook has the Avengers discussing the issue: 'Nick, why does the VAT have to be increased to 8%?' Cap and Iron Man ask. Nick Fury: 'A 1% VAT increase will make over 100 million baht.' The heroes reply: 'Will the country develop?' Smiling Fury: 'Well, no.'
[tweet https://twitter.com/Chiho_Iiii/status/840055986316488705 align='center']
"Who thought of the VAT 1% idea?" wrote tweeter @Chiho_Iiii, as a character from popular Nut Ped cartoon says, 'It's dumb. I like it.'
Correction: An original version of this article misstated the amount Gen. Prayuth said the VAT hike would increase government revenue. It was 100 billion baht, not 100 million baht.