Field of Sacred Lotuses Bloom For First Time in a Decade

Tourists and tourism officials on Wednesday paddle through Khao Sam Roi Yot's sacred lotus swamp. This is the first time in a decade that sacred lotuses have bloomed, according to residents. Read: http://www.khaosodenglish.com/featured/2017/04/27/field-sacred-lotuses-first-time-decade-video-photos/

Posted by Khaosod English on Thursday, 27 April 2017
PRACHUAP KHIRI KHAN — A swamp of pink sacred lotuses in Khao Sam Roi Yot National Park were blooming as of Thursday, a phenomenon which occurred for the first time in 10 years.
Among cattails and reeds, pink sacred lotuses were blooming as far as the eye could see in the lotus swamp at a national park located in western Thailand.
On Thursday, a group of local environmentalists paddled three kilometers into the swamp at Khao Sam Roi Yot with tourism officials and journalists to show off the spectacle.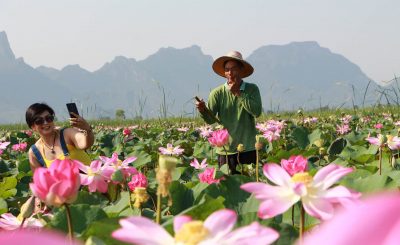 Most nulumbo nucifera, or sacred lotus, fields have dried up for over a decade, residents said, adding that most existing lotus fields are those of the smaller nymphaea nouchali, or blue lotus blooms. In fact, the 43,260 rai (69 square kilometers) of swamp in Khao Sam Roi Yot in 2016 was at its worst state in over 30 years due to drought. The lack of water led the ground to crack dry and all the lotuses died.
"Right now the lotuses are rejuvenating and growing again, but it will take some time for them to be beautiful," Nisakorn Tongprong, head of an environmentalist group at the national park said. "This year, the water level came back up to two meters in some areas, but now mostly they've decreased to 50 to 80 centimeters because of the heat and the wind. Still, I'm confident that the swamp won't dry up because summer is almost over and the lotuses are strong, new plants."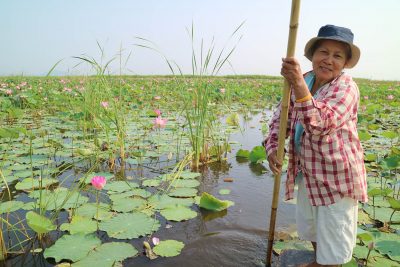 During the decade-long dearth of lotuses, locals who made their living off paddling tourists through the swamp and fishing had to turn to other ways to make money. With the delicate pink blooms appearing again, tourists have been visiting the marsh, advertised through social media or word of mouth.
According to Nisakorn, the best times to head out are 6am and 10am and travelers are advised to bring sunscreen and hats.
Rungrote Atsawakultarin, head of Khao Sam Roi Yot said Thursday that only one section of the swamp, at the Bung Baw Nature Study Center, is open to tourists to protect the flowers.