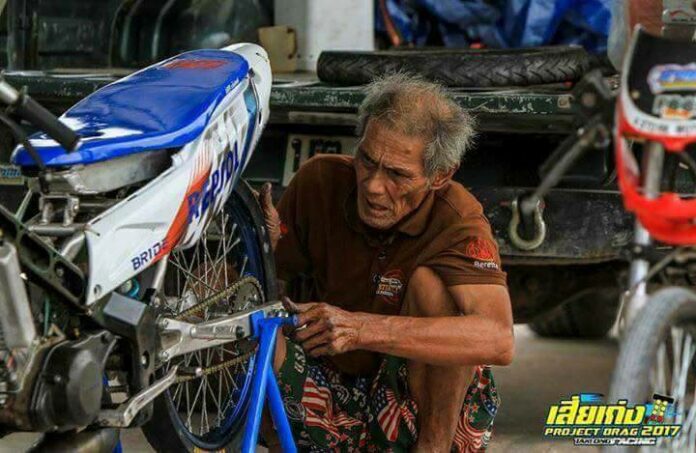 CHANTHABURI — A 74-year-old motorcycle drag racing mechanic is being fawned over online after four of his bikes have gone on to win provincial drag racing competitions.
Known as "Pa Leng" (Uncle Leng), the 74-year-old, identified only as Banleng, worked on a bike that most recently placed first Saturday at a race in Pattaya.
"Some people look down and me and say that someone so old shouldn't even compete. So I thought, If I lose to them then I'll stop, but if I win, I'll keep going," Uncle Leng said in an interview posted online Friday.
The Chanthaburi native – who was once a racer himself – said he only started modding bikes when he was 40 and works full-time as a rambutan and durian farmer with over 300 rai of land.
"This is my happiness. When someone has an engine they bought for 50,000, 60,000 baht but the one I made can stand up to them, that makes me happy," Uncle Leng said.
Uncle Leng's winning bike in a race Saturday at Pattaya.
Uncle Leng's interview with a fan from the ThaiRacing Facebook page. He modifies a bike at around 31:46.