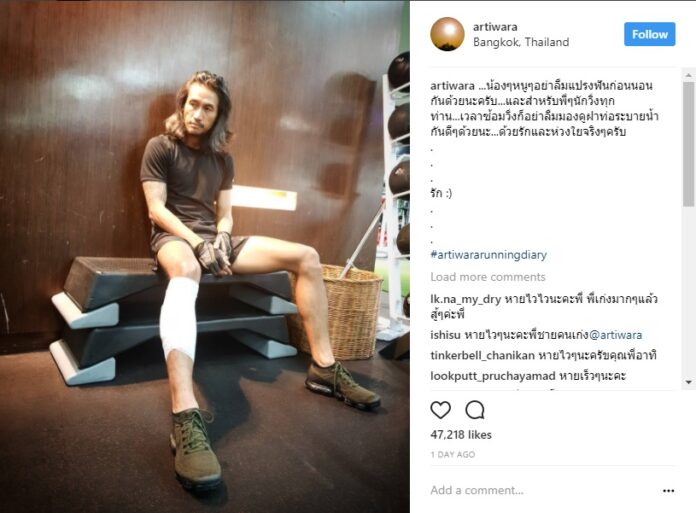 BANGKOK — It was with some irony a famous singer acknowledged Thursday that he injured his leg falling into a drain while training for a charity run to benefit hospitals.
"For all the runner fellows … watch out carefully for the drain holes while training," Toon wrote in a caption along with a photo of his bandaged right leg.
The fact that rock vocalist Artiwara "Toon" Kongmalai, aka Toon Bodyslam, was injured by poorly maintained infrastructure widened already sharp criticism of hospital funding to a wider indictment of government mismanagement.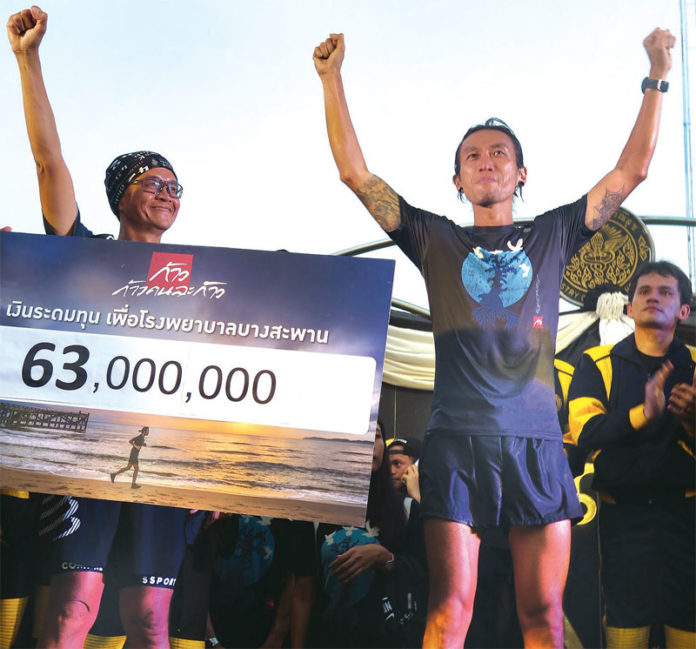 Artiwara was training for a heavily publicized, one-man run supported by sponsors and pledges, with all money to be donated to hospitals nationwide.
It's not his first campaign to raise money for medical facilities. In December last year he ran 400 kilometers to raise 63 million baht for the Bang Saphan Hospital in Prachuap Khiri Khan province, where Artiwara used to live. He said he had been inspired by the hospital's shortage of equipment and facilities.
In March, Artiwara joined another run to raise funds for the construction of a new building at Siriraj Hospital. A date has yet to be announced for his new running campaign.
Band Aid?
While his efforts were well received by the public, some said it highlights the government's failure to allocate sufficient funds to support the health care system.
On June 21, Artiwara met health ministry Permanent Secretary Sopon Mekthon to discuss his latest campaign to draw donations for hospitals nationwide.
But having the very public face of the big campaign injured by a street drain shifted criticism to another aspect.
"What should I rage at first in the news P'Toon fell into the hole while training for his run to help the hospitals," @PhaseFedFe tweeted. "Rage at that funding is not enough for hospitals or at how careless the drain covering is? Damn!"
ข่าวพี่ตูนซ้อมวิ่งช่วยรพแล้วตกท่อนี่กูควรด่าอะไรก่อนดี ด่าที่งบมันไม่พอให้รพ หรือด่าความชุ่ยของท่อ อีห่า

— สะใภ้ซอยสายหยุด (@phaseFedFe) August 11, 2017
"Maybe P'ToonBodyslam should run to fundraise for City Hall's road work budget too. #LousyCountry," @TJ_Aomi tweeted. "Get better soon P'Toon! I admire your courage."
Bangkok has 600,000 drain holes, according to Somphong Wiangkaew, the head of City Hall's drainage and sewer department.
Acknowledging frequent accidents caused by improperly covered drains, Somphong said one solution his office was considering was to increase the minimum distance between each drain from six meters to 15 meters. Fewer drains, he said, would mean fewer accidents.