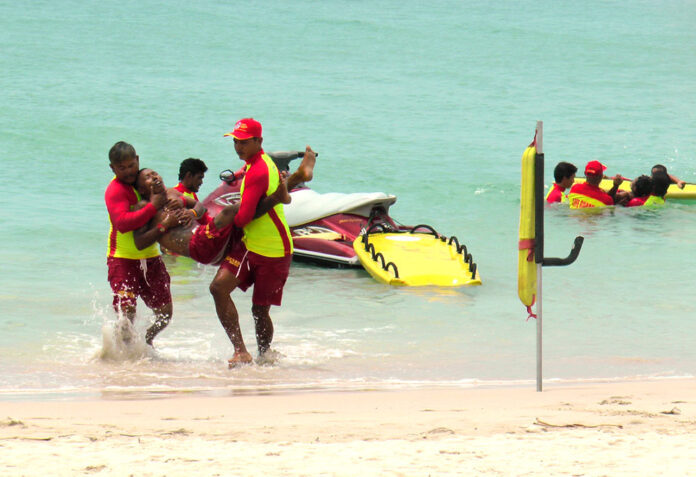 PHUKET — Signs warning people to swim at their own risk could soon be the only thing between tourists and the sometimes dangerous waters of Phuket, island lifeguards warn.
The Phuket Lifeguard Service said Tuesday that come Sunday, it will withdraw the red-and-yellow lifeguards who have kept watch over the resort island's beaches for nearly a decade rather than sign a new contract with a slashed budget.
The president of the island's lifeguard association said funding has been cut each year from upward of 22 million baht when it began operating in 2010 to the 19.8 million baht proposed for next year.
"The budget cut pulls funding for necessary rescue equipment without cause or explanation," Prataiyuth Chuayuan, president of the Phuket Lifeguard Association said. "Our administration discussed and came to the conclusion that this is an obstacle to us working efficiently. Therefore, we won't be extending our contract if Phuket Provincial Administration insists on these numbers."
At a Monday news conference, the lifeguards said they will not renew their contract and warned that, in lieu of lifeguards, there will only be signs in English saying "Warning! No lifeguards on duty. Swim at your own risk."
It was unclear if the lifeguards would make good on their threat or were hoping to win concessions from the provincial authorities.
"It's not a strike, it's just ending a contract," Utane Singsom, chief lifeguard for the Phuket Lifeguard Service, said Tuesday by phone. "Although lots of volunteers do it because we love lifeguarding, my boys have families to feed, and they can't work for free. The company can't just keep running losses."
Utane said his company suffered losses this year and could not continue paying its 90 lifeguards' salaries, let alone maintain its equipment.
"How can you not support lifeguards in a tourist city? I'm sure that without lifeguards for just one day, there will be losses, especially since next month is the full-on monsoon season," Utane Singsom, chief lifeguard for Phuket Lifeguard Service, said Tuesday by phone. "Maybe local government just doesn't see us as important."
Phuket often has red-flag warnings and fatal incidents have been known to occur.
The Phuket Lifeguard Service says it has assisted people who have been swept out to sea, stung by jellyfish, fainted, bitten by dogs, drowned while snorkeling, stung by stingrays, poisoned by sea urchins, hit by falling branches and even those with a bad reaction to seafood.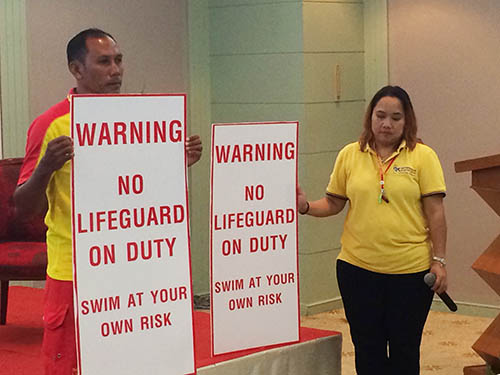 Related stories:
All Phuket Beaches Closed Until Further Notice
Tourists Ignore Red Flags, Lifeguards Keep Saving Them – Thanks Optional