Saturday was the second time in Pat's adult life she had stepped onto a football field. Three days earlier had been the first.
Her sudden interest in sport wasn't part of a new fitness regime or to become the next Mia Hamm, but rather to satisfy a more deeply held desire: meeting the morally complex and thoroughly handsome Kingslayer himself – Ser Jaime Lannister.
"Seeing Jaime is my goal for the day, and it's a fun to bring together my friends, both upper and underclassmen. No one in our team plays soccer regularly, but we will practice for Saturday," 24-year-old Teerada "Pat" Watanacharoen, member of the Here to Slay football team named after the Kingslayer said, laughing.
Jaime is in fact Nikolaj Coster-Waldau, the Game of Thrones anti-hero fans first met making love to his sister and pushing a young boy out a high window.
Pat was among dozens of women who signed up for a chance to play a match refereed by the Danish actor today at Bangkok's Nist International School at an event hosted by the UN Development Programme.
Coster-Waldau has been in Thailand several days already, with fans tracking his every appearance online, from planting trees to cooking pad thai.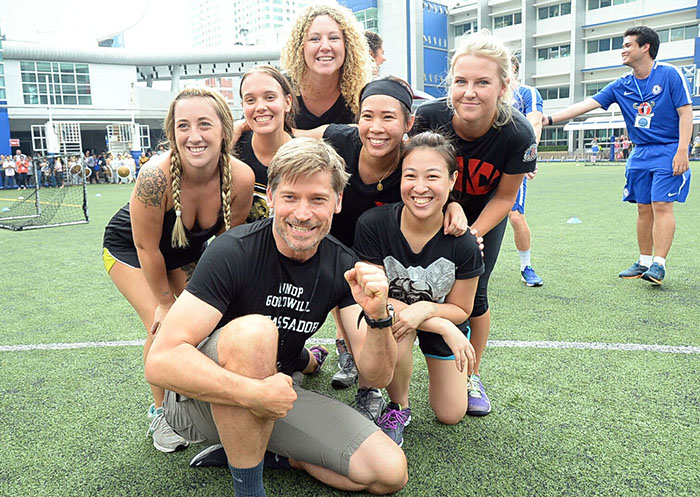 Pat found out about the UNDP event through social media and called other smallfolk from Chulalongkorn University's Faculty of Communication Arts. They leaped at the chance to be Lannister bannerwomen. The name of their team? "Here to Slay."
"We all love his character, and we don't want him to ever die," 26-year-old Gamkaew "Gam" Lourakmanee said, laughing. "I bet he will be really friendly. I want to tell him to keep doing his best in all of his endeavors."
As the event was ostensibly about more than gaining proximity to the commander of the Kings Guard. Pat and her friends had to come up with a "good cause" to champion. They settled on the unassailable "quality education."
"I'm coming just to see Jaime," Pat said. "I know they're using him as a method to attract people, but because of him I studied very closely the rules, the causes and how they award points."
They also decided to take the field in Thai schoolgirl uniforms for Coster-Waldau's visit. Why? Pat said something about representing their shared backgrounds.
The Global Goals World Cup is a UNDP program that holds women's soccer matches all over the world to raise awareness for the organization's 17 sustainable development goals.
Coster-Waldau, 47, was named a UNDP Goodwill Ambassador in September 2016.
"As a father and husband, I'm passionate about advocating for issues that matter to me personally. I want a clean, safe, prosperous planet for my daughters to grow up in," Coster-Waldau wrote in a March UNDP editorial. "I want them to live in a world that enables them to pursue their desires, maximize their potential, and strengthen those around them. One that doesn't hold them back or dash their hopes because of their gender."