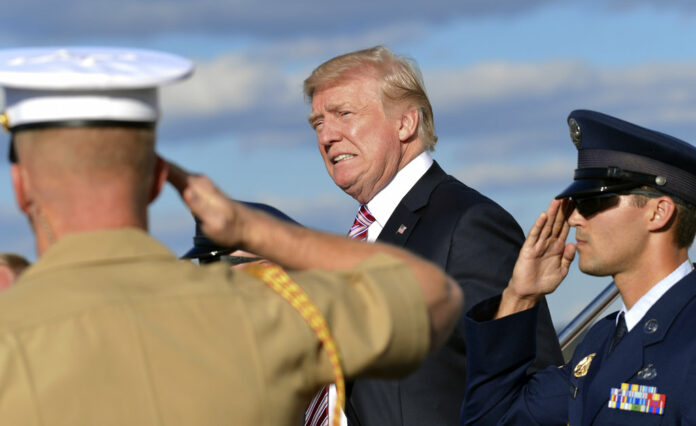 BANGKOK — The current state of American political affairs means its president's embrace of the Thai junta does not necessarily signal less support for democracy from its government.
Analysts differ on whether junta leader Gen. Prayuth Chan-ocha's visit tomorrow to the White House, where he had been unwelcome prior to Donald Trump, means Thai democracy can no longer expect US support, or whether the president may not be in sync with American policy.
"Just because Trump receives Prayuth at the [White House] doesn't mean Thailand's pro-democracy movement can no longer count on the United States,"  Thitinan Pongsudhirak, director of the Institute for Science and International Security at Chulalongkorn University, wrote in response to questions. "The Thai democracy movement can still look to civil society and congressional support. No matter who holds the presidency, the US will not abandon values such as human rights and democracy, but under Trump, values are being superseded by interests."
The US Congress has moved to force Trump's hand several times on matters such as maintaining Russian sanctions and accepting funding to combat propaganda. From ordering transgender soldiers banned and his opponents investigated, some of Trump's unfiltered declarations have been walked back or even ignored by his subordinates, including members of his cabinet and military.
Thammasat University lecturer of International Relations Virot Ali also thinks all is not lost for human rights and the democracy movement in Thailand.
"The State Department must warn Trump at times. We can expect pressure from civil servants [at the State Department], but it depends on the situation," Virot said.
But others expect no change to what had already become a thin commitment to liberty in the region.
Sean Boonpracong, former advisor to Yingluck Shinawatra's National Security Council, believes the United States is no longer reliable when it comes to human rights and democracy.
"I think we should not depend on America. The US made no move in Cambodia on the recent jailing [of opposition leader Kem Sokha]. It means Trump has no interest. From now on, the democracy movement can rely little on America," said 67-year-old Sean, who spent 37 years in the United States.
Still, he notes there's a difference between the stance of US State Department and others on how the United States should engage with Thailand under the military government.
Both Virot and Thitinan see the meeting next week as a win for Prayuth.
"Showing up at the White House is already a huge gain for the Thai military regime, a kind of recognition it has been seeking all along," Thitinan said.
Virot said Prayuth will "fully benefit from legitimacy" by being at the White House as a guest of the president.
"He can claim that he has been accepted, and there will be fewer restrictions [on the military regime]," he said.
Trump first reached out to Prayuth five months ago during a flurry of calls to regional leaders on and around April 30 to shore up a unified response to North Korea's escalated nuclear threats. The invitation was rescheduled and dropped several times since then. Most recently set for Tuesday, it was bumped again just Friday for Trump to visit Puerto Rico and moved up a day to Monday.
Amart of the Deal
Meetings with Trump, whose brand is built on the image of being a dealmaker, are expected to showcase some transactional accord.
On policy, Thitinan sees an agreement "package" that includes both security issues related to North Korea and trade deficits with Thailand.
"The Thai government should look at the early White House visits by Vietnam's Prime Minister Phuc and Malaysia's Prime Minister Najib. In both cases, North Korea was top issue, followed by terrorism and US trade deficits. The latter was addressed partly by US arms sales to these two countries."
But getting face time with the US president may not have much effect on American policy. The Malaysian prime minister's visit to the White House earlier this month did not end a US Justice Department criminal probe into alleged looting of a fund he founded.
Najib capped his visit with a promise to buy at least 33 Boeing 737 and 787 jets for Malaysia Airlines. Prayuth, whose military regime has been on a defense buying spree this year, is likely to show up with Thailand's checkbook for his own pocketbook diplomacy.
"Trump is into deals, and so the commercial side will be front and centre. It may serve both sides well because the Thai military government is traditionally keen to acquire US weapon systems, and this could help reduce Thailand's trade surplus with the US," Thitinan wrote. "It would pacify Trump and his base. On North Korea, Trump Administration will press further for Thailand to complete shut down all diplomatic and business relations related to Kim Jong Un's regime."
He also cited Thailand's interest in how it is ranked in the US State Department's annual human trafficking report.
Will Europe Follow?
Two weeks ago, deputy junta leader Gen. Prawit Wongsuwan returned from London with news he'd won UK support for a joint military exercise in Thailand.
With US ties now all but normalized except for the suspension of military aid, will Europe and the United Kingdom follow suit?
Sean thinks the EU will stick to its guns on human rights and democracy but has been weakened internally by Brexit.
Virot sees the EU, while busy with reforms, standing firm as well, particularly now that Angela Merkel has secured another term as German chancellor.
As for the United Kingdom, Virot sees it embarking on ideological shift due to Brexit. "It's like now that it's no longer going to be part of the EU, it is seeking its own solution. England will be more friendly [to the Thai regime] but it will also have influence after leaving the EU," Virot said.
Thitinan believes EU nations and other Asian and Western democracies will take Trump's invitation to Prayuth as "a cue and signal."
"This could lead to a race for re-engagement. Only a few EU countries are holdouts on human rights and democracy. But once the US goes to the other side, the pressure for other leading democracies to follow will mount in a prisoner's dilemma style," the professor said, referring to the classic example of motivational game theory.