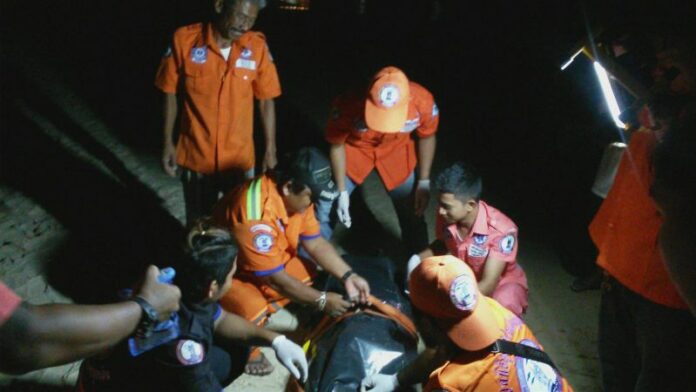 PHUKET — The southern resort island of Phuket is being patrolled by government workers and naval officials after a private lifeguard company's contract expired Saturday, the same day a tourist died at sea.
The body of a 23-year-old Chinese tourist was recovered at about 11pm on Sunday night by rescue workers at Kata Beach. She had been missing since Saturday afternoon when she was dragged out to sea by the waves. Khaosod English is withholding her name until her family can be notified.
Saturday evening was the last time the 90-plus lifeguards of Phuket Lifeguard Service were on patrol at beaches across the island. Local officials withdrew their seven-year-old contract after the contractor balked at a funding cut of more than a million baht. Incensed that the lifeguards went public with a threat to drop the contract and leave Phuket's sometimes perilous waters unguarded, provincial authorities withdrew the offer.
"Lifeguards are now at the beaches. Yesterday I just went to place equipment there with them, and they include local officials, provincial officials and the navy," Phuket Gov. Narapat Plodthong said Monday.
He said their operational standards would be equal to that of the private company.
Asked about the tourist's death, Narapat pointed out that she died while the lifeguards were still on the job.
"This happened Saturday, which was still in their contract. It's a fact," he said.
Read: Phuket Lifeguards Say Gov't Withdrew Contract Offer
Asked if the recruited lifeguards would be up to snuff, a member of Phuket Lifeguard Service's board said only time will tell.
"We have to wait and see," Prathaiyut Chuayuan said. "They said they can handle it."
He said all beaches are being watched. On Sunday, workers were stationed at beaches in Phuket's Thalang, Mueang Phuket and Kratoo districts, the governor said, while on Monday more were dispatched to Karon, Patong and Kamala beaches.
The province will directly hire lifeguards he said – some of whom may come from the firm that held the contract.
"We want some of their lifeguards, especially the professional ones who know a lot of techniques, to sign up with us again. We will make sure the newer recruits are trained well, too," Narapat said.
Related stories:
Phuket Lifeguards Say Gov't Withdrew Contract Offer
Phuket Lifeguards Threaten to Withdraw From Beaches
All Phuket Beaches Closed Until Further Notice
Tourists Ignore Red Flags, Lifeguards Keep Saving Them – Thanks Optional