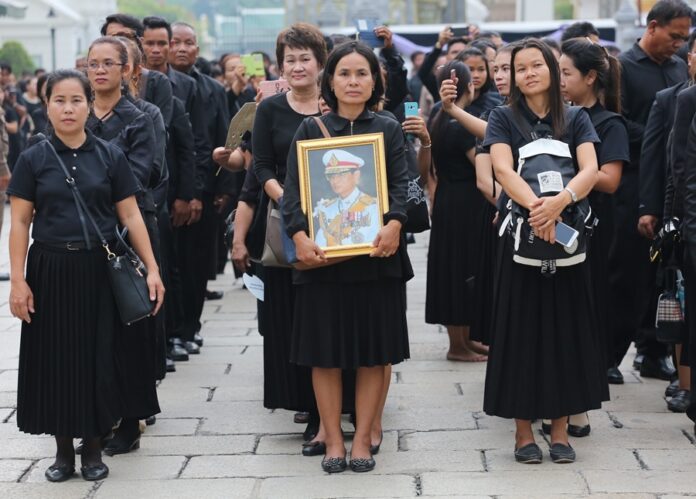 BANGKOK — Anti-monarchy cells are conspiring to disrupt the funeral of His Majesty the Late King this month, deputy junta chairman Prawit Wongsuwan said Monday.
Gen. Prawit described the alleged agitators as those who "have ill intentions toward the monarchy." Although he gave no details, he said full-scale security measures would be implemented throughout the rites to place over several days culminating with the Oct. 26 cremation.
"We have information there are groups of people who are preparing to take action and cause incident during the royal funeral, both domestic and overseas," Prawit told reporters. "We have to prevent any incident caused by the people who oppose and have ill intentions toward the monarchy."
Read: Told to Tone it Down, Media Will Shoulder Losses For Royal Funeral
Defense spokesman Kongcheep Tantravanich said Prawit's remark was based on intelligence reports.
"They are groups who oppose the monarchy," Maj. Gen. Kongcheep said by phone. "There are attempts to disrupt the royal funeral, or do something to give the image that things are not going smoothly."
Kongcheep would not identify the group by name.
"I'd rather not to say that," he said. "There is no use to elaborate on this matter. And it should not be elaborated, too. This is an inappropriate topic for the important month of October."
There were no further details about the alleged threats.
A former Reuters reporter and strident voice critical of the monarchy who is part of the online dissident community said he didn't believe there was any such threat.
"I have not heard any activist discussing any plan to disrupt the funeral. Moreover, all the leading Thai activists I know would consider disrupting the funeral an extremely bad idea," Andrew MacGregor Marshall said by online messages. "Causing problems for people mourning their previous king would not help bring Thailand any closer to democracy. Prawit's comments are almost certainly false and dishonest."
King Bhumibol died at 88 on Oct. 13 after more than six decades on the throne. Thailand went through a year of national mourning period and has been preparing for massive funerary rites that will climax with the cremation of the late king.
Millions of mourners are expected to gather about the Sanam Luang – the grounds for the cremation pyre – to witness the king's farewell in a ceremony the likes of which has not been seen for generations. Media outlets have been ordered to tone down coverage and cut ads on certain days to show respect.
Criticism of the monarchy is outlawed and harshly punished in recent years. The military government has justified its aggressive prosecution and stiff sentences by portraying critics of the royal family as supporters of a violent movement aimed at toppling the institution.
Prawit and Kongcheep said security forces have been instructed to maintain public order at the cremation ceremony to their the fullest capacity.
"This will be one of the biggest events in the world," Prawit said. "We have to do our best in order to maintain security."