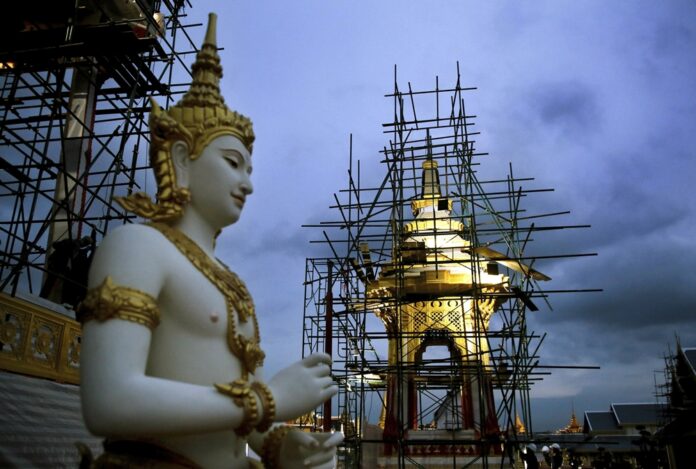 BANGKOK — At least eight people have been charged with insulting the monarchy for allegedly burning portraits of members of the royal family, a legal aid group said Thursday.
Thai Lawyers for Human Rights said the suspects were first arrested in May in the northeastern province of Khon Kaen and faced multiple charges for vandalizing portraits of late King Bhumibol Adulyadej and his son and successor King Maha Vajiralongkorn Bodindradebayavarangkun. The portraits were on ceremonial arches typically found on public streets.
Lese majeste, as the offense is known, is punishable by three to 15 years' imprisonment. At least 93 cases of lese majeste involving 138 people have been prosecuted since the military seized power in 2014, according to the lawyers' group. Rights groups say the government's actions are a way of silencing critics and asserting political control.
Read: 14 Year Old in Custody for Allegedly Burning King Portrait
The suspects were not initially charged because police said their investigations found that the actions were more likely driven by personal conflicts or for local benefits. It said most of the suspects were 18-20 years old, with the youngest 14 years old.
They had been held for 48 days before being released. They were re-arrested and charged Wednesday. They also face additional charges of criminal association and destruction of public property, The lawyers group said it was uncertain about the 14-year-old's case because it was being treated under a separate system for juvenile offenders.
Bail requests for the suspects had been denied when they were initially detained, and the lawyers group says it is less likely the suspects would be granted bail now that they have been charged.
Prime Minister Prayuth Chan-ocha was reported to have said Wednesday that the king has no interesting in punishing people for lese majeste, but that such cases are necessary for protecting national security.
"Regarding the offense, or anything else that should not have been disseminated, His Majesty always says he does not want people to be punished for it," Prayuth was quoted saying by the Bangkok Post. He said that protecting the institution of the monarchy is a key part of national security strategy.
"Some people already know the law but they try to defy it," he was quoted saying.
Prayuth was speaking in reaction to questions about a student activist who was sentenced Tuesday to 2 1/2 years in prison after he pleaded guilty to lese majeste for sharing a BBC article about King Vajiralongkorn on Facebook.