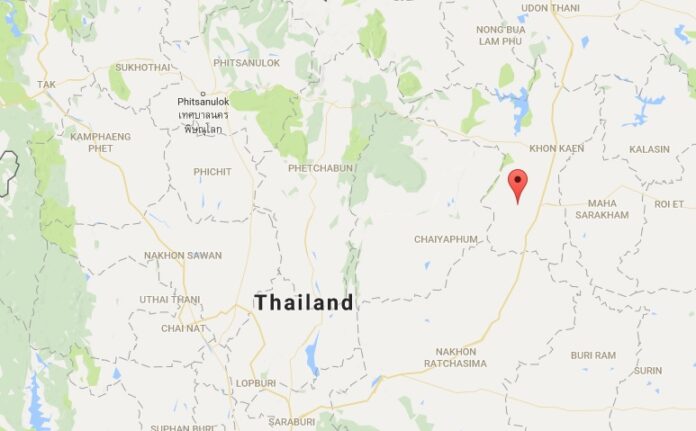 KHON KAEN — Seven people, including a 14-year-old boy, are in military custody on suspicion of setting fire to a roadside portrait of His Majesty the Late King in northeastern Thailand, a police officer said Monday.
No charges have been filed against the seven over the incident, which reportedly took place one week ago on May 15 in Khon Kaen province, and it was unclear when they were arrested.
"I believe seven people are being held by the army for questioning," Lt. Col. Jatemanoon Saphapairot, a deputy local police chief said by telephone.
He added that none has been handed over to police.
Jatemanoon did not give any names, but an internal memo circulated by the Ministry of Interior Affairs identified four of them as Chirayu Sinpho, 19; Ratrthathammanoon Srihabutr, 20; Akkharapong Aryukong, 19; and a 14-year minor.
The lieutenant colonel said police are seeking arrest warrants for several other suspects.
Large portraits of members of the Royal Family are a common sight on roads and at intersections, and they are treated as objects of respect.
The detentions come during an intensifying crackdown on actions deemed critical of the monarchy. Six people were charged with lese majeste earlier this month, and the military government publicly threatened to file criminal charges against Facebook over blocking content from the kingdom.
Thai Lawyer for Human Rights said the military was detaining the seven at a special prison it built for national security cases on a Bangkok military base.
"Thai Lawyers for Human Rights … is concerned about the military detention of the individuals and that they are not entitled to the right to fair trial, particularly the detention of a 14-year-male minor who should in fact be entitled to a different treatment from an adult," the English-language statement read.
Although any public sign of disrespect against the monarchy has been considered taboo, the authorities have taken a tougher stance toward offenders since a royalist regime seized power on May 22, 2014.
Just two weeks ago, on May 3, security officers charged six people with insulting the monarchy, or lese majeste. Their offenses are said to include sharing Facebook posts of a fugitive historian wanted in Thailand for lese majeste.
Related stories:
Facebook Stands by Policy as Govt Ultimatum Passes
Imprisoned Activist May Miss Awards Ceremony
820 Items Defaming Monarchy Tackled Since October: Army Cyber Center