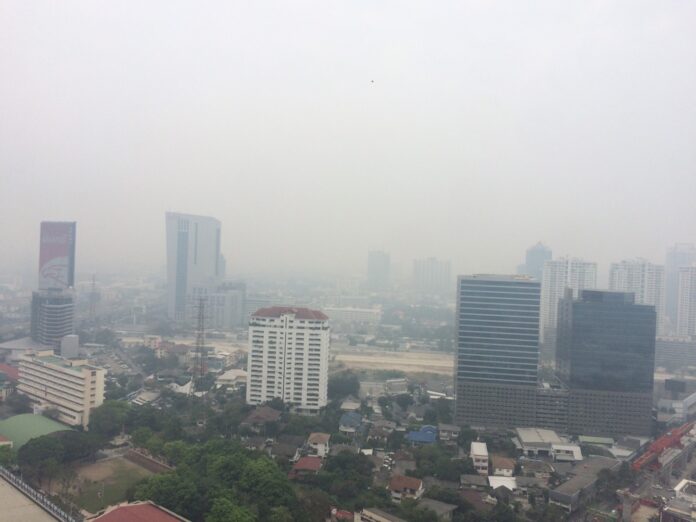 BANGKOK — Wake up, step outside and start coughing? You're not the only one.
Thursday morning dawned with the capital city blanketed with a thick layer of smog and and air quality pegged at "very unhealthy."
As of 7am, the air pollution index of Bangkok rose to 203, a level at the high end of "very unhealthy" according to an international air monitor. That's well above two weeks ago, when the pollution reached 174 or "unhealthy," prompting a face mask warning.
It also gives Bangkok the dubious distinction of having the fifth worst air quality in the world today, behind Mumbai, India; Lahore, Pakistan; Delhi, India and Kolkata, India.
The "very unhealthy" level suggests active children and adults and people with respiratory diseases should avoid exerting themselves outdoors. That is to say: Don't breathe too much.
The Pollution Control Department on Monday warned residents to wear masks and asked for cooperation from the public to reduce burning, construction and use of motor vehicles.
On Thursday morning, Nichon Kongpeth, spokesman of the Pollution Control Department could not be reached for a comment.
Two weeks ago, the grey mass clouded over Bangkok and the surrounding metropolitan area. Residents with vulnerable respiratory systems were warned to wear masks.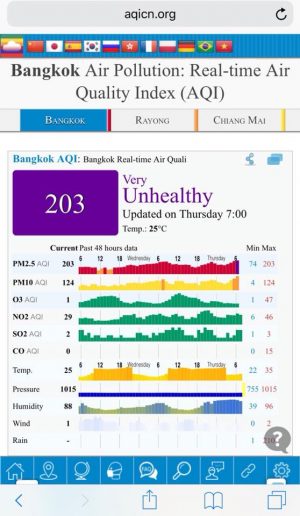 The pollution department was called upon by Greenpeace Thailand to measure and assess fine particulates which can cause great harm to the human respiratory system and lead to stroke, lung and heart disease.
Greenpeace, which has called for air quality authorities to take action as some parts of the country exceed World Health Organization pollution levels, said the Pollution Control Department's numbers – which don't measure super fine particulate pollution –  don't tell the full story of what's in the atmosphere.
According to Greenpeace Thailand, such pollution in 2015 killed 37,500 people in the country.

Related stories:
Bangkok's Air More Toxic Than You Think: Greenpeace