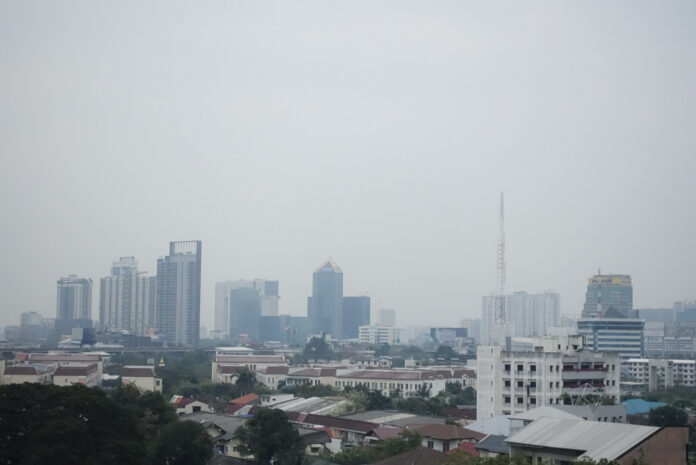 BANGKOK — Bangkok's air, which has been choking on unusually thick smog for days, is actually more toxic than thought.
After the residents, especially those with respiratory difficulty or disease, were warned to wear masks, Greenpeace Thailand said Bangkok's reported pollution levels ignore high levels of dangerously small pollutants blamed for the deaths of tens of thousands annually in Thailand.
Greenpeace, which has called for air quality authorities to take action after some regions exceeded World Health Organization pollution levels, said the Pollution Control Department's numbers don't tell the full story of what's in the atmosphere.
Read: Masks On: Bangkok's Mystery 'Fog' is Heavy Smog
Rattanasiri Kittikongnapang of Greenpeace Thailand said her organization has called on Pollution Control to measure and assess fine particulates which can enter the respiratory system, causing – or making worse – stroke, lung and heart disease. In 2015, such pollution killed 37,500 people in Thailand, according to Greenpeace.
The department currently only measures larger particulates. Its measurements resulted in a Wednesday afternoon statement that air quality was not in the danger zone that would "affect people's health."
That was a rosier assessment than that of an international air quality monitoring effort, which found Bangkok's air somewhere between unhealthy and very unhealthy as of 4pm on the same day. That was a 175 on the World Air Quality Index, which considers less than 50 to be good quality, up to 100 as moderate, higher than 150 as unhealthy and in excess of 200 as very unhealthy.
In air quality parlance, fine particles measuring under 2.5 micrometers are deemed PM2.5. They can only be seen with an electron microscope. Larger particles, anything over 10 micrometers, are known as PM10.
The Pollution Control Department, which is part of the Natural Resources and Environment Ministry, plans to assess micro particulate pollution nationwide within two more years.
According to a recent Greenpeace report, the province of Saraburi and Bangkok's Thonburi district saw the highest average concentrations of PM2.5 throughout 2017. The figures were considered to be over four times higher than WHO air quality limits.
Read: Chiang Mai Has Worst Small Particle Pollution in Thailand: Greenpeace
Other cities with unhealthy levels included Khon Kaen, Chiang Mai, Samut Prakan and Prachinburi.
In 2016, it was the northern city of Chiang Mai, where annual slash-and-burn practices create a choking haze, with the highest levels of fine particulate pollution.
Apart from the usual factors – traffic congestion, industry and open burns – the smog is caused by energy production, especially coal factories.
Bangkok's current thick smog is blamed in part on a lack of wind to clear it out.
The solutions are not easy, Rattanasiri said, as cooperation across several sectors is needed.
For starters, the government must improve public transportation to get some motor vehicles off the road. The next step would be adopting more solar and wind power.
Greenpeace will host a panel discussion "Transboundary air pollution in Southeast Asia" on Friday afternoon on the first floor of the Bangkok Art and Culture Centre. The talk will be led by environmentalists and experts.
Related stories: