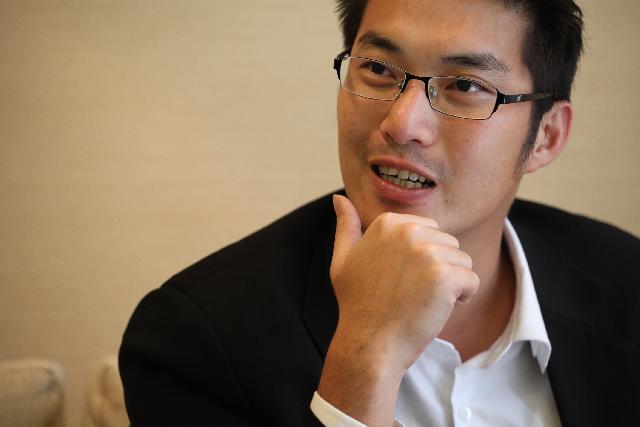 BANGKOK — Among the groups emerging to launch new political parties a day before registration opens is a Thai billionaire expected to lead political youngbloods in a high-stakes bid to offer an alternative to the status quo.
While many newborn parties will be led by familiar faces, a party so new it hasn't yet come up with a name is bringing some excitement to the race, largely as it will be headed by Thanathorn Juangroongruangkit, a 39-year-old billionaire who's championed underdogs and been a thorn in the side of the political establishment.
Finding people ready to talk about the proposed party has been difficult. Reached for comment on his plans Tuesday, Thanathorn declined to comment.
But a source with knowledge of the plan said the party has attracted more than 20 prominent members and is expected to register on March 15.
"We are recruiting more people from diverse backgrounds and hopefully can register with the Election Commission on March 15," the source said.
Thanathorn started out as a student activist at the turn of the century, appearing on front pages as one of several students defending Assembly of the Poor protesters against the police. He went on to develop a reputation for supporting the powerless and, more widely, an adventurous spirit that goes on solo sailing adventures and is planning to lead the first Thai mission to the South Pole later this year.
Today, he is executive vice president and director of his family business, Thai Summit Group. The leading auto parts manufacturer has annual revenues topping 70 billion baht and counts Tesla among its clients. Although he has not been politically active in the years since joining Thai Summit, Thanathorn was accused of backing the New Democracy Movement in 2015. He denied the rumors.
Summit Group owns a large stake in Matichon Group, and Thanathorn sits on its board. Matichon Group is the parent company of Khaosod and Khaosod English.
Race Begins: Finish Line Uncertain
While the latest promise from junta chief Prayuth Chan-ocha that an election will take place next February was met with wide skepticism, the process is getting underway. As of today – though effectively Friday due to the holiday – new parties are allowed to meet and register while old parties can confirm their intentions starting in April.
The New Palang Dharma Party on Thursday became the first new party to go public about its decision to contest the upcoming election. But like many others expected to register tomorrow, the party is led by a familiar political face. Its founder is Ravee Matchamadol, who has been proactive on the topic of energy reform and joined the People's Committee for Absolute Democracy With the King as Head of State, or PCAD, in the protests which preceded the 2014 coup.
Read: Election Next Year For Sure Unless Not, Prayuth Says
PCAD leader Suthep Thaugsuban denied Wednesday he would neither run for election nor take any role in government. But his brother, Thani Thaugsuban, said the same day he would definitely join a pro-junta party that registers with the Election Commission.
Rumors abound that prominent members of the military government are seeking to form their own party backed by a billionaire sponsor.
'Third Way'
Long-running rumors among academics and activists about Thanathorn throwing his hat into the political arena first came to public attention Wednesday night when he was identified by name by news site Prachachat, which is also a Matichon Group company. The party, it said, would pursue progressive policies and adhere to a social democracy ideology.
Aimed to be a choice for younger Thais, the party will be joined by many prominent academics and pro-democracy activists. Among them is Piyabutr Saengkanokkul, a law professor from Thammasat University and renowned member of a legal reform group called Nitirat.
Based on a fundamental belief in equality, the party is expected to propose cutting-edge policies for the Thai political landscape including tangible social welfare programs and holding the military accountable. It will target the young generation and also those who don't identify with the well-established sides in heavily polarized Thailand.
Asked if he was aware of the news, a political academic and exile in Japan said Wednesday he believes it's brilliant to have a young, rich, good-looking and business-oriented man throw himself in.
"On top of that, he doesn't have any political background. He's very clean, has no political baggage, has no association with any politician or political party before," said Pavin Chachavalpongpun of Kyoto University. "So we are talking about someone quite pure, hopefully politically neutral, who understands the political and economic changes in Thailand in the past few years and who also understands the little people in society."
But despite being optimistic about this party, Pavin said he personally thinks it is premature for the tycoon to throw his hat in, as he will be constrained by the constitution enacted last year, which was written to maintain military power.
"Personally I do not think that the upcoming election is timely for him," said the active political commentator.
Pavin, however, said Thanathorn could be "the light at the end of the tunnel" if another Thaksin-backed party wins again, setting Thailand down the road toward possible crisis and coup.
Saying he was aware of Thanathorn's effort, a welfare expert from Thammasat University declined to comment in specifics on the topic. He said it might be necessary to establish a new party to promote meaningful welfare policies, as new wine shouldn't be sold in old bottles.
"We need to talk about welfare from the perspective that it is a right, and that we should not need to prove that we are poor in order to obtain it," Sustarum Thammaboosadee said. "So if the party does not truly believe in equality, they won't be able to make the welfare policies come true."
Though the country has become so polarized, Sustarum said there's a gap that a new party could fill, especially if it can tap into the pent-up energy from an electorate long denied the ballot box.
"There is a group of people who haven't been able to use their right to vote for years, and there are young generations who have been affected by the decisions of the previous generations," he said. "There are at least 10 million of these people who have become turned off and hopeless. I believe the old-style parties cannot give what they want."
Related stories:
Suthep Says He's Done With Politics, Puts Kibosh on Rumors
Somchai Says Election Commission Work Could Continue Without Him
Activists Defy Junta's Charges, Announce 4-Day Election Protest