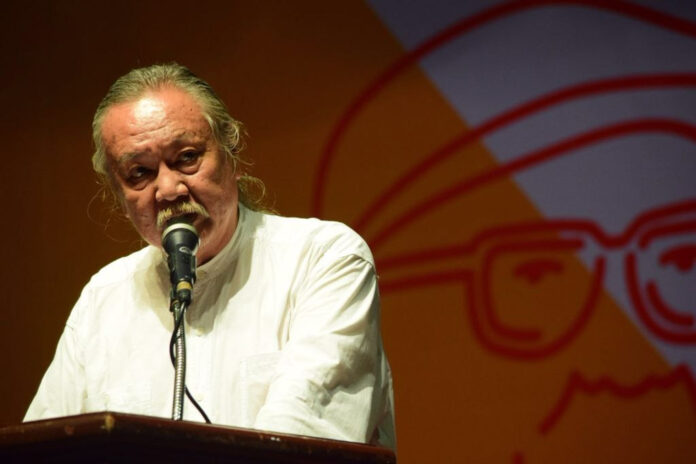 BANGKOK — Both sides of the political divide should reflect on their shortcomings seek to accommodate one another so Thailand can move forward, said a former student leader who helped lead the 1973 political uprising.
Seksan Prasertkul, regarded as a voice of conscience for the past four decades, said conservatives have used notions of "Thainess" and morality to control and dehumanize their opponents while those supporting democracy have failed to offer political alternatives that are more responsible and democratic.
"In my view, one thing that we need to absolutely stop is the production of hate speech aimed at those who think differently. This is because words that look down and are hateful make both debate and dialogue difficult to materialize," Seksan said Friday toward the end of the 16 annual Puey Ungpakorn Lecture at Thammasat University.
He said such attitudes reflect nihilism more than genuine opinion.
"In fact, it's a pitch black banner which is empty and suppresses the chance for society to seek the truth together," he added.
Puey Ungpakorn was a former rector of the university, influential central bank governor and respected statesman. Seksan spoke not just as a leader of his generation, but as a former communist insurgent who entered the mainstream as a political science dean at Thammasat.
Seksan said the notions of "good people" (khon dee) and "Thainess" (kwampenthai) have been used to degrade, demonize and suppress others as unworthy members of society.
Seksan cited those who equate consumption of alcohol or tobacco as inherently bad people (khon mai dee), resulting in "nearly 20 million people have been characterized as bad people."
He said morality is wielded cynically as a weapon in policy matters, such as very high tax rates slapped on alcohol and tobacco. Meanwhile, no special taxes are levied against those involved in livestock and poultry, despite the fact that killing is a far more severe violation of Buddhist precepts.
Seksan said this selective morality has allowed certain people to elevate themselves.
"In the end, it led to the seizure of power by those who consider themselves 'good people," he said.
Now the rule-makers, the "good people" have gone after the "sinners" to add 20 trillion baht to state coffers by doing so.
"Besides being condemned, their wallets have been snatched," he said. "Goodness ends when one starts forcing others to be good people."
On the protesters who helped oust the elected government in 2014 coup, he said their monopolization of the notion they were the "good people" has the consequence of making everyone else "bad people."
Thainess, he said, has become a politically loaded term used to imply that equal rights, freedom and democracy – and those who call for them – are un-Thai.
Thainess, he said, has become narrowly defined as loyal to the throne and obedient to the state. Anyone who breaks from this is told "love it or leave it."
"Those on the democratic side are often seen as deficient in term of their Thainess … and slaves to Western thinking," Seksan said.
Seksan insisted that freedom, human rights and democracy have been universal for a long time.
The man who 44 years ago helped lead a massive protest which led to the ouster of military dictator Thanom Kittikachorn said the pro-democracy camp has shortcomings as well.
Elected governments have failed to broaden the foundations of democracy while in power, he said.
"Politicians have a rather narrow understanding of democracy," Seksan said, adding that they have failed to decentralize power, reform the bureaucracy to work for the public and encourage public participation.
"The political party system ends up being the new embodiment of the patronage system," he said.
Given the paralysis that has gripped Thai politics for a dozen years, Seksan said both sides of the divide need to recognize their own shortcomings and seek to accommodate each other.
Thai society has always been about blending things, Seksan said, and for the sake of both change and continuity, both sides can work together to create that dynamic.