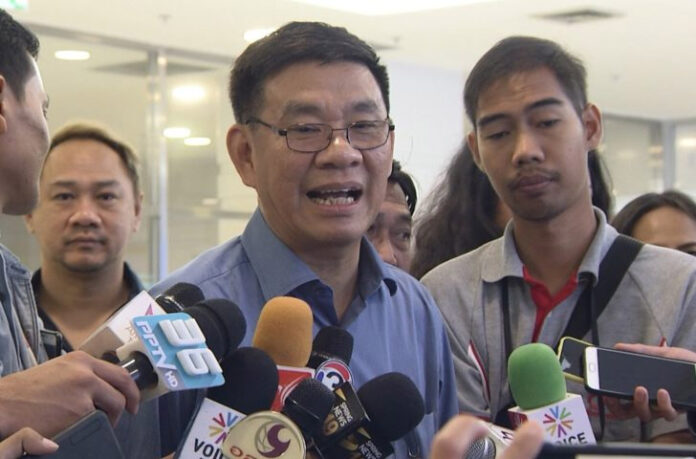 BANGKOK — Somchai Srisutthiyakorn must have seen his removal coming when he wrote Friday that, weeks after having wed, he might be sent on an unexpectedly early honeymoon for having said too much.
And when junta leader Prayuth Chan-ocha used his absolute power Tuesday to sack the acting election commissioner, it came across as payback for his increasingly strident comments, despite the official charge he had misled the public.
Either way, it served to reopen old wounds which have festered since the pro-democracy camp accused him of sabotaging – rather than facilitating – elections four years ago.
The schadenfreude ran strong among some anti-juntanite and Redshirt Shinawatra supporters who blame Somchai for his ambivalent stewardship of the failed 2014 vote they fault for setting the stage for Prayuth's coup.
"You reap what you sow. You paved the way, which let them in," Chulalongkorn University political scientist Puangthong R. Pawakapan said an hour after the news broke last night. Puangthong added that he couldn't have been sacked in such a way under an elected government.
On Twitter, @Pipob69 wrote that Somchai "does not warrant any honor from me given his undemocratic intervention to sabotage the previous elections and to help overthrow a democratically elected government. Sorry for the dude, if he thinks he earns such heroic ending."
Somchai on Wednesday rejected Prayuth's claim he was removed for having "confused the public." Somchai said his recent statements – that the junta-appointed assembly's request for legal review of an elections law by the Constitutional Court could delay voting by up to six months – were factual.
"I'm still confused as to how I made anyone confused," he said in an interview. "If anything, I gave the facts to the public that those in power did not."
Somchai's dismissal came one day after he most recently criticized the junta's handling of the coming political transition. In hard-hitting comments with an online news outlet, he said it was wrong for the junta to get behind a political party.
He also presaged his fate again, telling The 101 World that the powers that be "may want to remove him but don't know how."
Prayuth removed Somchai from office under Section 44 of the 2014 interim charter, which gave him authority to take any action for "national security." It was preserved in the 2017 constitution until a new government is seated.
While some Redshirts gleefully bade Somchai good riddance, few could deny that he was the only outspoken member of the five-member body tasked with organizing elections, and one of the rare officials to publicly express concern about the repeated electoral delays.
Another factor cited as cause for his removal was that he applied to be the commission's secretary general while still serving as a caretaker commissioner.
He said today that no by-laws prevent anyone from doing so, and that he had said he would recuse himself from the vote.
The order to remove him, he said, was "well thought out" in advance and meant to send a message to the four other acting commissioners.
While it can be debated whether his desire to lead the commission presented a conflict of interests, the decision to use dictatorial power to remove Somchai smacked of governance by rule by junta whim rather than rule of law.
One of the leading pro-democracy groups was swift to point out that Somchai's dismissal underscored the excesses of absolute power in the hands of Prayuth as leader of the junta, formally known as the National Council for Peace and Order, or NCPO.
"The NCPO was very irritated by Somchai and wanted to swiftly deal with him so he dare not speak. In the end they resorted to Article 44 to fire him. You can't argue and it's considered constitutional," read part of a message posted last night to the Democracy Restoration Group on Facebook.
The order axing Somchai accused him of "confusing the public on the election process" and exhibiting inappropriate behavior. The former was a reference to Somchai's vocal critiques of serial election delays, which intensified after he and the four other commissioners' terms were cut short last year.
In June, the junta-appointed assembly voted to "reset" the Election Commission, which meant dismissing its members under the pretext that they had legislated more stringent qualifications for members of the commission.
After that, the former Thammasat academic – unloved by both anti- and pro-junta elements – became less restrained. Where his detractors saw a loose cannon out for revenge via the press, others appreciated Somchai as an independent voice.
In his four years on the commission, Somchai said his priority was sticking to the letter of the law, adding that it's impossible to be liked by all sides.
Where he likely crossed a line was in calling out the open secret the junta wants a political party to back to perpetuate its grip on power after the votes are tallied.
"The NCPO is one of the authorities in Thai society, even the one with most power […] so the NCPO cannot support any single political party," he said in Monday's interview.
Somchai said his warning for the junta not to go partisan is likely to be taken up as evidence he's gone over to the "other side," which four years ago accused him of helping engineer its government's downfall.
"They may possibly now say I'm accepting money from Thaksin," he said.