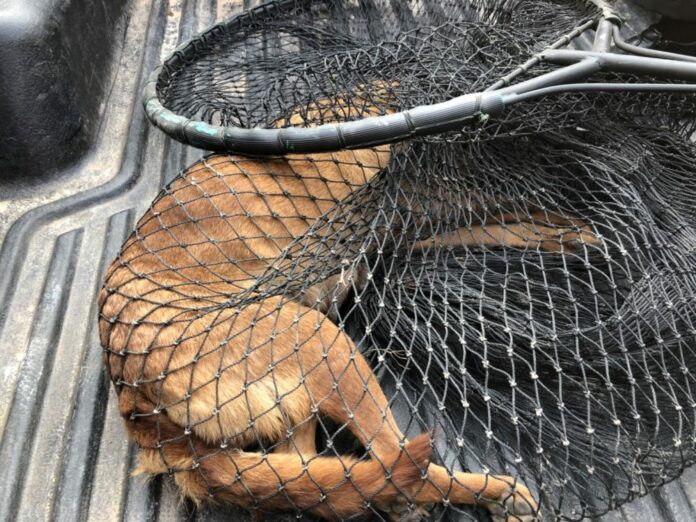 BANGKOK — "What else have the livestock authorities done?" a woman shouted at an official seated before her in a livestock department conference room.
Responding to efforts to clear the streets of stray animals to combat a rabies outbreak, enraged animal welfare activists converged on the Livestock Development Department on Wednesday to call for the slaughter to end in favor of more sensible solutions.
Groups such as Watchdog Thailand, SOS Animal Thailand and A Call For Animal Rights Thailand asked the department's secretary-general to drop what's being called the "Set Zero" solution, referring to a Thai term for resetting something to "zero."
"The 'Set Zero' concept is not just horrifically cruel. It will also be doomed to failure … What we are seeing is a panic driven by social media and sensational reporting. It's not an epidemic," John Dalley, co-founder of Phuket-based Soi Dog Foundation said.
Following incidents of animals being poisoned at temples – popular sanctuaries for homeless animals – the activists demanded use of painless drugs instead of rat poison strychnine, which has sent some dogs with rabies to a violent death.
Jetsada Chokdumrongsuk, secretary-general of the Livestock Development Department, promised at the Wednesday conference that he would take the request to the board.
The department has conducted the operation under their legal authority to catch animals out in public. Under the same law, officials are rounding up unattended dogs in public and taking them to provincial departments, where they are culled if nobody picks them up within five days.
Many of the animals are not being put to death but instead shipped off to livestock department facilities in places such as Nakhon Phanom and Buriram province, a legal representative of Watchdog Thailand who declined to be named, said. She added that authorities refused to tell her why.
The outcry began Monday after a video of 14 puppies at a temple in Nakhon Si Thammarat province being poisoned to death went viral.
Siripong Polsiri, veterinarian of the Nakhon Si Thammarat Livestock Department, said the dogs were proven to have rabies; therefore, officers had to put them to death under disease outbreak protocol.
According to Dalley however, rabies can be prevented and cured without getting rid of the animals.
"Rabies PEP medication is highly effective if taken early … If you are bitten or scratched by a dog or cat, or if you have an open wound that has been licked by an animal, you should wash the area very thoroughly with soap and water then go straight to the nearest hospital to get anti-rabies shots. Then you won't die," Dalley said in a written message.
On Monday, dogs in Hua Hin were removed en masse from affected areas following the death of a man bit by a rabid cat. Livestock Department said dogs with tags were caught because their owners let them loose.
Dalley, said desexing and strictly enforcing the law on the relocating the animals are the best ways to tackle the potentially fatal disease.
Amy Baron, whose PAWS Bangkok operates a catch and release program, said rounding up and relocating so many animals was unnecessary and expensive.
"Doing high volume rabies vaccine projects is far easier and far cheaper than removing them from the community," Baron said, adding that rabies vaccines cost under 20 baht and need only reach 70 percent of the animals in a population to achieve "herd immunity."
Apai Sutthisang, director of the Livestock Development Depart, said mobile units have vaccinated more than 2.4 million cats and dogs nationwide, adding that the goal is more than 8 million cats and dogs. More than 120,000 pets have been desexed out of the goal which is 300,000.
Bangkok is among 24 provinces declared "rabies red zones." The others are Chachoengsao, Chonburi, Prachinburi, Rayong, Samut Prakan, Nakhon Ratchasima, Srisaket, Surin, Ubon Ratchathani, Kalasin, Khon Kaen, Mukdahan, Udon Thani, Chiang Rai, Nan, Phetchabun, Prachuap Khiri Khan, Trang, Nakhon Si Thammarat, Surat Thani, Songkhla, Satun and Nonthaburi.
Related stories:
6 Deaths From Rabies Since Start of 2018: Officials
Bangkok's Doggos and Kittehs Vaccinated For Rabies (Photos)