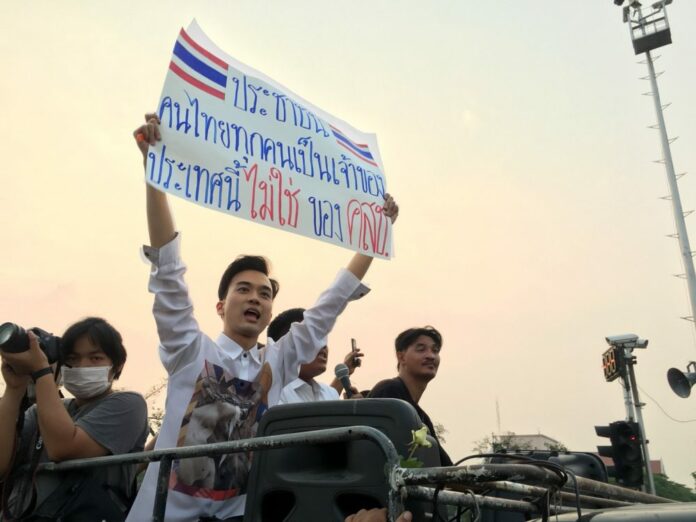 By Todd Ruiz, Asaree Thaitrakulpanich
BANGKOK — Protesters pushed past police Saturday evening on a march to army headquarters in Bangkok to demand the military dissolve the ruling junta and hold elections.
In what appeared the largest turnout since protests erupted anew in January, a crowd of several hundred set out from Thammasat University just after 5pm and after about two hours of maneuvering around police managed to march on army headquarters.
"If you continue to get in the way of democracy, then the military will lose more and more of its dignity," protest leader Rangsiman Rome said over a megaphone at 8:15pm from outside the building.
He added that anyone who sides with the junta is a "traitor to Thailand."
Police had attempted to block the truck carrying Rangsiman and other leaders including Sirawith "Ja New" Seritiwat, Arnon Nampha, Karn Pongpraphapan several times along the way.
Read: Activist Leader Held on Eve of Rally to Dissolve Junta
"When you take off your uniforms, you are citizens just like us," Rangsiman said in response, exhorting police to stand down.
He addressed them later upon arriving at the Royal Thai Army building.
"When there is democracy, your dirty bosses will go to jail, so don't lick their boots too much," Rangsiman said. "Don't you feel anything? That you have to come protect military headquarters but not a single soldier is here?"
"We don't want to trade words and yell at you," said Karn Pongprapaphan, a student leader.
Upon reaching their destination, protest leaders called on the military to drop its support for the junta, which calls itself the National Council for Peace and Order.
They folded flyers depicting junta leader Prayuth Chan-ocha as a mosquito into paper airplanes and threw them threw a fence onto the grounds.
At 7:45pm, the police declared the protest illegal over a loudspeaker. Demonstrators responded by handing out flowers to the officers and continuing with the rally.
Speeches ended just after 8:30pm with a vow to protest again in May.