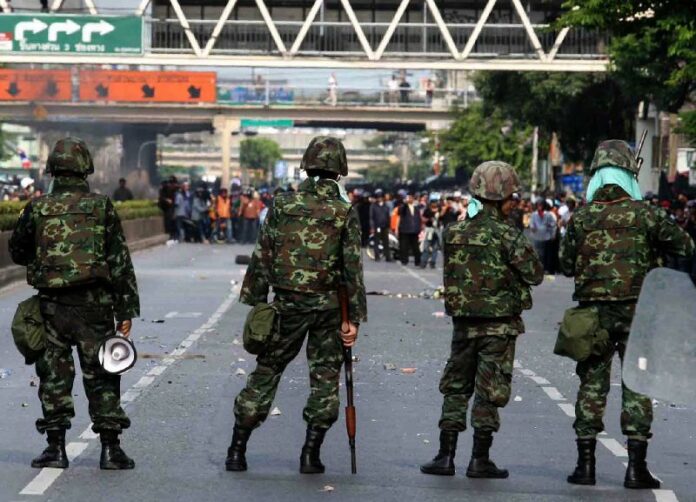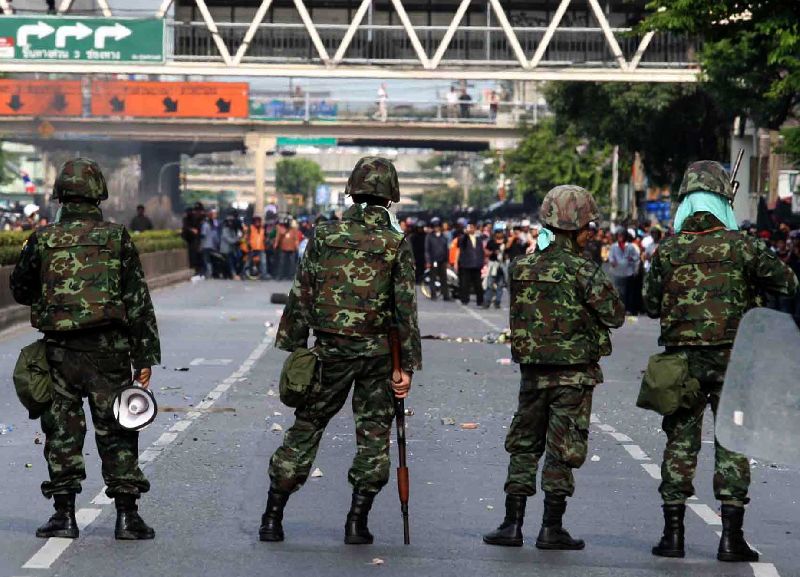 BANGKOK — The army – an agency with a history of suppressing protests with bloody results –  is making manuals on how to handle street protests, a defense spokesman said Friday.
Once completed, the books of guidelines on how to monitor public gatherings and avoid confrontation will be distributed to military personnel, Maj. Gen. Kongcheep Tantravanich said in an interview, though he denied it's related to anti-junta protests set to take place tomorrow and two weeks from now.
"It's not related," he said. "But we are concerned. We don't want to see any clashes."
He added that the manuals would outline preemptive measures to take even prior to demonstrations.
"We will take care of controlling the protest to stay within legal boundaries, avoid conflict between protesters and security officers and prevent any violation of human rights," he said.
Kongcheep declined to cite any specific examples, saying the books have yet to be completed.
He added that the military consulted with the Ministry of Justice to make sure human rights are prioritized in the upcoming manual.
Angkhana Neelapaijit, caretaker National Human Rights Commission member, said she has yet to see the contents of the booklet yet. However, she said it must recognize the right to protest as guaranteed under the constitution and in line with international norms.
"In principle, the right to protest must be respected unless there's violence. Also, if protest leaders are taken away, their families must be informed," said Angkhana, whose husband Somchai Neelapaijit disappeared in 2004.
The announcement coincides with a series of anti-government protests organized by activists demanding elections be held this year. Tomorrow's rally is due to take place at Thammasat University, while a three-day protest is set to begin May 19 and end on the fourth anniversary of the 2014 coup. A venue has yet to be announced.
The army has been used to suppress major protests throughout Thai political history, often resulting in scores of dead. They include military crackdowns of October 1973, May 1992 and early 2010. More than 90 people – mostly civilians – died in the most recent clashes.