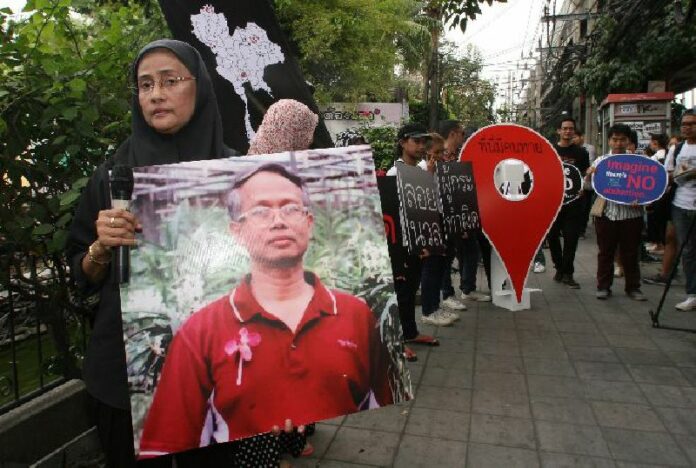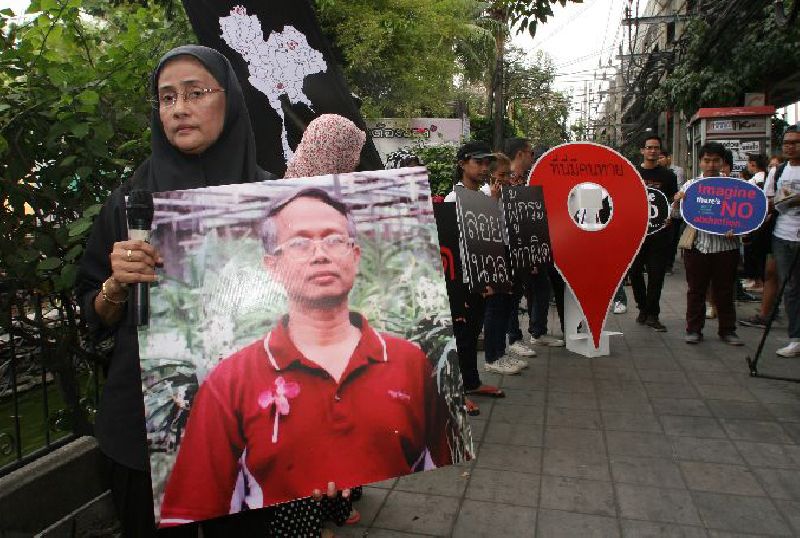 BANGKOK — Fourteen years after her husband went missing, the wife of a Muslim rights lawyer said Monday that his disappearance is no longer being investigated.
Angkhana Neelapaijit, wife of missing lawyer Somchai Neelapaijit, said during a conference at Thammasat University that the DSI cited a lack of progress in its investigation into her husband's presumed forced disappearance in its decision last year to drop the case.
"After 11 years and two months, the DSI sent a brief message saying it thought the investigation should be halted," she said.
In April 2004, the criminal court issued arrest warrants against five police officers for their alleged roles in Somchai's abduction. On January 2006, the court acquitted four of the accused and sentenced one, Maj. Ngern Thongsuk, to three years in prison after he was found guilty of coercion. He was later freed on bail. By September 2008, Ngern was reported missing in a landslide and has since been declared missing.
Angkhala, herself a caretaker member of the National Human Rights Commission, said that soon after Somchai's disappearance 14 years ago today, her husband's friends, colleagues and relatives began distancing themselves out of fear. A friend of Somchai told her there was "nothing [she] could do" because they had "burned him, and there's nothing left."
Legislation to penalize perpetrators has made slow progress since the alleged abduction and death of the former lawyer – who helped represent alleged southern separatist insurgents – as forced disappearance is still not considered a crime in the kingdom.
Last year, the junta-appointed National Legislative Assembly rejected a draft bill on torture and forced disappearances.
The draft bill is now pending revision at the justice ministry.
According to Nongporn Ruengpetchwong, a representative of the Department of Rights and Liberty, the fourth draft is now ready for public input.
Organizations such as Amnesty International and the International Commission of Jurists are using the anniversary of Somchai's disappearance to renew their calls for the military government to comply with international human rights obligations.
Both Amnesty and the commission said they had read the draft and found it lacking.
"Should the draft be adopted in its current state, we are deeply concerned that it would fail to bring domestic law into compliance with Thailand's international legal obligations," the two said Monday in a joint statement.
The groups expressed concerns that the definitions of forced disappearance and torture had been omitted from the draft bill along with what they said were crucial elements to the crimes as defined by international law. They also said the draft was unclear about criminal liability for those indirectly involved in the crime.
Despite the lack of progress over the past 14 years, Angkhana said she still hopes there will be political commitment to eventually make what is widely believed to have happened to her husband a crime.