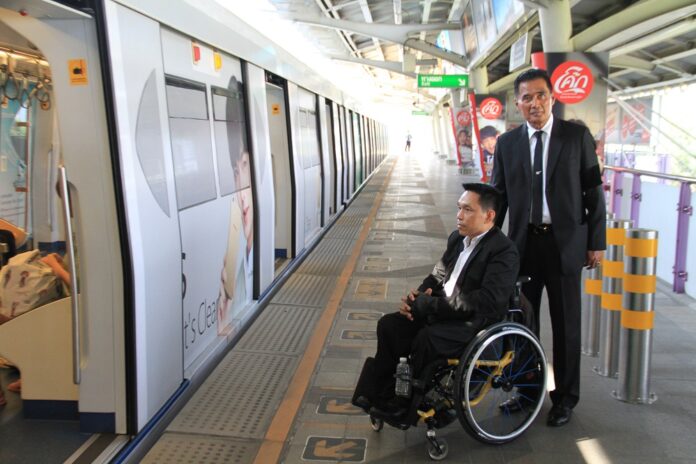 BANGKOK — City officials must join the disabled activists suing them on a court-ordered inspection of BTS stations as part of a class-action lawsuit, one of the plaintiffs said Wednesday.
A year after a network of commuters with disabilities and advocacy groups filed suit against the Bangkok Metropolitan Administration, or BMA, for failing to complete installation of elevators at all BTS Skytrain stations, Manit Inpim of Transportation for All said the case is moving forward after many delays.
"The court informed us that legal enforcement officers will see the plaintiffs and activist leaders to set a joint inspection date with the BMA and other related departments," he said. "It is for validating the information stated in our lawsuit."
A date has yet to be set.
Manit said 22 more elevators needed to be installed at 20 BTS stations as of April 19 for the system to be considered accessible.
Three years ago, disabled commuters landed a historic victory when the Supreme Court ordered the City Hall make every skytrain station accessible to people with disabilities.
The work had hardly begun a year later and – following many delays and broken promises – many parts of the popular downtown transportation system aren't fully accessible. Though some elevators have been installed, some are difficult to use and many only provide access from one side of the street.
The class-action suit was filed in January 2017 on the second anniversary of the original court ruling. Among the damages sought, the lawsuit demands 1,000 baht for each plaintiff for each day that has passed since Jan. 21, 2016 – the original court-imposed deadline to complete the work.
In March, a furious Manit smashed a glass elevator door at BTS Asok with his fist after staff there refused to let him use the lift unless he recorded his name, destination and details of his travel.
Accessibility means more than a working lift, Manit said.
He's detailed a number of BTS stations which post challenges to people with disabilities. They include entrances being too narrow, insufficient ground level access, ill-equipped lavatories and broken footpaths.
Related Stories:
Disabled Activist Rages after Denied Elevator at BTS Asok
BTS Class-Action Suit Back on Track After Year Delay