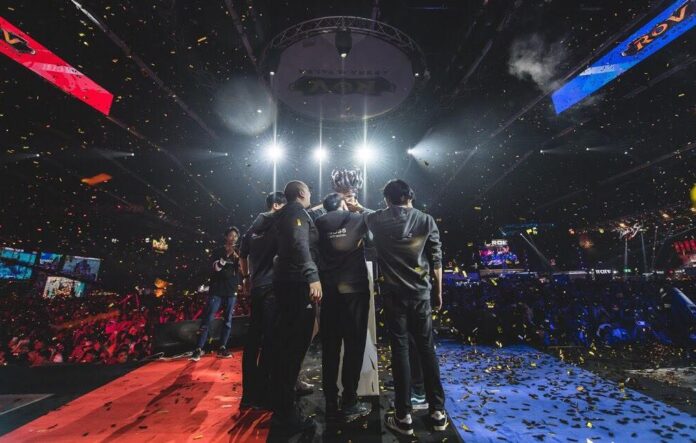 BANGKOK — Thailand's national gaming guild is calling on cyber athletes to enlist in the quest of a lifetime Wednesday: battling other nations at this year's Asian Games, which are set to kick off three months from now in Indonesia.
After it was announced that six video games – including soccer, RTS and collectible card games – would be included for first time at the quadrennial sports tournament, the Thailand Esports Federation said tryouts to represent the kingdom open  tomorrow.
"In order to become the national representatives, everyone must apply and go through the selection equally, no exceptions," federation chairman Santi Lohthong announced Wednesday. "We won't simply set up a national team without any selection process."
Read: Ministry Blocks Thai Esports Athletes From Asian Indoor Games
The video games added to the usual feats of strength and agility for this year's Asian Games are: Realm of Valor, or ROV; League of Legends; Hearthstone; StarCraft II; Evolution Soccer 2018 and Clash Royale.
Santi said tryouts would be open Thursday through Saturday. Gamers can apply online with the Thai Esports Federation for a spot.
The names of finalists will be submitted May 30 to event organizers, and qualifier rounds will take place from June 10-20, the top esports official said, adding that he's confident Thai athletes will make it into the finals.
The Asian Games take place over two weeks starting mid-August. Up to 45 countries can field competitors onto the virtual playing field.
Thailand's venture into the realm of international gaming competition follows months, if not years, of esports enthusiasts and entrepreneurs lobbying the Thai government for acceptance. Video games are generally viewed with suspicion by the authorities, who have in the past banned some games from domestic release.
The victory came in October when the Sports and Tourism Ministry recognized esports as a legitimate activity and effectively cleared the way for gamers to compete on behalf of the country.
"Thai kids have participated in esports competitions before, but this time, the state is giving its support," said Puttawan Suphataranant, a spokeswoman for Garena, a major video game distributor and service provider. "I believe esports will gain more popularity from now on."