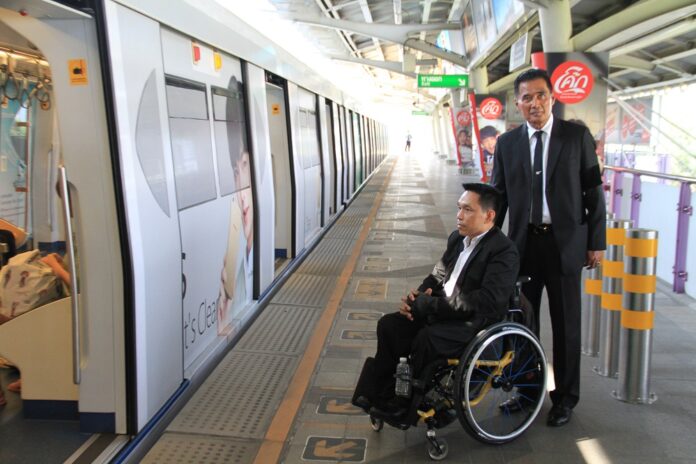 BANGKOK — A judicial committee settled a year-long challenge Monday over which court should hear a class-action suit filed by wheelchair users against City Hall for repeated delays in to making the BTS Skytrain accessible.
The seven-member committee – which included the presidents of the Supreme and Supreme Administrative courts – ruled Monday that the matter should fall under the jurisdiction of the Administrative Court because it has to do with "dereliction of duty" on the part of the Bangkok Metropolitan Administration, or BMA.
The decision came 10 months after the BMA challenged the lawsuit filed by disabled commuters and and activists, led by advocacy group Transportation for All, on the second anniversary of a landmark court ruling that gave the city one year to complete the work.
Listening to Monday's decision, Sonthipong Mongkonsawat, the activist group's pro-bono lawyer, said the BMA's challenge was nothing short of a stalling tactic to defer paying damages as a result of the repeated delays in equipping all of the original BTS Skytrain stations with elevators as per a 2015 Supreme Administrative Court order.
"It has slowed down the suit. Stalling the lawsuit is a legal technique," Sonthipong said Monday after the decision was announced. Sonthipong added that it doesn't matter which court takes up the lawsuit, as he believes justice will eventually be delivered.
Sonthipong said he expects it to take about a year for the court to render a verdict in the class-action lawsuit, one of Thailand's first such suits.
In May, the Civil Court – where the suit was first filed – insisted it had the authority to hear it, but the final disposition was not settled until today.
The suit seeks 1,000 baht in damage compensation for each plaintiff to join the lawsuit for each day since the court-ordered deadline for the work to be completed passed Jan. 21, 2016. It seeks four times that amount, or 4,000 baht, for every day of delay since they filed the suit on Jan. 21, plus 7.5 percent annual interest.