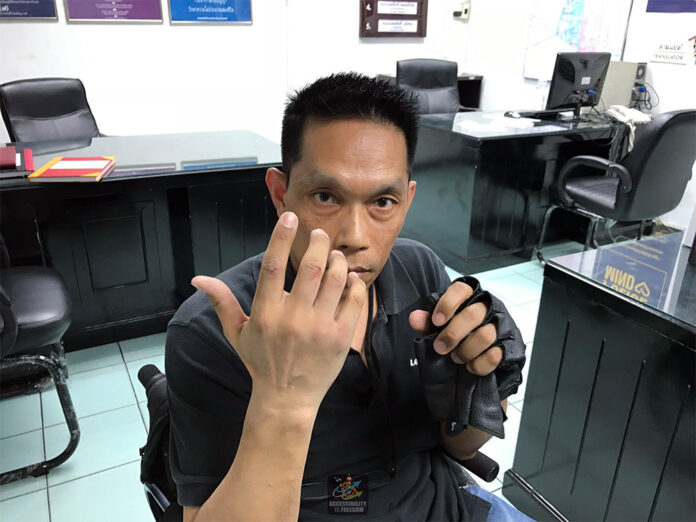 BANGKOK — Manit Inpim meant to travel from Terminal 21 to Phloen Chit for a Sunday evening appointment. Instead, the wheelchair user ended up at a police station after smashing the locked glass door of a BTS elevator with his fist.
"I raged at the policy. I shouted that I already bought a ticket but still couldn't commute, then I punched the locked door seven to eight times," Manit said Monday as he took reporters to revisit the scene at BTS Asok.
It was not the first time the disabled rights activist has appeared in the news. For years, Manit and his fellow activists with Transportation for All have campaigned to make public transportation accessible. Three years ago, they won a landmark victory in which the Supreme Court ordered City Hall to install working elevators at all original BTS stations.
Read: Three Years of Excuses Later, BTS Still Not Accessible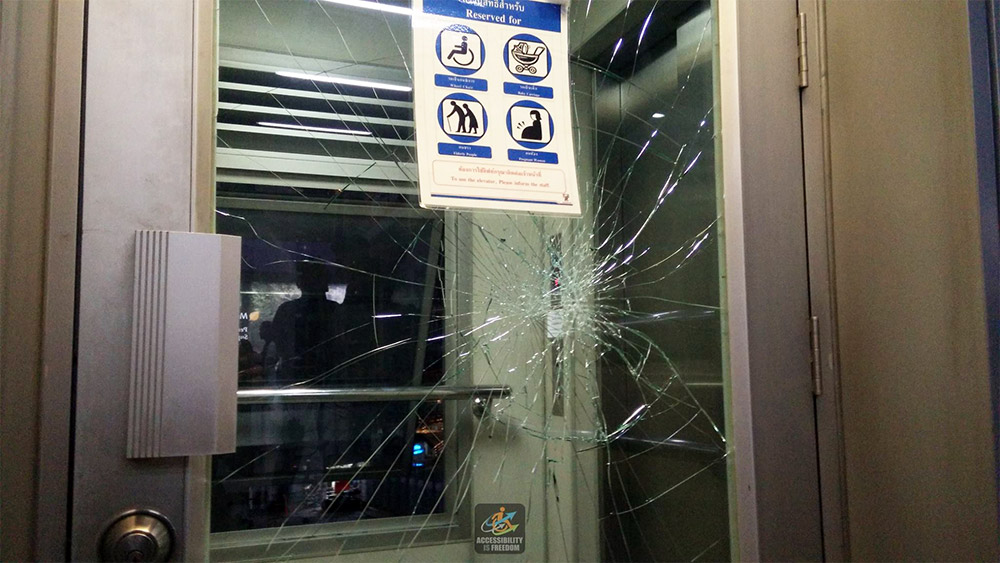 A Khaosod English survey in January found some stations still lack functioning lifts. Most that do have elevators only connect to the ground level on one side of the street.
Manit said his anger Sunday mounted from the fact that staff at BTS Asok had refused to unlock the elevator door unless he completed a form specifically made for commuters with disabilities. They barred him from using the elevator unless he wrote down his name, destination, and date and time of travel.
That demand violates his rights and discriminates against commuters with disabilities, he said, adding that he's never been asked to sign a form to use the elevators at other BTS stations.
After nearly half an hour of discussion, Manit lost control of his rage. He was taken by police to Lumpini Police Station. He was not charged.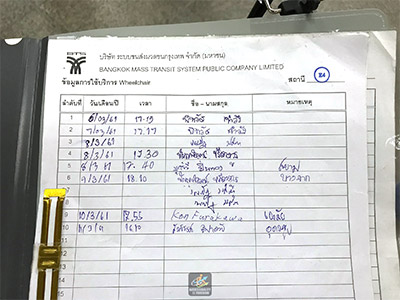 As of Monday afternoon, Manit said he had yet to be contacted formally by anyone from the BTS Skytrain operator or City Hall. He gave the authorities one week to take action reversing the policy, otherwise he vowed to sue City Hall, the BTS Skytrain and Transport Ministry.
City Hall's top traffic and transportations official, Thanoochai Hooniwat, said he was unaware of any policy requiring elevator users to fill in a form.
"We will have a meeting with BTS, as they hold a concession for the original stations," Thanoochai said Monday.
Thanoochai said they have only managed to complete 52 out of the promised 56 elevators at 19 BTS stations.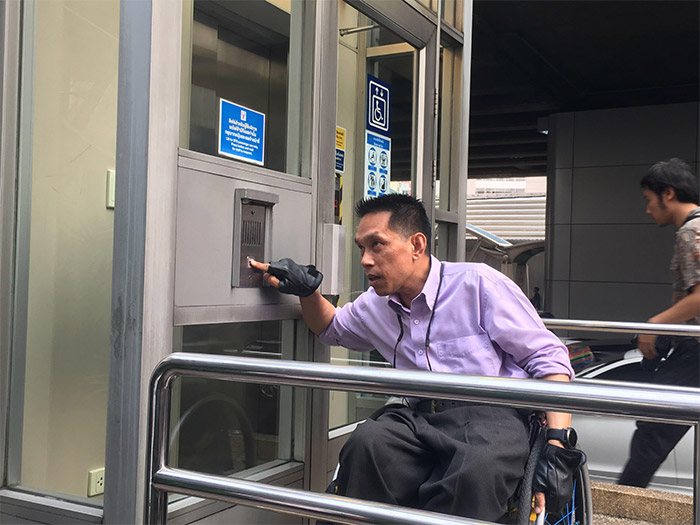 Construction at BTS Saphan Taksin has been deemed impossible as the station is slated for expansion. At BTS Sala Daeng, underground cables make it too difficult to add an elevator to the ground level, but passengers may use the one linked to MRT Silom that is connected to the BTS concourse level by a long skywalk. As for BTS Nana, Thanoochai said commuters can use the elevator inside a condo building liked to the station that is available for public use.
Manit's angry reaction was met with sympathy by the public, who likened it to a recent scandal in which two senior women attacked a car parked illegally in front of their home to call public attention to a long-running problem. Still others disagreed with his choice to damage public property.
"I want to apologize. I know people cannot all agree with it 100 percent, but I already thought about it and believe this is the only way to move the issue forward," he said.
After years of broken promises and false starts by the city, Manit and other commuters filed a class-action lawsuit against the city last year which has been slowly winding its way through the courts as lawyers for the Bangkok Metropolitan Administration file various legal challenges against it.
Manit featured in a 2016 video on BTS accessibility
Related stories:
Activists Ask Court to Probe City Hall's Failure to Make BTS Accessible
City Hall Challenge Delays Decision on BTS Accessibility Suit
Elevators Unveiled at Four BTS Stations – But Do They Work?
How Long to Install BTS Elevators? City Hall Says 3 Years.
Wheelchair Rally to File Class-Action Lawsuit Over BTS Accessibility at Court
City Hall Fails to Make BTS Accessible 2 Years After Court Ruling
Broken Promises: BTS Still Off Limits to Disabled
BTS Stations Remain Inaccessible to Disabled, a Year After Landmark Ruling
Court Orders Skytrain to Accommodate Disabled Passengers