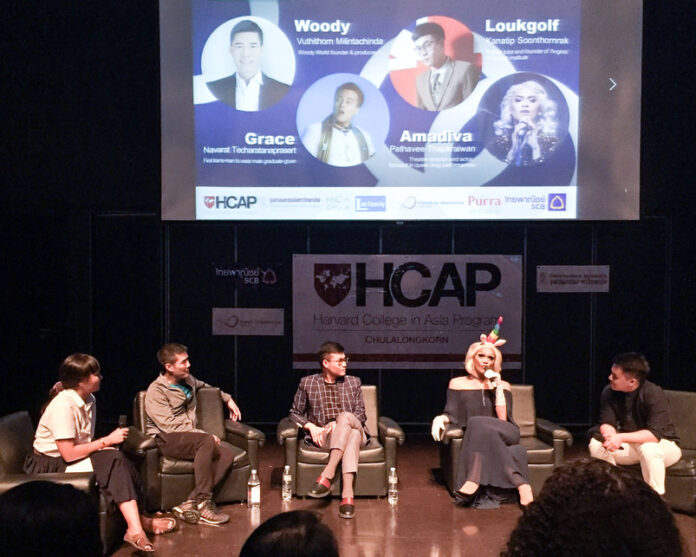 BANGKOK — Despite the slow pace of progress, "hopefulness" was center stage Monday when it came time to discuss the future of Thailand's LGBT community with some of its most prominent figures.
Four distinguished LGBT leaders offered touching, inspiring and insightful accounts Monday at Chulalongkorn University when they sat down to share personal stories and opinions on the future of equality.
"Being pushed aside, being rejected… it built me a strong personality to lead the pack," said well-known television host Vuthithorn "Woody" Milintachinda, who was a featured speaker along with YouTube English tutor Kanatip "Loukgolf" Soonthornrak, drag artist Pathavee "Amadiva" Thepkraiwan and Navarat "Grace" Techarathanaprasert, the first trans-male to graduate wearing a male gown.
The discussion opened with the speakers sharing their own stories of coming out and struggles as LGBT individuals.
Woody, 40, said he was bullied as a boy living in New York. When the popular television personality came out to the public two years ago that he had secretly married his boyfriend, the mostly warm response was spiked with nasty, homophobic comments.
The same experience was shared by Loukgolf. The 33-year-old Angkritz language school founder said he had a difficult relationship with his father for years due to his sexuality. Not only that, Loukgolf said when he entered showbiz, he was asked to be "less camp" and say "krub," referring to the male speech particle.
Amadiva, a contestant on the first season of "Drag Race Thailand" now airing, said he shed tears often growing up. He couldn't find a role on stage that suited his personality, so he created a production of his own.
"There is a need of being accepted. There is a need of being seen," Amadiva said.
The event, The Future of LGBTQ Leadership, was hosted by the Harvard College in Asia Program.
Grace, who was previously a child actress, said, at 7, he felt wrong saying "ka" (the female ending speech particle) to adult celebrities in the entertainment industry. He had to develop his own design skill when as a student he was forced to wear a skirt by sewing it into a kind of pants-skirt.
For Grace, it was a proud moment to be allowed to wear a male uniform for his commencement – but "not that proud" because it was so long in coming.
"If Thailand is gay- and trans-friendly, I wouldn't have been the first trans-male to wear a male graduation gown here," Grace, 21, said. "It would have happened 20 years ago. … There were people like me who suffered a lot more."
However, despite the generation gap between the speakers, all spoke of positive aspects and "hopefulness" about the LGBT community's future.
Amadiva said many talented drag performers have been recognized now with the debut of RuPaul's Drag Race Thai spin-off. Grace said that when he made headlines in September, he got a lot of good feedback from Thai netizens.
Woody and Loukgolf agreed that people today are more open-minded. Woody said he was offered a role of a gay manager who was not stereotypically funny and flamboyant. Loukgolf said he and his father have reconciled.
"It's changing … gradually," said Loukgolf.
Asked by someone in the audience about equality under the law, Woody sounded very optimistic.
"The gay marriage bill will be passed soon, fingers crossed. I'll make sure this happens before I die … which is anytime soon," he said, laughing.
Taiwan last year became the first Asian country to legalize same-sex marriage. Thai LGBT individuals still are not allowed to officially identify by gender titles other than those assigned at birth.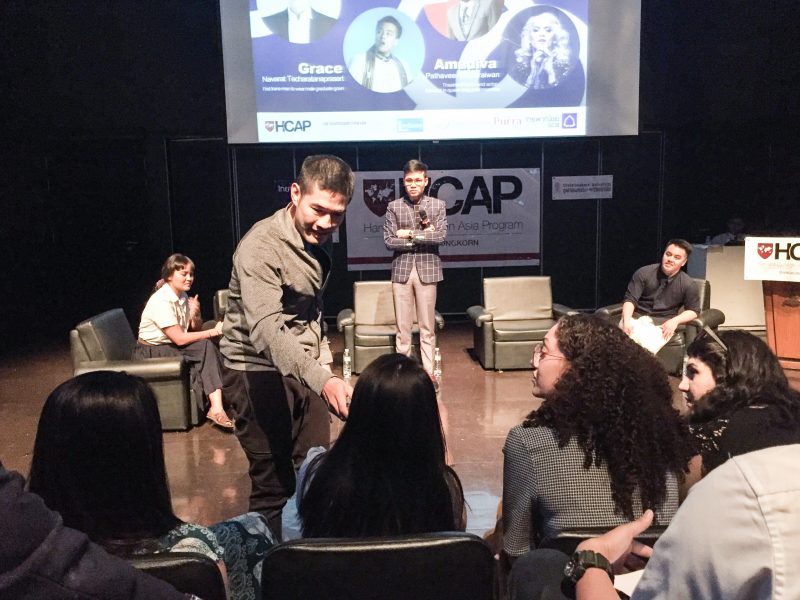 Related stories:
Send in the Queens: Thai Queer Culture Gets Drag Makeover
Chula Grace: 1st Trans Man to Walk in Male Grad Gown
TV Presenter Marries Boyfriend, Slammed With Internet Homophobia