Top: From left, drag queens Morrigan, Amadiva,
Jaja and Meannie Minaj in Siam Square.
A skinny man with a stylish high fade walks in holding two tall Long Islands. He hands one off and sips the other. He is M.
"Okay, Zepee first, then Cher, Angele, followed by Chaka," he instructs his colorful crew, who will soon take the stage in that order.
M then slips into a chiffon dress that's blue and yellow and leopard print. Under a khaki-colored wig cap, he tilts his head down toward a table mirror and puts on a long black wig.
That's exactly when Chakgai "M" Jermkwam ceases to exist. Now, she is M Stranger Fox.
It's almost midnight backstage at a shophouse bar in a busy soi off Silom Road when M Stranger Fox leads her drag posse down dark narrow stairs to a mezzanine stage divided by red curtains.
She parts them a few inches to peek at the bar and audience below. Nodding to the DJ blaring a remix of Alaska Thunderfuck's "Hieeee," she wraps her fingers around a handheld microphone. She dashes out. The crowd cheers.
In the 120 minutes to follow at The Stranger Bar, the five drag queens would sashay in and out to deliver high-kicking dance numbers, impeccable lip-syncs, quick-witted jokes and thrown shade to earn some 100-baht tips.
While Thailand is famous for its kathoey, or ladyboys or transgender women, drag queen culture has little history in the kingdom. But it's global rise as entertainment and identity comes as Thailand is reaching toward a new level of open-mindedness toward LGBT entertainers. Instead of playing the clown, they are seeking respect as artist-slash-geniuses and individuals.
"I never dressed up like a woman before, never wore high heels before. [The Stranger Bar] made me find drag," M said over a messy pile of heels and boots in the dressing room before the show. "Being drag allows you to be more foul-mouthed. It's the power of eyelashes, lipstick and high heels."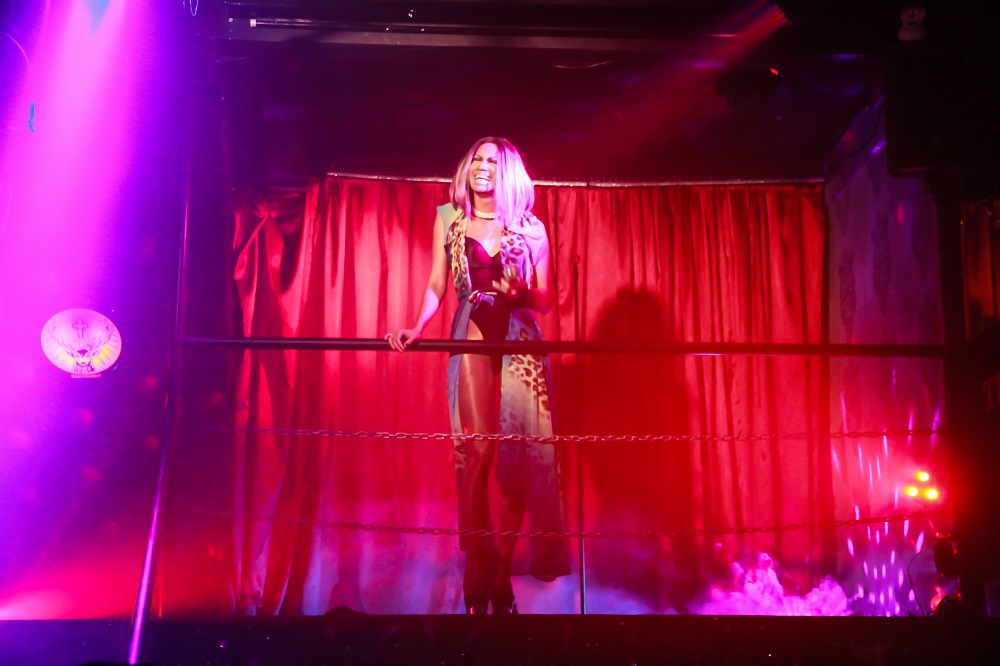 Thailand stepped into the drag spotlight with the bombshell announcement last month that a show beloved by drag devotees is stomping its stilettos into Asia by way of Bangkok. Thai Drag queens suddenly came into the spotlight.
Although RuPaul won't appear on "Drag Race Thailand," it keeps to the original's format with 10 drag personalities competing to become "Thailand's Next Drag Superstar." Licensed by Kantana Group, the show premieres tonight on the free Line TV service.
Read: 'Drag Race Thailand' to Sashay Down the Runway
"I want to present that we're not clowns," said Kantana President Piyarat "Tae" Kaljareuk, who refuses to identify firmly in any one spot on the sexuality spectrum. "We're the people who have creative ideas, and sometimes we're even more creative than those in other countries."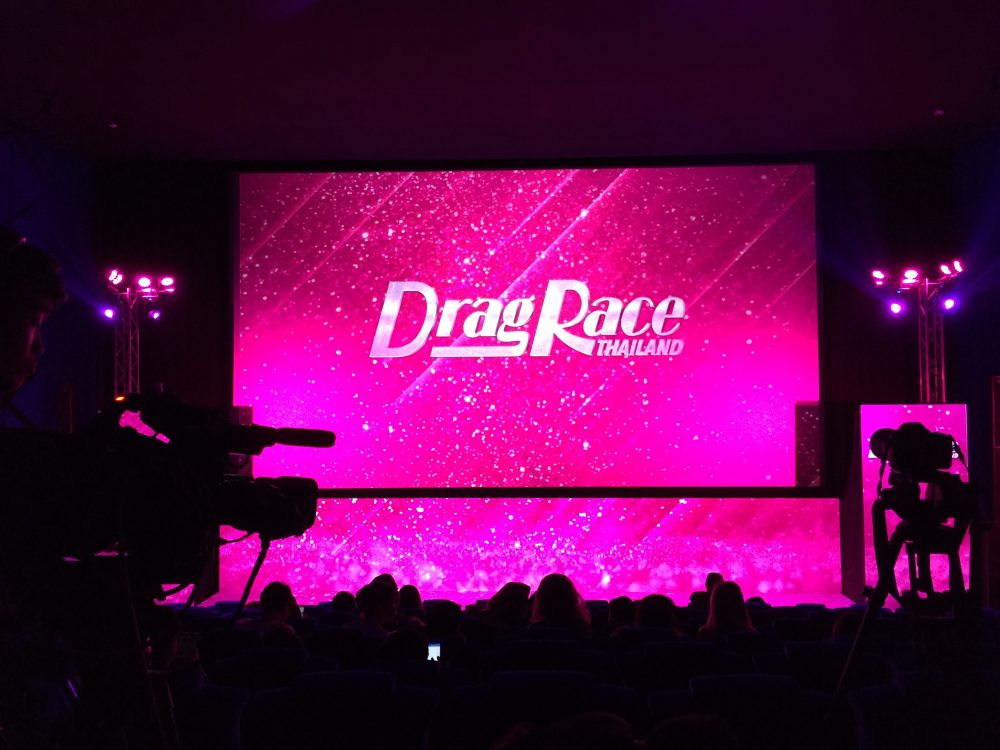 Consider it a coming out party for the already-out and the way-out. Kathoeys, who in entertainment are almost always cast as buffoons to be laughed at, will become drag superstars under the "Drag Race" values of empowerment, confidence and self-acceptance. They will be measured not as comic relief but, as RuPaul puts it, their "charisma, uniqueness, nerve and talent."
Hopes are high for the show: Auditions have already opened for the second season.
Charisma
Compared to Western drag destinations such as New York, London, Paris and Sydney, Bangkok is less acquainted with drag queens. Gender-bending entertainers and performers are usually portrayed as showgirls or, in some corners, Weimar-style cabaret performers.
But that doesn't mean the country is short of fabulous and talented drag performers. Among the aspiring and practicing drag queens, there are queens they look up to.
One is Madonna impersonator Sira Madon, aka Jai Sira, who started out in Australia while a student there. Sira, who offstage is Siravitch Kamonworawut, became in 2008 the only Asian to ever come out on top at a drag-off at Arq in Sydney, one of the drag capitals of the world.
However, drag queen culture has seeped into the mainstream in the past two or three years with the likes of homegrown queens such as Pangina Heals, or Pan Pan Nakprasert, who performs regularly at Maggie Choo's, Sing Sing Theatre and other events.
Thai-Taiwanese Pan Pan studied fine arts at UCLA and only found drag after returning to Thailand.
"It's about timeeee," Pan Pan as Pangina Heals, who will co-host "Drag Race Thailand,"  drawled into a mic at a launch event. "Thailand is ready to show off drag talents. We lose to no other."
Pan Pan is credited with popularizing waacking, a very diva street dance from the '70s with a lot of arm-pumping. When he returned to Thailand, he participated in several competition shows and rose to fame by winning the country's first drag reality competition "T Battle."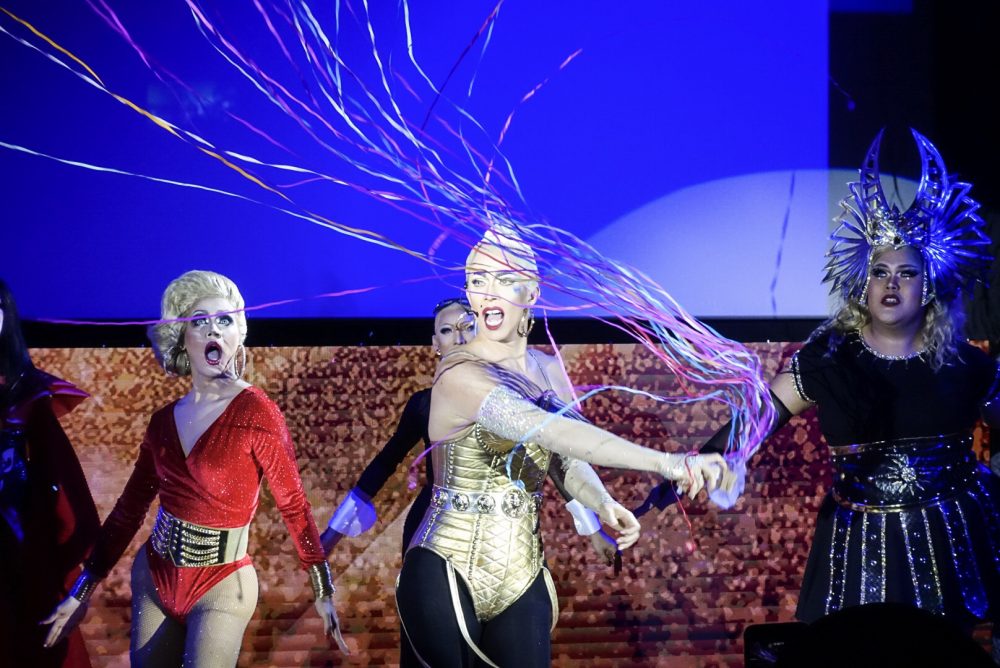 Uniqueness
Many still confuse showgirls and drag queens. To M, drag is about the individual.
"Drag is a solo act. It's aesthetic and technical, you have to take it very seriously. But a showgirl has to work with others as a team," M said. "I prefer drag because it can show the real deal. It's like rap; we get to express all the feelings suppressed inside."
His attitude informs the nascent scene too. M said he pioneered a system in which performers are not bound to work at only one place. Drag queens who perform at The Stranger can perform elsewhere.
"Venues in Thailand still use the system that restricts a performer to work at one place, but I don't want that," M said. "I think drag queens are artists. They can work at other venues. If they grow professionally, I'd be happy too."
At The Stranger, impersonators of Cherilyn Sarkisian, Nicki Minaj, Beyonce, Rihanna switched in and out to show. Once they come out, with impeccable lip-sync and larger-than-life crowd work, they turned a small shophouse into a wild stage.
The Stranger isn't the only venue for drag: Performances are sometimes staged at Maggie Choo's, Sing Sing Theatre, DJ Station, Ce La Vi and a few other clubs.
"It's like a small competition where they're all frenemies," M said. "They release the best of themselves."
Talent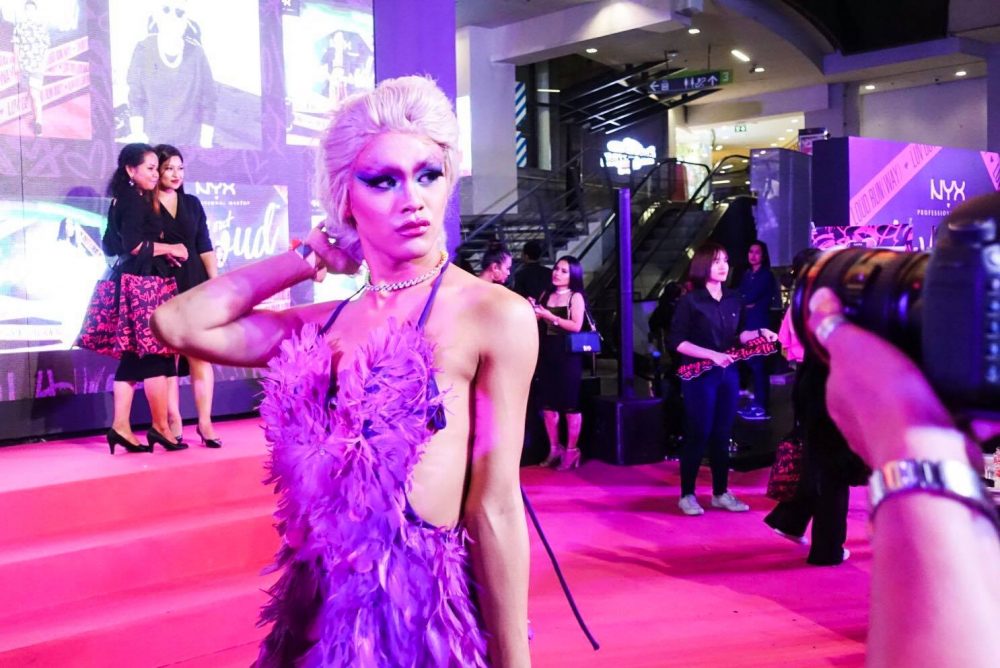 Not every drag queen gets a start in bars or nightclubs. Some came by way of the stage.
Pathavee "Aom" Thepkraiwan, or Amadiva for "Drag Race," is an occasional part of underground theatre troupe B-Floor. On the show, he admits to having a hard time.
"It is sooooo tough," Amadiva, in a puffy pink dress, growled in an affected drawl. "What I've been struggling now is how to fight without losing who I am. I'm not a polished drag queen, but I have to find a way to represent who I am and at the same time get the judges' approvals."
Aom was a 17-year-old exchange student in Michigan when he was introduced to drag after coming out to his American host family.
After graduating in fine arts from Thammasat University three years ago, Aom debuted in "My Mermaid Dream" ("Pla Seeroong") in which he performed solo in a flashy, scaly costume as Miss Ariel, a mermaid desperate for legs and a lover. The show, inspired by genderqueer rock musical "Hedwig and the Angry Inch," got a theatre run of 18 engagements before and lives on at a bar in town.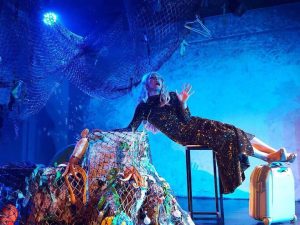 "Why drag? Because I want to tell my own story, and drag is a medium that allows me to tell the story how I want it to be," 25-year-old Aom said. "No show would offer me a role that is me anyway, so I created one of my own."
"I like dressing up as a woman, but people have a perception that I have to pick between a masculine gay guy or an effeminate one or be transgender," Aom said, denying that he's either. "Not everyone can accept me being drag. I have dated guys who, once they found my Facebook [drag queen photos], they disappeared. But I cannot blame them because it's about preferences."
Nerve
"Mabuhay-ieeee," called out the harlequin Barbie in large pearls and clashing colors, mixing Tagalog and English in one word.
Among the 10 drag personalities of "Drag Race," Jaja is the only non-Thai.
Jaja, or Angeles R-Jay Carubio, did not come to Bangkok to resume his former drag star life. In fact, the 34-year-old Filipino landed in the city two years ago to teach English.
Being told by another Filipino friend to check out another off-Silom drag review, Jaja walked into The Stranger, applied for a job and got it.
"Then drag found me again," Jaja said.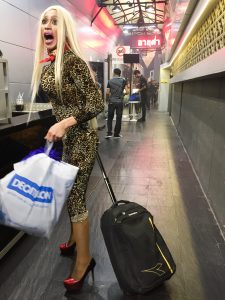 While RuPaul's show has brought drag culture into the mainstream in many countries, Jaja said it's been going strong in the Philippines long before the show first debuted a decade ago.
"The drag scene in the Philippines is really big. There are always new faces, drag queens are everywhere, especially in Davao and, of course, Manila," Jaja said during a break in her performance at Maggie Choo's.
Compared to her home country, she said the Land of Smiles is still beginner-mode.
"Thailand's drag scene is very small. It lacks drag queens like Pangina Heals, Jai Sira and Ann Freeman," she said. "I think Thailand needs some more of these people."
As drag is all about fashion and entertainment, there is a spectrum of styles the queens can be. There's The Diva, The Dancer, The Fashionista and others.
Jaja isn't looking to stun audiences as a diamond-hearted diva nor make their jaws drop with her sex appeal. Naming RuPaul alums Bianca Del Rio, BenDeLaCreme and Jinkx Monsoon as her role models, Jaja defines herself as a Comedy Queen.
"When I was in elementary school, I used to be the clown of the school. I was like (scream)… so loud," Jaja said. "Being [a comedy queen], I can say bad words to people and make it funny too… and not get punched."
Consider carefully if Jaja says, "Su su na ka," because she is not offering innocent encouragement in Thai. In Tagalog, "su su" can mean breasts, penis and blowjob.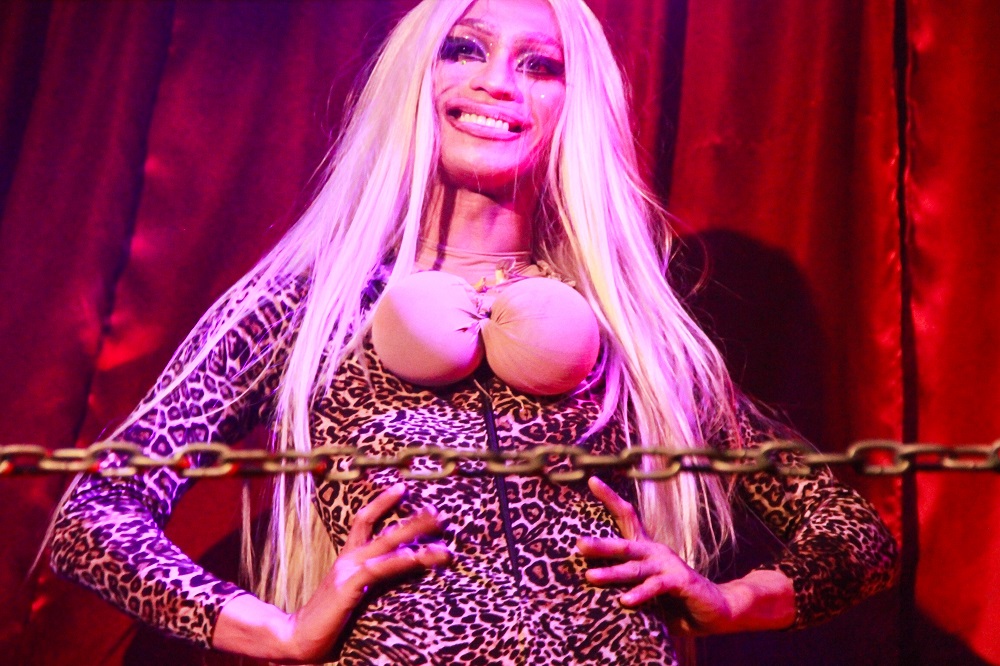 Let Them Decide
The definition of drag queens is often put as simple as guys – usually gay – who dress as women. It wasn't until the ninth season of RuPaul's show that an openly transgender woman was included. "Drag Race Thailand" hasn't completely embraced the trans community either.
But as LGBT awareness expands globally, the drag queens who were way out ahead long ago are pushing the boundaries further today.
"Drag queens have to be gay men only? No, no, no. This is 2018, motherfucker," M said.
Meannie Minaj, or Meantra Mananya Phuengmai, hasn't yet gone through sex reassignment, but the 26-year-old contestant lives as a woman and identifies as transgender.
"The world today doesn't have only four or five genders, but a hundred," said Meannie. "Drag is an art that is free and has no boundaries. Drag queens can do whatever they want, and it shouldn't be defined by any specific gender."
The Nicki Minaj impersonator said she wants the show's next season to allow transgender women with breasts to enter the show.
"I think the world has come to the point where we don't need to label which gender can or can't do something," Amadiva said.