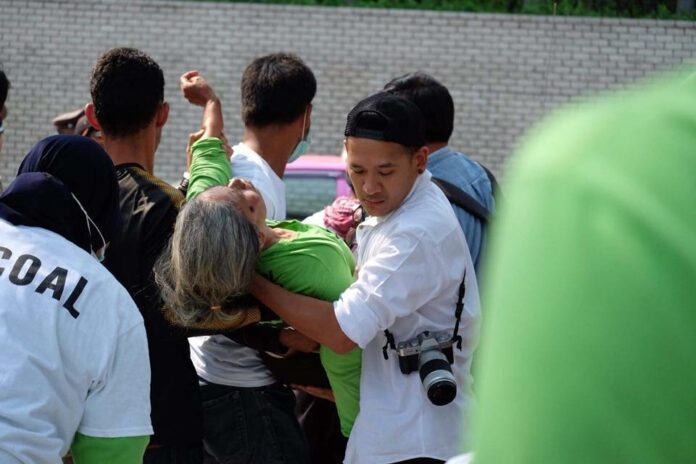 BANGKOK — The government said Thursday it is open to direct talks with hunger strikers opposed to the construction of coal-fired power plants in the south.
Speaking a day after eight strikers were hospitalized after fainting in front of the United Nations headquarters in Bangkok, Lt. Gen. Sansern Kaewkamnerd said Thursday that prime minister and junta chairman Prayuth Chan-ocha is aware of what happened and "worried" for the protesters' well-being.
"Officials are worried about this. The prime minister is also worried," Sansern said in an interview. "The government would rather see the matter resolved through discussion and the use of reason."
Asked whether that means the regime is willing to negotiate with protesters, mostly from Songkhla province, the spokesman said yes.
"The government is willing to talk with every side at all time," he said. "Even before they started the hunger strike, officials tried to talk to them."
But protest leader Somnuek Klodsua said the government has yet to send anyone to meet with them. He said the United Nations has arranged a meeting between protesters and officials Friday at 10am where he hopes to see a government representative.
The protesters have been gathering since Monday to renew their opposition to construction of a coal power plant in their home province, citing health and environmental concerns.
Sixty-seven activists began a hunger strike Monday under the heat and smog to highlight their grievances. Somnuek said the eight strikers who fainted Wednesday are now in good health, and that other activists remain committed to the strike.
"We insist on our demands," Somnuek said. "But as for the how, we will continue to evaluate the situation."
But the government spokesman disputed the protesters' assertions the regime is ignoring public opinion and pushing ahead with the construction project. The project's impacts are still being studied and opinions being gathered, Sansern said.
"We are studying the good and the bad, the impacts on the environment and humans," he said. "If it concludes that we shouldn't build it, then we will accept it. But everyone will have to bear the risks of relying on energy sources such as oil and natural gas. How long can we do that?"
He also maintained that Prayuth would not resort to using his absolute power vested under the current constitution to push the project forward.
"The prime minister never had that thought," Sansern said.
Plans by the government to construct power plants along the southern coast have long been a point of conflict pitting central authorities against local environmental activists and residents.
In February 2017, the regime announced it had stopped pushing for the construction of a coal power plant in Krabi province following a series of protests in Bangkok.
Related stories:
Krabi Coal Protesters Vow Return if Gov't Breaks Promise