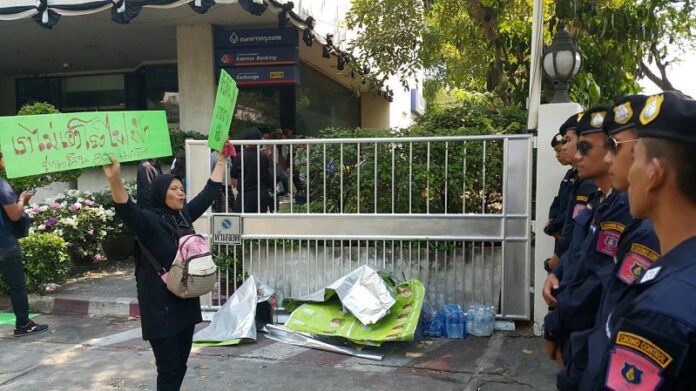 BANGKOK — A day after the junta said it would reconsider construction of a controversial power plant in the south, activists were waiting Monday to see if it makes good on its promise to cancel the project.
A three-day protest led by Save Andaman from Coal, a group of protesters from Krabi province, ended Sunday afternoon when the military government released five of its leaders taken into custody the day before. It also agreed to scrapped the existing environmental impact report for the project and restart the whole process.
"Implicitly by the law, when the [impact report] is canceled, it means the coal-fired power plant in Krabi province was reset to zero," protest leader Prasitthichai Nunual said to a cheering crowd Sunday after he was freed.
Read: Coal Plant Protest Leaders Arrested
Prasitthichai, who was detained on a Bangkok military base overnight, said the authorities promised him they would officially issue a cabinet resolution to cancel the assessment at Tuesday's weekly meeting of the interim cabinet.
Activist leaders then called an end to the protest, which was the longest public rally held since the regime seized power in 2014. He said the hundreds of people who joined him for three days would travel back to the southern province Krabi to wait for Tuesday's announcement.
The rally started Friday morning and became a full-blown protest after the government's energy committee stated it would move forward with the stalled plan to build the coal-fired plant in Krabi, where many saw it as an existential threat to its natural beauty and tourism-dependant economy.
Police moved in to arrest the activist leaders Saturday morning as they were deemed to be violating the junta's ban on political gatherings. The arrest sparked a tense confrontation between officers and protesters.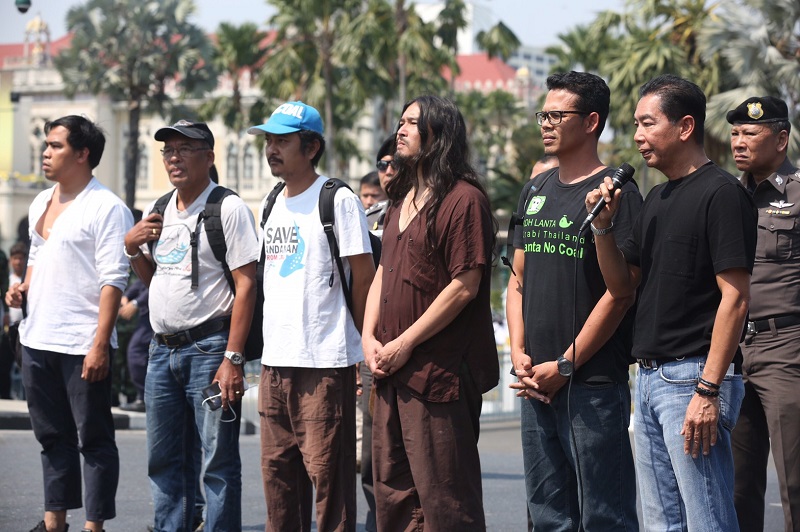 Present to free the five leaders Sunday were the commander of 1st Army Area, Lt. Gen. Apirat Kongsompong, government spokesman Sansern Keawkamnerd and national police chief Chakthip Chaijinda.
Apirat said army took good care of the detained leaders. He said the government had done the best to find sources of energy for the country.
Sansern said all the messages from the discussion with protest leaders were conveyed to Prime Minister Prayuth Chan-ocha, who then ordered a new environmental impact assessment.
Both the commander and the government spokesman warned the group their actions against the government might be taken advantage by those who oppose the military government politically.
"After two nights, there are some groups of those with ill intentions trying to intervene," Apirat said.
"I urged the fellows of Save Andaman from Coal group: Don't let others use you as their tool," Sansern said. "Don't let this issue become political."
Activist leader Prasitthichai said he believed the plant has no chance of being approved if the new assessment is done accurately.
But if the government breaks its promise tomorrow?
"The general told me he would then pay for my traveling cost to come back," Prasitthichai said.
Related stories:
Coal Plant Protest Leaders Arrested
Gov't Gives Green Light to Krabi Coal Plant, Activists Vow Resistance (Photos)