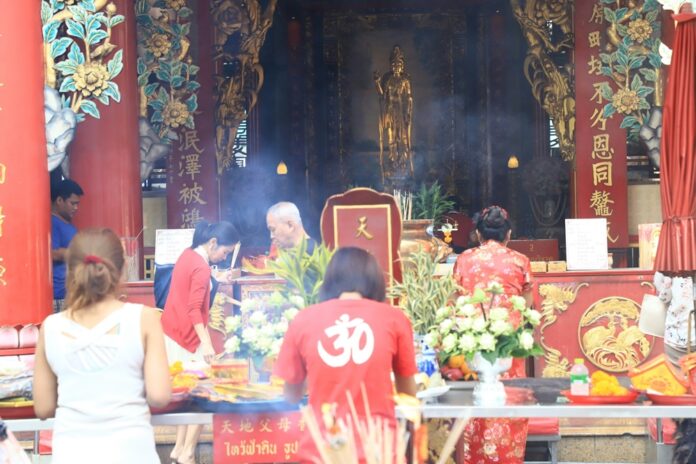 BANGKOK — Chinese New Year festivities began Thursday with wan wai, a day of worship which involves family members burning glittering "hell money" for their ancestors. But with Bangkok plagued by heavy smog, health officials warn the tradition may hasten their reunion with the dead.
In gold and silver colors, this currency for the afterlife looks beautiful but contain toxic compounds – chromium, nickel, lead and manganese – that enter the air when combusted, city hall said Wednesday in a statement.
A Bangkok government official said Thursday that although the Sino-Thai community won't abandon the tradition overnight, she hopes they will least burn less.
"It's a belief that they practice every year. Telling them to stop now wouldn't work," said Suwanna Jungrungruang, deputy secretary of the Bangkok Metropolitan Administration. "But I want them to burn less or burn only what's necessary. It's unlikely things will change suddenly."
Read: Sino-Thais Celebrate Chinese New Year Pray Day (Photos)
The health warning was issued a day before millions flocked to shrines to light incense for prayer and burn hell money along with extravagant paper imitations of houses, cars, phones and other luxury goods for the afterlife.
While the tradition started with natural materials such as bamboo and wood, it has evolved to include composite materials that are harmful when burned, Suwanna said.
Disease Control Department director Suwanchai Wattanayingcharoen said burning hell money harms worshipers and anyone in the area who breathe the fumes.
"The silver and gold paper burned causes the fumes of lead from the paper colors to spread, affecting the health of those who burn it and those nearby," Suwanchai said in an email.
Inhaling the fumes can elevate blood lead levels and contribute to anemia. Dumping the ashes into the environment is another source of contamination, Suwanchai said.
Huyseng Sae-lim, a Chinese opera expert and professional medium, said he's not troubled by the warning despite his job – which requires he breathe in toxic fumes all day today.
"I'm feeling so-so," Huyseng said. "I've never had any problem about it."
The medium, who makes regular appearance in temples and shrines for occasions such as the Chinese New Year, said he would prefer to see people burn less hell money, but he believes the tradition won't change any time soon.
Suwanna, the Bangkok official, said she sees increasingly fewer people every year, especially the younger generations, practice the ritual.
"As far as I noticed, fewer people burn it, and the people who still do, burn it less," said Suwanna, who identifies as Sino-Thai herself. "Take me for example, I prayed this morning and came to work right after. People don't do it for three days straight like in the past anymore."