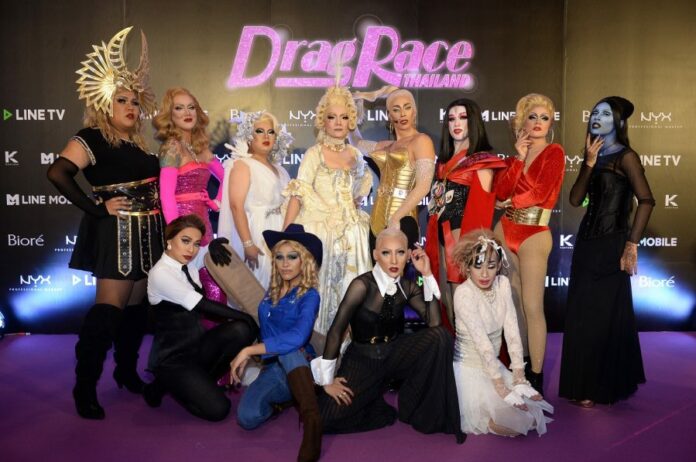 BANGKOK — The shemale stars of the runway took the stage Friday night to dance, throw shade and announce the fabulous arrival of "Drag Race Thailand."
Thailand's best and lesser-known drag personalities put on their finest costumes and makeup Friday at the EmQuartier shopping mall for the official announcement of "Drag Race Thailand," a spin-off of the reality show with the most heart and sequins-per-hour: "RuPaul's Drag Race."
Billed as the first Asian love child of American drag star RuPaul, the show features 10 drag queens: Meannie Minaj, Amadiva, Morrigan, Natalia Pliacam, Annee Maywong, B Ella, Petchra, Bunny Be Fly, Dearis Doll and Jaja.
Acclaimed fashion stylist Arya "Art" Indra will lead the show as well as Pangina Heals (aka Pan Pan Narkprasert), also known as "Thailand's RuPaul." Each episode will be joined by different guest judges.
The TV show's license was obtained by production company Kantana Group, who is also behind "Gossip Girl Thailand" and "The Face Thailand."
Like the original, the reality competition show each week features a "Mini Challenge," "Maxi Challenge," Runway Challenge and that desperate battle for survival known as "Lip Sync for Your Life." Contestants had best take to heart faerie drag mother Ru's advice and "don't fuck it up" to be safe from elimination.
The first, eight-episode season of "Drag Race Thailand" will air via Line TV at 8pm on Thursdays starting Feb. 15.