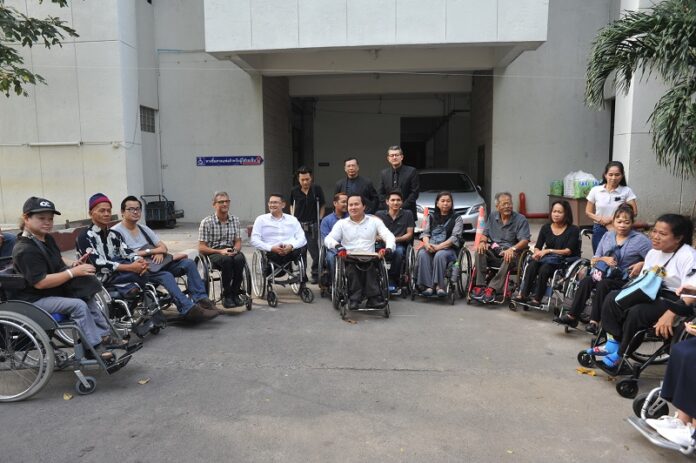 BANGKOK — City Hall filed a motion in the Civil Court on Tuesday to block its consideration of a class-action lawsuit brought by commuters with disabilities, saying the court did not have the authority to hear the case.
The day's question before the court – whether the suit could go forward as a class action – was preempted by the city's challenge that it was the wrong venue to hear the case, which seeks financial compensation for the city's failure to make the BTS Skytrain accessible to the disabled.
Lawyers for the Bangkok Metropolitan Administration, or BMA, argued that the case belonged in the Administrative Court instead. The hearing ended with the court saying it would reconvene to decide both questions in two months.
Read: Elevators Unveiled at Four BTS Stations – But Do They Work?
In their lawsuit filed Jan. 20, the disabled activists asked the BMA to compensate people affected by its failure to satisfy a 2015 Administrative Court order to all BTS stations accessible for passengers with disabilities.
The suit seeks 1,000 baht for each plaintiff to join the class for each day since the court-ordered deadline for the work to be completed passed Jan. 21, 2016. It seeks four times that amount, or 4,000 baht, for every day since they filed the suit on Jan. 21, plus 7.5 percent annual interest.
That means each plaintiff would get 1.7 million baht based on that calculation if the case was settled in their favor today.
"I think the BMA is not sincere in solving the problem," said Theerayuth Sukonthavit, the president of activist group Transportation for All who is also a wheelchair user. "It prolongs the case unnecessarily."
City Hall may hope to have more elevators operational in that time. Six weeks after the lawsuit was filed, Bangkok's governor announced that work on lifts at four stations was complete. City Hall said March 3 elevators at BTS Ratchadamri, Phrom Phong, Thong Lo and On Nut were usable, and Gov. Aswin Kwanmuang promised all 23 stations would have lifts by the end of 2017, three years after the court ordered it done.
If the lawsuit is certified as a class action, it would be Thailand's second since they were made legally possible in 2015. In the first, communities in Pichit and Phetchabun provinces sued a gold mine company in May for despoiling the environment.
Theerayuth said Tuesday the lawsuit was their method of pressuring the BMA. But the demand for compensation was reasonable, he said, because commuters with disabilities incurred a lot of travel expenses because they could not use the BTS Skytrain.
Even if all stations were soon ready, Theerayuth said his group would not withdraw their lawsuit.
Related stories:
Elevators Unveiled at Four BTS Stations – But Do They Work?
Disabled Plaintiffs Looking for More to Join BTS Lawsuit
How Long to Install BTS Elevators? City Hall Says 3 Years.
Wheelchair Rally to File Class-Action Lawsuit Over BTS Accessibility at Court
Disabled Activists to File Class-Action Lawsuit Over BTS Access
City Hall Fails to Make BTS Accessible 2 Years After Court Ruling
Broken Promises: BTS Still Off Limits to Disabled
Disabled Rights Group Weighs New Suit Over BTS Stations
BTS Stations Remain Inaccessible to Disabled, a Year After Landmark Ruling