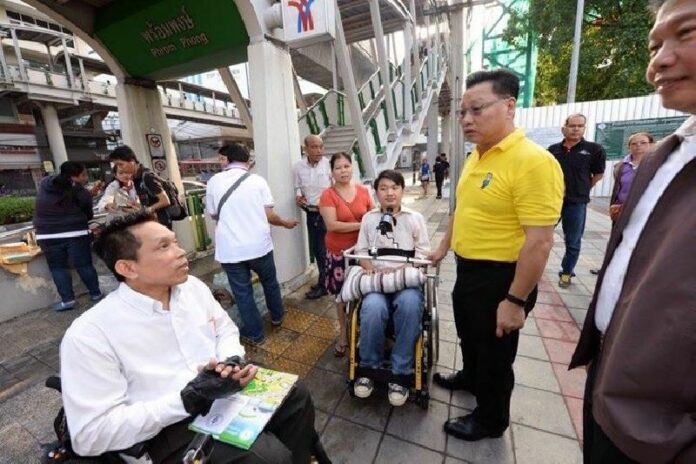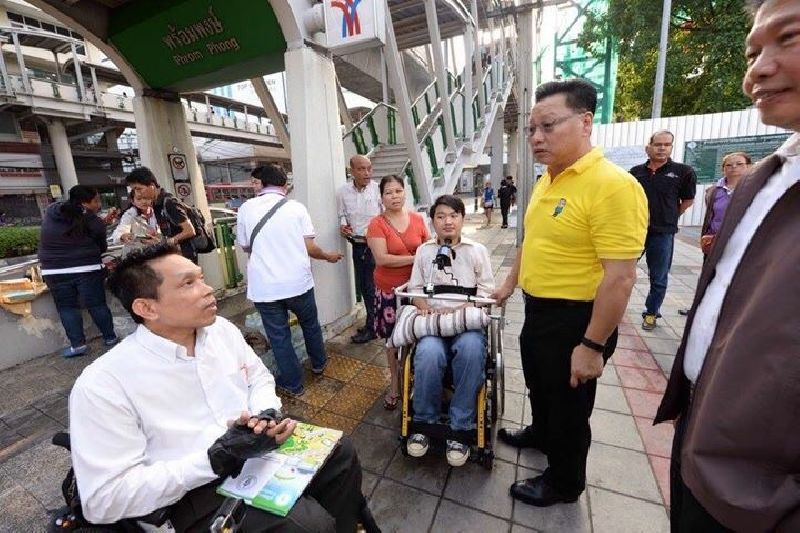 BANGKOK — A disabled rights group is weighing renewed legal action against City Hall and the BTS Skytrain operator after they failed to comply with a court order to make all stations accessible to passengers with disabilities.
A day after City Hall apologized for failing to meet the deadline ordered a year ago by the Supreme Administrative Court, the president of activist group Transportation for All said Friday his group is discussing whether to file a fresh lawsuit against the city and the elevated rail system's operator, the Bangkok Mass Transit System Public Co. Ltd.
"We are disappointed that they have not followed the issue as much as they were supposed to," Teerayudth Sukonthavit, 50, said. "Some disabled people have been waiting for the case so long said they have spent so much money for taxis."
Read: BTS Stations Remain Inaccessible to Disabled, a Year After Landmark Ruling
In January 2015, the Supreme Administrative Court ordered the BTS Skytrain system to install elevators and other facilities to support disabled access. One year was given to make all stations accessible, a deadline which passed Thursday. In its ruling at the time, the court did not specify any sanctions should the defendants fail to comply.
On Thursday, the Bangkok Metropolitan Administration said it would install elevators at the remaining stations by September and agreed to form a committee including disabled stakeholders to monitor the project's process.
The 2015 verdict was a long- and hard-fought victory for disabled rights activists in a city where the built environment is far from hospitable. Transportation for All first filed suit over the original 23 stations that comprised the Silom and Sukhumvit lines. In 2009, the Central Administrative Court dismissed their suit, saying the 1999 law compelling public transportation to accommodate the disabled came three years after contracts for the system's construction were signed in 1996.
A top city official said BTS Phrom Phong will be the first of the original 23 stations to be equipped with an elevator. Deputy Bangkok Gov. Amorn Kitchawengkul said BTS Phrom Phong would have elevators operating by April.
Activist Teerayudth said if the city fails to make good on its latest promises, his group will consider campaigning to increase social pressure.
After six years of fighting, the group won last year on appeal to the Supreme Administrative Court, which overruled the lower court in its Jan. 21, 2015 verdict. The court's reasoning in its landmark verdict was that since the law is now in effect, the rail system must be in compliance with it and therefore must renovate its stations.
It is also ruled BTS stations must be equipped with facilities friendly to disabled passengers such as at least one car per train with adequate space designed for wheelchairs and a railing at least 80 centimeters above the floor.
Of the newer stations equipped with elevators, as highlighted yesterday by city officials, activist Teerayudth said they were impractical and frustrating.
"I need to ring the bell and desperately wait until some security guard comes down to accompany me, and sometimes nobody never show up," said Teerayudth, who himself uses a wheelchair. "Also we are only allowed in the first car of the train. It feels like we, disabled people, are treated unequally and limited in our rights."
Teerayudth said his movement, which counts more than 300 members, aims to make the transportation accessible not only for passengers with disabilities, but everyone. Also on their wish list, he said, were slower speed escalators for the blind and more readable information displays for those who cannot hear and depend on them.
"This policy is based on basic rights," he said. "It's not special aid for disabled."
Related stories: