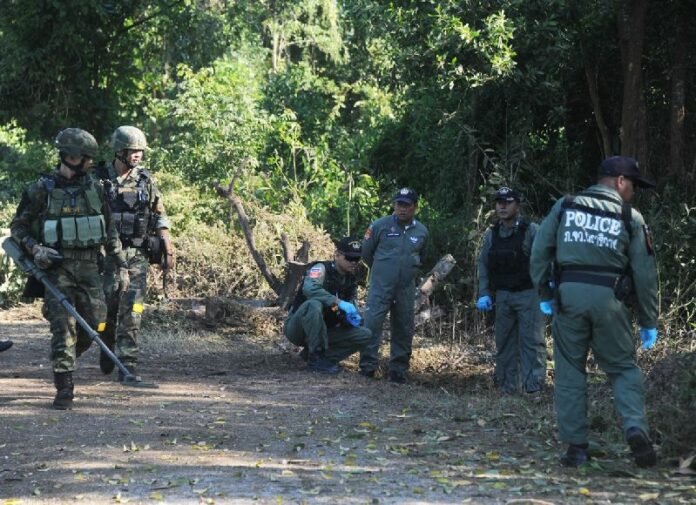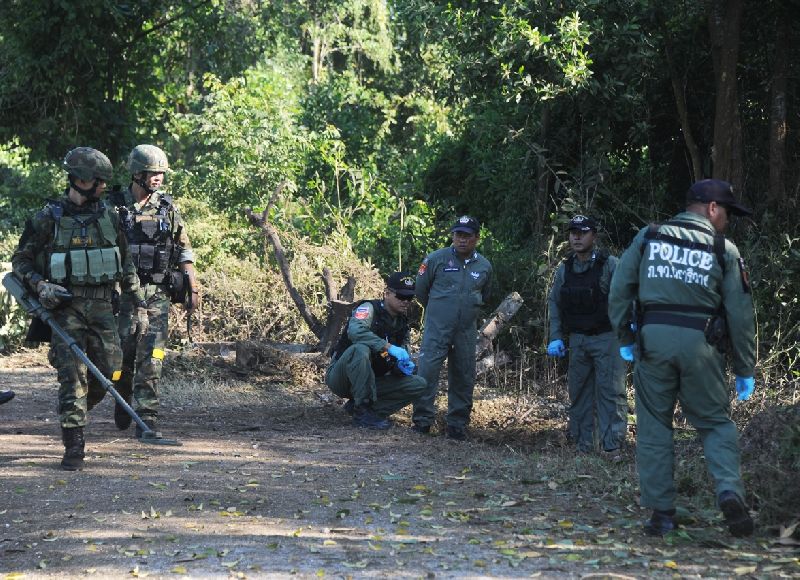 BANGKOK — Reports of Islamic State activity in the Deep South are being investigated, junta chairman Prayuth Chan-ocha said Thursday, stressing that there is no evidence yet of the group's presence.
Gen. Prayuth's statement came after media reports that, citing anonymous sources, indicated that ISIS supporters met with religious leaders in the southern border provinces and attempted to win support from the local Muslim population at a time the group is believed to be seeking a higher profile in Southeast Asia.
His comments were in line with a chorus of denials from top officials who have insisted in recent days there is no proof the Islamic State of Iraq and Syria is operating in the kingdom. Prayuth said authorities are "investigating the matter" and warned the media not to look into the matter too much as it may affect national security.
Junta chairman and Prime Minister Prayuth Chan-ocha speaks yesterday at Government House.
"We have to be careful when it comes to confidential matters that affect other countries and the world community," Prayuth said. "Sometimes, there is gain from speaking about some issues. It may let the perpetrators escape again and again, and it may drag us into the conflict, and will happen more often in our own country."
A Thursday article in Bangkok Post quoted unnamed sources in the security forces saying ISIS members met with imams in the south and donated money to a number of mosques in the region, where a separatist insurgency has claimed thousands of lives.
Asked whether there have been any arrests of ISIS militants in Thailand so far, Prayuth said certain individuals have been arrested, but there is no evidence confirming their link with the terror group.
He also took a swipe at those who criticize the military government's spending on the security apparatus.
"When we order equipment, like tools for facial recognition, fingerprint inspection, you criticize that it's too expensive, even though you have to look at the procedure to see whether it's properly paid for or not, see what the laws say," Prayuth said. "When we come up with an idea, when we buy weapons or whatever, we are always in the wrong. So what are you demanding from me?"
Deputy Prime Minister Prawit Wongsuwan likewise played down reports of ISIS activities.
"Based on our inspection, I confirm that there has been no arrest of individuals connected to ISIS as reported in the news," Gen. Prawit said today. "As far as I know, it was arrest of gunmen who shot a local administrator. It's not related to the ISIS at all, yet some media agencies reported that it is the case."
He denied it further in no uncertain terms.
"Let me confirm to you again: ISIS has not entered Thailand," Prawit said.
Islamic Insurgency
Maj. Gen. Pattanawut Angkhanawin, commander of police force in Narathiwat province, also said there is no evidence of ISIS activity in the region.
"But we are not letting our guard down," Maj. Gen. Pattanawut added. "We still focus on prevention and suppression. As for security measures, we focus particularly on the borders, such as Takbai, Sukurin and Sugai Kolok districts, which share a border with Malaysia."
He said any resident who spotted suspicious individuals in the area who may "pose a threat to national security" should immediately contact security forces.
Soldiers man a security checkpoint Jan. 18 in Narathiwat province.
The border provinces of Narathiwat, Pattani and Yala have long been suspected as a hotbed for transnational Islamic militancy because of the separatist insurgency that has been raging in the region for more than a decade.
Concern about a growing ISIS presence in Southeast Asia was amplified after the group took credit for a brazen Jan. 13 attack in the Indonesian capital of Jakarta which killed four civilians. Indonesia and Malaysia, both Muslim-majority nations, are struggling to rein in citizens who may be sympathetic or active supporters of ISIS.
In the south of Thailand, a network of fighters has long battled Thai authorities to secede the three provinces and form the Islamic nation of Patani, a sultanate that was annexed by Thailand a century ago. That conflict has been viewed historically as one of religious and ethnic cultural identity, more than an Islamist struggle.
A large portion of the Deep South population are Muslims of Malay descent who speak a distinct language and do not consider themselves Thai.
To reach us about this article or another matter, please contact us by e-mail at: [email protected].
Follow Khaosod English on
and
Twitter
for news, politics and more from Thailand.