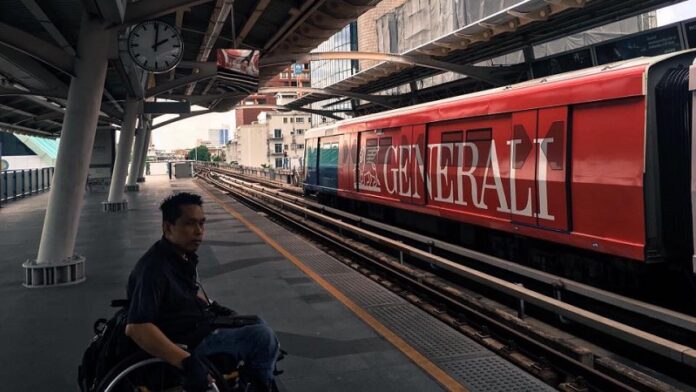 BANGKOK — Hundreds of disabled right activists will converge at the Civil Court on Friday to file a class action lawsuit against City Hall for failing to obey a court order to make all BTS Skytrain stations wheelchair accessible.
Two years after prevailing in a landmark Supreme Court ruling, activist group Transportation for All said Wednesday it decided to file the suit after a year had passed without the Bangkok Metropolitan Administration, or BMA, adding one operable elevator to its inaccessible stations.
"We have closely monitored and found the BMA lacks responsibility and efficiency," the group wrote in a statement.
The suit asks the court to fine the city 1,000 baht per day for each plaintiff to join the class since the court's original Jan. 21, 2016, deadline for the work to be completed.
After the last of several promises passed without the work completed, City Hall has offered yet another vague deadline.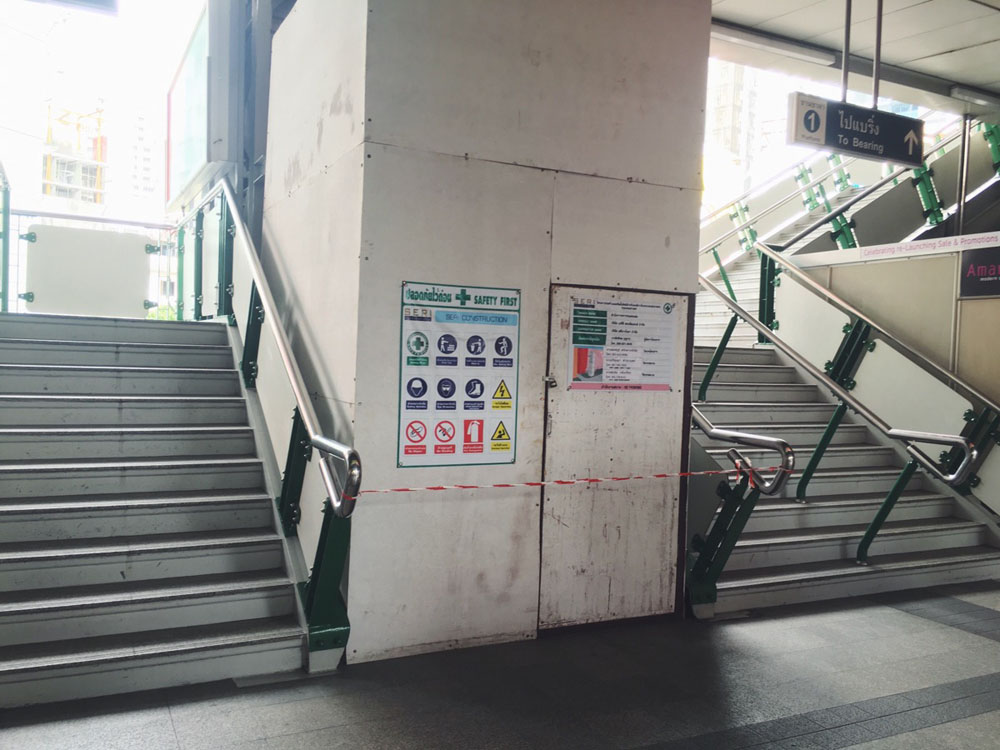 A City Hall representative said Wednesday they were not yet aware of the lawsuit.
"If they want to sue, that is their right, and we cannot ask them not to do that," said Prapas Luangsirinapha, who now oversees the project. "But the disabled, they didn't suffer any losses, did they?"
He said it's still possible for disabled commuters to seek help by contacting a guard to lug them up the escalator.
Prapas, who is responsible for coordinating with the developer, said the project has had a lot of land ownership issues, and he has done his best.
"I will just have to go to court and explain the same to them," he said Wednesday. "The worst will just be I got moved to another position."
Project developer Seri Construction said Monday it had no definite date for completing the work but "hoped" to see some of the stations open in the coming months.
Read: Broken Promises: BTS Still Off Limits to Disabled
The landmark ruling in January 2015 gave the city one year to complete the work.
In January 2016, City Hall apologized for failing to meet the court-imposed time frame. It then promised that every station would have operating elevators by the end of September.
The project has also changed leadership. When former Bangkok Gov. Sukhumbhand Paribatra was removed by the junta in August, the deputy governor who was responsible for the project also left City Hall.
Developer Seri previously said it expected elevators at seven stations to be running by the end of September. Now it says it will be another four months.
Itthiphol Boonrak, the developer's project manager, said he now hopes elevators at some stations will be operating by early February.
"I pray it can be opened, at at least one station," he said Monday, unable to give a more concrete date of completion.
Though unfinished construction sites can be seen at many stations, there does not appear to be visible work underway. Itthiphol said the elevator housings and shafts were mostly ready and only waiting for electricians to wire them for operation.
So why has it taken over two years to install elevators? He gave the same reasons offered the last time a reporter called to inquire. He said workers only have limited hours as they can only work after the BTS system shuts down, and issues with the underground infrastructure had made it more difficult than expected.
The disabled rights activists who brought the original suit and have pushed the issue for years said they were not pleased.
"How come City Hall doesn't have any measures to deal with a developer who fail to satisfy contracts?" Manit Inpim said Monday.
The contract stipulates that City Hall must fine developer if it fails to complete the work as specified.
Filing as a class was not possible when they first sued the BMA, which owns the Skytrain system. A law enabling class-action suits went into effect December 2015. Since then only one such suit has been filed against a gold mine operator.
A City Hall transportation official said they were still urging Seri to get the work done and remained hopeful some progress would be made despite the failures so far.
"We will open the first four stations in April," said Prapas.
Related stories:
City Hall Fails to Make BTS Accessible 2 Years After Court Ruling
Broken Promises: BTS Still Off Limits to Disabled
Disabled Rights Group Weighs New Suit Over BTS Stations
BTS Stations Remain Inaccessible to Disabled, a Year After Landmark Ruling