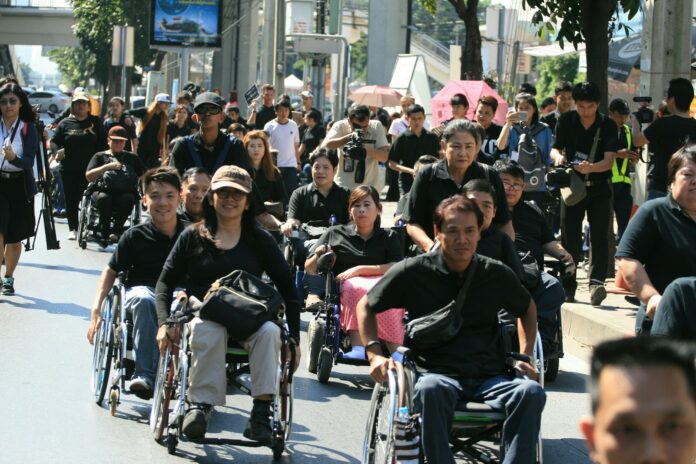 BANGKOK — Disabled activists put out a call Monday for commuters who have been unable to make use of the BTS Skytrain due to its inaccessible stations during the past two years.
As part of a long fight to make the BTS system accessible, group Transportation for All urged affected parties to join a class-action suit seeking about 360,000 baht per person from City Hall for failing to install elevators as ordered by the Supreme Court.
Those encouraged to participate include citizens with registered disabilities, senior citizens, pregnant women and those who were in ill health and unable to use the popular rail service due to its lack of accommodation.
"We have two million disabled people in Thailand. We should have at least 100,000 people join," said the group's leader, Theerayuth Sukonthavit.
Responding to the suit, City Hall said Jan. 23 that all 23 original BTS stations will have functioning elevators by the end of this year, two years after the court deadline passed.
Bangkok Gov. Aswin Kwanmuang on Monday ordered that elevators must be ready by the end of February at four stations: Phrom Phong, Thong Lo, On Nut and Ratchadamri.
The group filed suit Jan. 20 in the Civil Court. It was the second class action taken in Thailand since such suits became possible in December 2015.
The court will rule March 30 whether to certify the plaintiffs as a class.
The amount of damages they are seeking is roughly calculated at the rate 1,000 baht per day per person since the court-ordered deadline passed on Jan. 21, 2016. It will adds 7.5 percent interest per year.
The group said they arrived at 1,000 baht from the money and time they have paid to travel the capital by other methods.
Related stories:
How Long to Install BTS Elevators? City Hall Says 3 Years.
Wheelchair Rally to File Class-Action Lawsuit Over BTS Accessibility at Court
Disabled Activists to File Class-Action Lawsuit Over BTS Access
City Hall Fails to Make BTS Accessible 2 Years After Court Ruling
Broken Promises: BTS Still Off Limits to Disabled
Disabled Rights Group Weighs New Suit Over BTS Stations
BTS Stations Remain Inaccessible to Disabled, a Year After Landmark Ruling