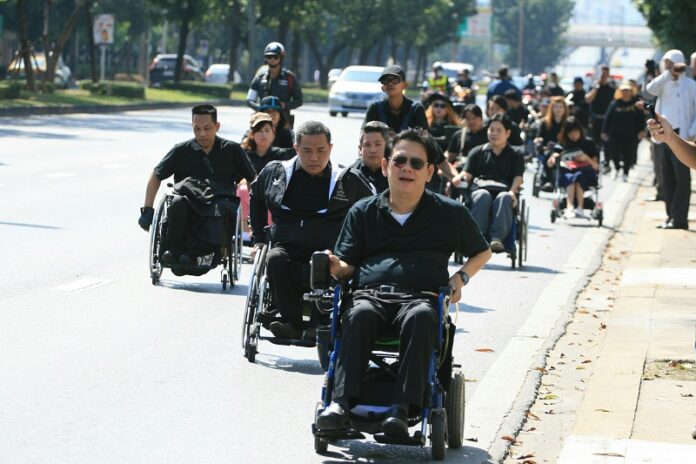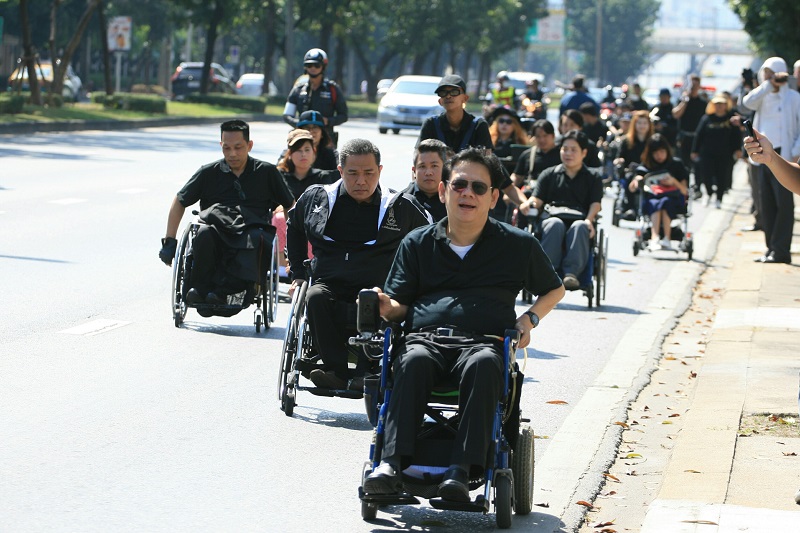 BANGKOK — Days after a class-action lawsuit was filed against City Hall for failing to make the BTS Skytrain accessible to disabled commuters, officials said Monday it will take a year to complete the work which has languished for two years.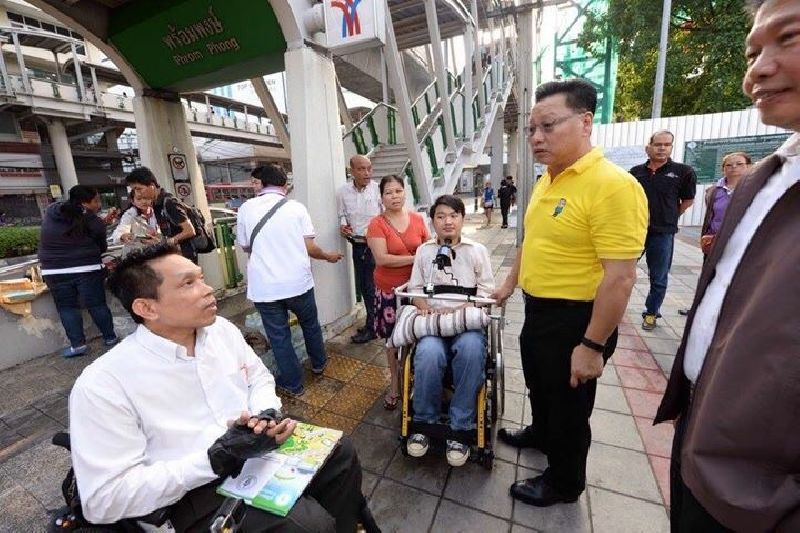 Monday's assertion also came with the second apology in two years for not satisfying a court order to make the rail system accessible. Whereas officials one year ago said it would be finished in nine months, the Bangkok Metropolitan Administration, or BMA, today only gave a vague timeframe for completion. It said all stations would be equipped with functioning elevators by the end of the year.
If that comes true, it would mean construction of elevators at the 23 stations along the original BTS lines will have taken three years to complete since the landmark court ruling in January 2015.
"BMA has prioritized this issue and spent 350 billion baht to build the elevators," newly installed Deputy Bangkok Gov. Amnuay Nimmano said.
Read: Broken Promises: BTS Still Off Limits to Disabled
The Supreme Court ruling in favor of disability rights groups was hailed as a historic victory only to become another piece of paper after City Hall let project developer Seri Construction extend the deadline to complete the installation without fining them as per its contract.
Amnuay promised at least three stations would be accessible to wheelchairs by the end of March. He did not name which.
On Friday, nearly 100 wheelchair users rallied at the Civil Court to file a class-action suit against the city. It seeks 1,000 baht for each plaintiff for each day since the Jan. 21, 2016 court-ordered deadline has passed without compliance.
At Monday's news conference, City Hall did not address the suit.
Instead, officials repeated the same explanations offered for over a year. They said they've been dealing with land ownership issues, complicated underground infrastructure and limited to working during the four hours the system is shut down.
"It is not an excuse. But there really are problems," Amnuay said. "I will appoint an inspector to look into the case and find out who is at fault."
Related stories:
Wheelchair Rally to File Class-Action Lawsuit Over BTS Accessibility at Court
Disabled Activists to File Class-Action Lawsuit Over BTS Access
City Hall Fails to Make BTS Accessible 2 Years After Court Ruling
Broken Promises: BTS Still Off Limits to Disabled
Disabled Rights Group Weighs New Suit Over BTS Stations
BTS Stations Remain Inaccessible to Disabled, a Year After Landmark Ruling