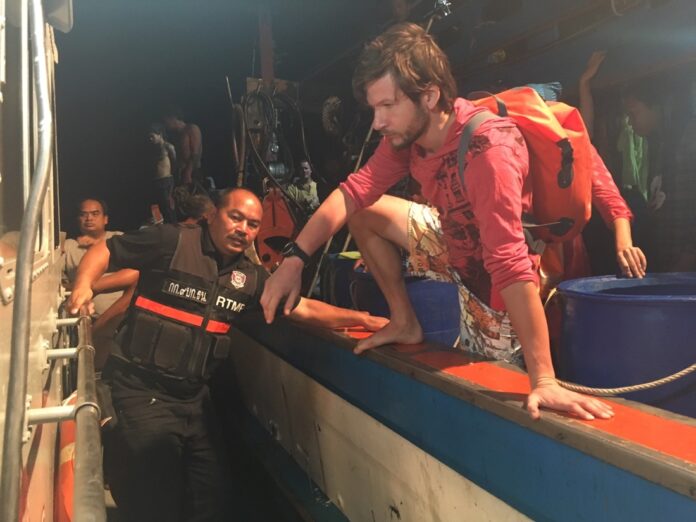 SATUN — A diving trip in the pristine sea near a world-renowned island turned into a survival nightmare for 18 tourists Monday afternoon when their boat caught fire, forcing them to leave everything behind and swim for their lives.
Although all the tourists and boat crew were safely rescued, most of the visitors are now stranded without passports in Satun province after their Koh Lipe diving trip went awry. Police are debating which station has jurisdiction over the case, which one officer described as a possible case of negligence.
Nipon Kongkwan, chief of La-Ngu Police Station, said the captain of the Charan Tour boat told him the incident happened when the crew was filling oxygen tanks for a dive. They did so too close to an inflammable material, and an accidental spark lit up flames that soon spread across the boat too quickly for the tourists to do anything but leap free.
"They couldn't pick up anything. They had to jump into the sea," Col. Nipon said. "No passports. No iPhones. Nothing. They even had to borrow clothes from local fishermen."
He stressed that story was solely based on the testimony of the captain, and that police must investigate before reaching any conclusions.
The boat reportedly caught fire and sank hours after it departed Lipe on Monday afternoon. Tourists and crew members had to struggle to stay afloat for half an hour before a nearby fishing boat spotted them and came to the rescue, according to a marine police officer in the area.
"They were very lucky," Lt. Col. Santipong Pansawat said.
He added that some of the tourists and crewmen were slightly burned, but no one was seriously hurt.
The tourists include four from Brazil, four from Finland, two from Russia, two from Sweden, two from Britain, two from Germany, one from Spain and one from Italy, police said.
They were brought to the coast of Satun province in the evening, and representatives from Charan Tour booked a hotel for them to stay while they sort out their missing documents, Col. Nipon said. At least five tourists had filed complaints about their lost passports so they could secure new ones from their embassies, he added.
Charan Tour is expected to file criminal charges against the crew over the incident, but was unable to do so because the boat sank in waters where the jurisdiction of three police stations meet, so officers could not agree which unit is responsible for investigating.
Nipon said he wouldn't mind taking the case if the company decided to file charges at his station.
"I'm not worried about it," he said.
Related stories:
Boat with 14 Foreign Tourists Sinks in Krabi
British, German, Chinese Women Die in Yet Another Speedboat Tragedy
8 Tourists Injured in Pattaya Speedboat Collision