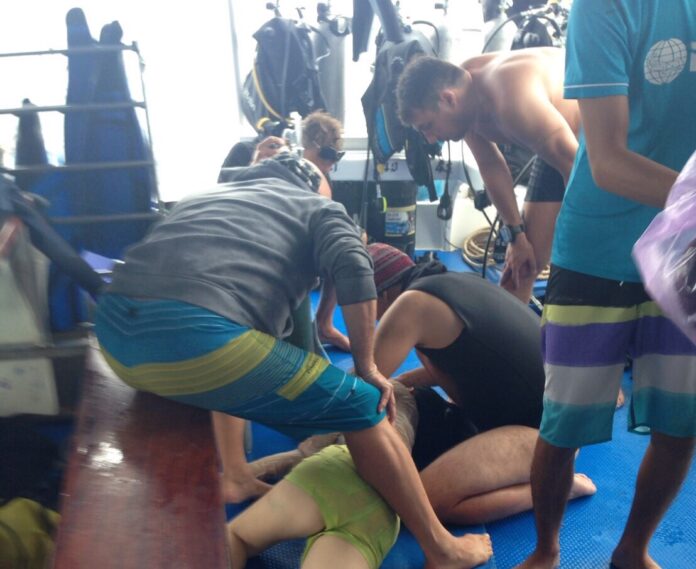 PHUKET — Two tourists were killed when two speedboats collided near the popular Phi Phi islands at noon today in the latest fatal maritime mishap to strike Thai tourism.
The two victims, both Chinese nationals, were killed after the boat they were on crashed into another vessel 30 nautical miles off Phuket, according to a regional marine police commander, who blamed the incident on stormy weather.
"It was raining heavily," Col. Lt. Prasert Srikhunrat said by telephone. "The sky was dark, so the two boats crashed into each other."
According to Prasert, the Chollakij was carrying 36 passengers when it slammed into the Hongfah 333, which was carrying 26 passengers near the Moo Sankha Rocks off one of the Phi Phi islands. Nearly all of the passengers were Chinese tourists, Prasert said.
The deceased were said to include one man and one woman.
The exact number injured was not yet known, but Prasert said the most serious injuries occurred on the Chollakij.
The captains of both boats are now under arrest pending criminal investigation, Prasert added.  Wednesday's incident comes on the heels of a swarm of accidents involving speedboats in major tourist destinations. Three foreign nationals died late last month after their speedboat capsized near Koh Samui, and just Sunday 28 tourists were injured in a crash off Koh Samet.
Related stories:
British, German, Chinese Women Die in Yet Another Speedboat Tragedy
28 Injured in Koh Samet Speedboat Crash