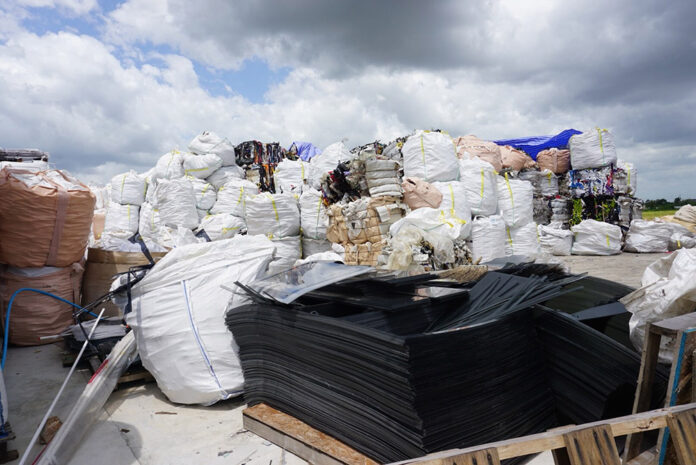 BANGKOK — After a series of raids on factories accused of illegally importing and processing electronic waste, the authorities say they may use special powers granted to the junta leader to impose a total ban on their import.
Minister of Natural Resources and Environment Gen. Surasak Karnjanarat said Thursday that he will lead an effort to amend the law to include such a prohibition. He said if that proves impossible, Prime Minister Gen. Prayuth Chan-ocha could invoke special powers he was given after the army seized power in 2014 to institute a ban.
Electronic waste creates huge health hazards. Many components are laden with lead and mercury, cadmium and other toxins. Lax controls mean that facilities often burn plastics to release encased copper and use unsafe methods to extract precious metals.
Read: Did Junta Deregulation Fuel the Foreign Trash Surge?
The raids have produced public awareness of the hazards. The environmental group Ecological Alert and Recovery Thailand led local activists from across the country in submitting a letter to the government on Thursday demanding that it revoke an order allowing the factories to operate in agricultural areas, and demanding that the government urgently ban imports of toxic waste.
On Wednesday, the second highest member of the ruling military junta, Deputy Prime Minister Prawit Wongsuwan, who is also defense minister, told reporters the government intends to work toward a total ban.
Defense Ministry spokesman Kongcheep Tantravanich said a committee had decided to introduce measures to immediately suspend licenses to import electronic waste for companies that do not comply with international standards on handling hazardous waste or otherwise flout Thai law and regulations. The standards are specified by the Basel Convention on the Control of Transboundary Movements of Hazardous Wastes and Their Disposal, an international treaty that was designed to reduce the movements of hazardous waste between nations.
A U.S.-based group, Basel Action Network, suggested last month that the problem for Thailand and perhaps other Southeast and South Asian countries was growing "as China has closed down its polluting and dangerous 'backyard' recycling facilities and cracked down on waste imports of all kinds," noting that China had been the world's main dumping ground for e-waste for the past two decades.
Thai police on Thursday raided two factories on the outskirts of Bangkok accused of illegally processing electronic waste, and said they would be closed. In the past month, police have raided over 30 factories illegally processing hazardous waste.
The first target was a factory that processed discarded computer hardware into plastic pellets. The raid was conducted after local residents filed complaints of a foul smell radiating from the processing plant. Residents who accompanied police on the raid erupted into cheers when authorities announced that they were shutting the down the factory.
One resident, Sureeporn Janseera, said more than 500 homes in the neighborhood had become virtually uninhabitable in the past year due to the strong odor.
"No one can sit outside," Sureeporn said. "We could constantly smell plastic burning which gave us headaches. It was miserable for us."
In Thursday's second raid, police shut down a factory that was processing mountains of electronic waste. National Deputy Police Chief Wirachai Songmetta said the factory, operated by O.G.I Co. Ltd., had falsified documents to obtain a license to process 45,000 tons of waste – which was considerably above its actual capacity – and that it was acting as a supplier to other illegal plants that had earlier been raided by police.
Wirachai said the illegal practice was a profitable business for the factory operators, who would receive around $25,000 (823,500 baht) per ton of electronic waste they dealt with.
Story: Tassanee Vejpongsa