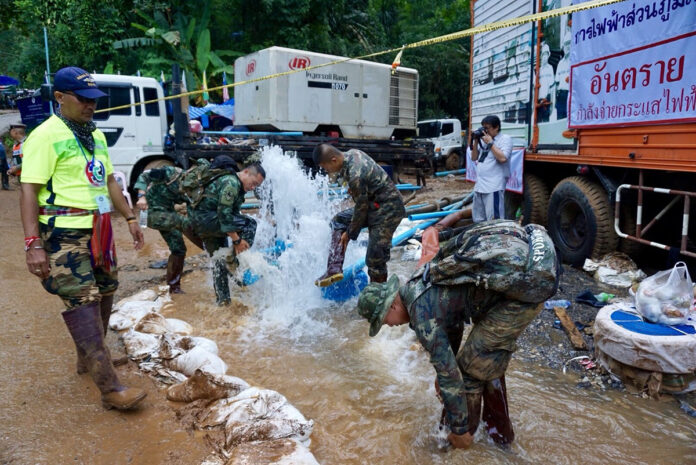 By Jintamas Saksornchai, Asaree Thaitrakulpanich and Todd Ruiz
CHIANG RAI — Officials would not rule out that it could take months to bring to safety a football team trapped inside a flooded cave complex as they scramble to stop more water from flowing inside.
Chiang Rai Gov. Narongsak Osatanakorn said the 12 children and coach trapped inside for 12 days are being taught to use diving gear as more soldiers, medics, police and more have entered the Luang Nang Non cave complex to tend to them. Outside, temporary dams were being built to staunch the water flow.
"The situation is very calm because the kids are alright," Narongsak said. "It's okay now if we're a bit delayed."
He played down the possibility they could be extracted as soon as today.
"I think today is going to be difficult. I can't say when, but everyone is doing their best," he said.
Space blankets and donated full-face diving masks have reached the boys, where a medic and SEAL team are staying with them around the clock.
In a one-minute clip posted online this morning, the boys can be seen in good spirits as they take turns introducing themselves and saying they are in good health.
An effort to run phone lines to the cave fell short. Exhausted divers were only able to place 300 meters of 1.5 kilometers needed, so the boys' parents have not been able to speak to them yet.
Deputy junta chairman Prawit Wongsuwan told reporters this morning that the Wild Boars won't be taken out of the cave for now, citing difficult terrain, strong currents and risks to their health.
"It's not necessary to get all 13 out of there at the same time. Whoever is more ready can be brought out first," Narongsak said.
Narongsak said officials are still pumping out water from two spots and will also try to divert water pouring into the cave from a southern entrance by building dams. A total of 11 dams, currently five built, could stop 10,000 liters of water flowing daily. The dams will be removed after the rescue, he said.
Maj. Gen. Chalongchai Chaiyakum said that the army command has ordered more reinforcements for the divers and SEAL team.
"We're exploring more shafts above the hill. The most important thing now is to lower the water level," Chalongchai said.
When asked about the boys' sanitary condition and where they went to relieve themselves, Chalongchai would not answer.
As for the plan to dive the children out, Narongsak said that the kids are still learning how to dive.
A media at the scene thanked the SEAL doctor who went in for his great spirit and handling the boys, whose health is better than expected.
Additional Teeranai Charuvastra