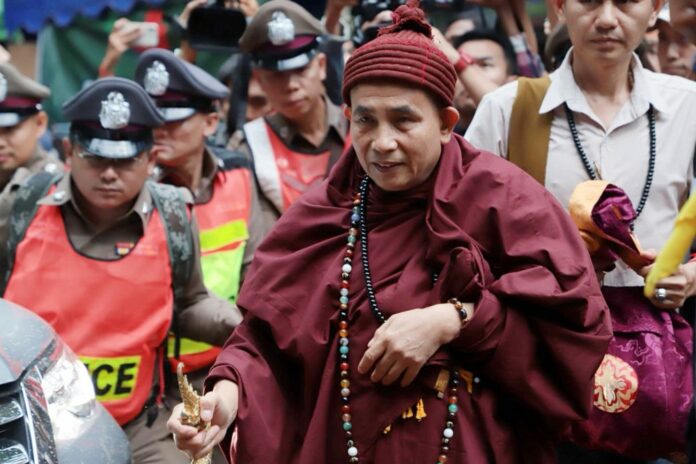 By Jintamas Saksornchai, Chayanit Itthipongmaetee and Todd Ruiz
CHIANG RAI — The weather has been kind to the cave rescue effort over the past week, but the storm is finally coming with no timeline yet for rescuing those trapped inside.
Since it began late last month, rain has posed a major obstacle to attempts to the search and rescue of the 12 young footballers and their coach trapped inside the Luang Khun Nam Nang Non cave in Chiang Rai. Furious pumping and diversion efforts have seen the water levels inside lower steadily, officials said. But the kind of rain that flooded the cave and trapped the team inside late last month is returning this weekend, posing further danger.
Upward of 60 percent of Chiang Rai province will experience thunderstorms Saturday through Wednesday, according to the national meteorology agency.
Chiang Rai Gov. Narongsak Osotthanakorn has repeatedly insisted that the boys safety's must be 100 percent guaranteed before any extraction can begin. On Thursday morning, he again declined to give a specific timeframe for when they can be brought out. Many have expressed concern that the operation could last as long as four months until the monsoon season ends in October.
On Wednesday evening, Kruba Boonchum, a prominent mystic from Myanmar, entered the mouth of the cave with several family members to conduct a ritual to "open" it.
It takes Navy SEAL divers 11 hours – six in and five out – to reach the boys and return, Narongsak said. They estimate over 130 million liters of water has been pumped out of the cave.
A communications line is still being run through to establish a link between the 13 and their families. According to Narongsak, the cable has reached a cave junction closer to the boys. Outside, search teams are still looking for alternate ways in to reach them. The teens and their coach are in good spirits and being trained in scuba diving.
The governor did complain of some well-meaning, unregistered volunteers who dug holes in a bad spot and actually caused more water to flow in and obstruct the operation.