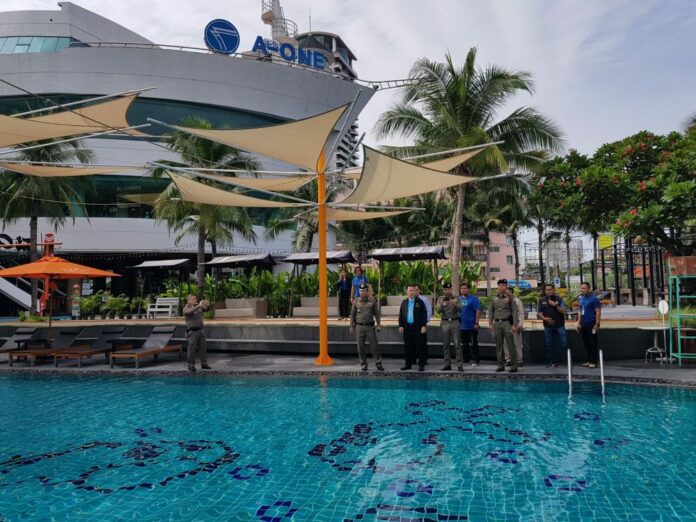 PATTAYA — A university student faces up to five years in prison for filming revelers grinding against each other in a simulated sex act at a pool party.
Thachakrit Wonglaemtong, 23, has been charged with violating the Computer Crime Act after he attended Saturday night's Kolour Beachside Pattaya, where he filmed men and women in bathing suits simulating sex in a hotel swimming pool.
Thachakrit faces up to five years in prison and a 100,000-baht fine, Pattaya police chief Col. Apichai Krobpetch said Tuesday. Those he filmed risk a small fine.
Read: Police Investigate Alleged Sex Act at Pattaya Pool Party
The 53-second video clip, exploded online Saturday night for scenes appearing to show several couples getting freaky in the pool by pretending to have sex and simulating oral sex.
Police said they had tracked down one couple they identified as an unnamed 33-year-old British man and a Thai woman. They face a fine of up to 5,000 baht for public obscenity.
Party organizer Kolour, which for many years has staged dance parties in and around the capital, denied responsibility for what happened and refuted netizens' claims the couples were hired entertainers.
"[W]e are attentive and respectful of Thai values and tradition, we certainly do not promote or condone this kind of behaviour," Kolour co-founder Coran Maloney wrote in a statement Monday night. "While we want people to have fun at our events we do find this footage to be in poor taste and offensive.""
The statement went on, saying the couple was not having sex only acting "in an attempt to get attention."
Maloney said the couple would be banned from attending Kolour events in the future.
The second edition of Kolour Beachside Pattaya was held Saturday night at the A-One The Royal Cruise Hotel. It featured a 10-hour party with electronic music and games in two swimming pools.
Pattaya is a top destination for the world's sex tourists, but despite its reputation, the authorities come down hard on those caught in the act. A group of Russian "sex instructors" remain behind bars since they were arrested in February.
Correction: The original version of this article said the maximum fine for public indecency is 500 baht. In fact, it is 5,000 baht.
Related stories:
Police Investigate Alleged Sex Act at Pattaya Pool Party