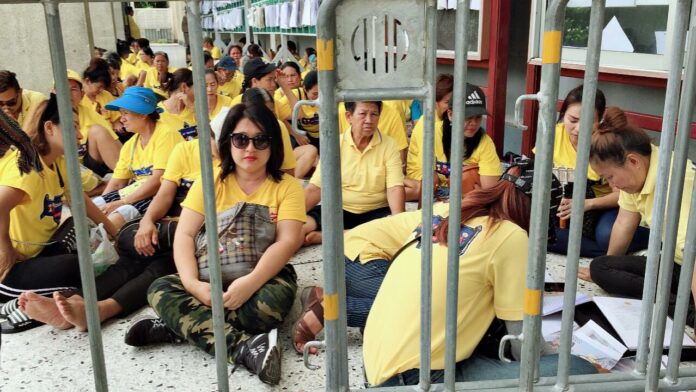 BANGKOK — Khaosan vendors on Tuesday slammed City Hall for breaking another promise to compromise by refusing to budge on a daytime ban on sidewalk sales.
Dozens of vendors who marched on City Hall yesterday to protest the new limitation were not met by any ranking officials and went home with a promise their petition would be considered. The deputy governor who spearheaded the push to shut down the popular street market last month responded later, saying the decision was final.
Read: Defeated, City Hall Again Agrees to Exempt Khaosan
Yada Pornpetrumpa, president of the local vendors association, said today she was surprised by that remark from Deputy Gov. Sakoltee Phattiyakul, who just two weeks ago publicly pledged to involve them in the policy making process after he was pressured to back off.
She expressed disappointment on being dismissed again, especially after the city said it would keep a 2017 promise to exempt the popular tourist destination from regulations on street selling. In return, the vendors were invited to draft their own rules for self-regulation.
"At the meeting on Aug. 6, he promised he would listen to us. But then he just gave interviews saying a totally different thing," she said. "That day, everyone knew that City Hall agreed to wait for our proposed regulations, but they just set another meeting on Aug. 10 without the vendors."
She was referring to when Sakoltee, whose crackdown hit a wall when police said they could not enforce his rules, abruptly called a meeting earlier this month. Alongside several ministries and police representatives, it was announced that Khaosan Road would be formally exempted due to its status as a vital tourist attraction.
The only catch was that vendors would now only be allowed to sell on the sidewalks from 6pm to midnight instead of around the clock.
Yada however said she would not take further action until Thursday, the day Phra Nakhon district officials said they would come back with a compromise position. After that, she said they may directly petition the prime minister. She added that she will travel to the tourism ministry on Wednesday to present the vendors' recommended self-regulation.
After the vendors left City Hall yesterday, Sakoltee, who said he had been busy the whole day, criticized them for complicating things by refusing to obey rules that he said were "agreed to by everyone."
"The vendors can't just march here to pressure the governor or deputy governor, because we have already settled the matter," he said. "We can't do everything as they want."
Gov. Aswin Kwanmuang, who Yada had hoped would overrule Sakoltee's decision on the time regulation, only said the matter is the responsibility of the deputy governor.
Earlier this month, Sakoltee, a former anti-government political activist, said he would compromise by allowing them to submit their own ideas for regulations that would be considered together with City Hall's policies. He had not consulted the vendors on the original set of rules and made the concession only after local police refused to enforce his new rules because they contradicted traffic law.
According to Yada, the vendors were supposed to take the new rules devised under consultation with several academics to City Hall on Friday, but the meeting was abruptly called off by Phra Nakhon district administrators without explanation.
She accused Sakoltee of being influenced by a few wealthy businessmen in the area and ignoring the interests of the vendors who will bear the consequences.
"I still don't know what reasons support his time regulation, and if he even studied our business before declaring the designated zones," she said. "City Hall has many experts in the area. Instead of putting them to work helping us, they just went for these reckless policies. They only listen to those entrepreneurs."
Related stories:
Defeated, City Hall Again Agrees to Exempt Khaosan
Deal Struck For Khaosan Vendors to Submit Alternate Rules
Khaosan Goes Quiet After Police Ignore New City Rules
Khaosan Vendors to Defy City Hall's New Rules
Feeling Spurned, Khaosan Sellers to March on City Hall
Police the Cops Before 'Choking Us,' Khaosan Vendors Say